Car Rental – Search, Compare, and Save up to 70%!
Dollar at Lisbon Airport
Alameda das Comunidades Portuguesas, 1700-008 Lisboa
00351 219 426 300 / 00351 218 438 661
Pick-up instructions
Dollar customers will be served in Hertz counter. The Hertz location is inside the airport. Please go to the counter at the end of the Arrivals, in the Rent-a-Car area. If you have a Gold reservation, please go directly to the Hertz Parking on the 2nd floor. Follow the Rent-a-Car signs.
Drop-off instructions
Please clarify Drop-off instructions with Car Provider upon Pick-up.
Business hours
Mon:
00:00-01:00; 06:00-23:59
Tue:
00:00-01:00; 06:00-23:59
Wed:
00:00-01:00; 06:00-23:59
Thu:
00:00-01:00; 06:00-23:59
Fri:
00:00-01:00; 06:00-23:59
Sat:
00:00-01:00; 06:00-23:59
Sun:
00:00-01:00; 06:00-23:59
Customer Ratings and Latest Reviews
Overall value for money of your rental car
Ease of finding rental desk or representative
Efficiency of the car rental agents
Time spent picking up the car
Time spent dropping off the car
Overall condition of the car
Because we want to make sure each review listed here is left by a real customer, we don't have an option to post a review here. Instead, we ask each and every customer to leave a review after they return their rental car. This way, you know that all reviews are authentic, verified, and trustworthy.
January 4, 2023
Pros: Very good car in excellent condition
Cons: Nothing
July 2, 2022
Pros: Fast processing of my request
Cons: The airport desk closes at midnight sharp, even if the customer shows up a few minutes late due to late arrival of the plane
United States of America (USA)
Nissan Qashqai
March 22, 2021
Pros: Nothing. The charged me extra. Crooks
March 2, 2020
Cons: The agent trying to overcharge me. First he told me the price he has in his system is more than on my contract. He wanted to charge me for crossborder fees. On the contract, it clearly says there is no crossborder fees. Typical dishonest portuguese and spanish rental companies, always trying to milk the customers
United States of America (USA)
Volkswagen Up 3d
May 15, 2019
Cons: I was surprised by the 60 Km/day limit . It was not very well advertised and we ended up having to spend a lot more to get unlimited miles.
January 9, 2019
Pros: I appreciated the airport pick up and the forthright friendly manner of the agent.
Cons: confusing information to sort out and make decisions about related to insurance and what was / and was not full coverage.
United States of America (USA)
VW Polo
July 26, 2018
Pros: Not much. The agent was rude and difficult.
Cons: Bait and switch. I had to wait almost 2 hours for the car; the agent was rude. I had to pay $200 more for unlimited mileage. I had no choice but to take the car and pay more money. A ripoff.
United States of America (USA)
VW Polo
October 18, 2017
Pros: None
Cons: They fooled me very well, I will never rent from them again or from carhite!
United Kingdom
Peugeot 208
November 19, 2016
Pros: Fast and efficient.
Cons: Did not know what desk to go to as there is no Dollar desk. On returning the car I did not know which lane to drop the car off! This needs to be made clear in the paperwork!
United Kingdom
Peugeot 208
August 19, 2016
Pros: The lady who worked on the service desk at Hertz/Dollar was lovely and very helpful with her knowledge.
Cons: The minuscule signage at the collection desk. ALL the other car hire company's had large, bright, light up, easy to read signage, easy to find. Dollar signage was one line in a font that was smaller than half length of an A4 piece of paper at the Hertz desk. It would also be useful for those that pre book to line up separately from those that don't? The hour long wait to collect the car was a headache though, especially when 9 other families came after us and left before us.
Most Popular Car Rental Deals
Lisbon Airport Car Rental
Mini
Fiat 500 or similar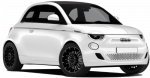 Lisbon Airport Car Rental
Economy
Nissan Micra or similar
The above prices are only approximate and were last updated at 15:55 on 2023-03-29. Prices may vary based on the booking dates, length of rental, and car class.
Please check the Rental Conditions for each vehicle prior to booking as some conditions, particularly the deposit and deductible, may vary based on the class of vehicle.
Free cancellation with a full refund up to 48 hours before your pick-up time, Mileage: 300 km per rental, Collision Damage Waiver
(deductible:

€ 1300.00

)
, Theft Protection, Third Party Liability (TPL), Airport surcharge, Vehicle registration fee, Free modifications, State Tax.
An E-Toll is offered in order to avoid violation fees.
An E-toll charge will apply; personal consumption will be charged separately at the end of the rental period.
Mileage is limited to 60 km per day.
Mileage is limited, there will be a surcharge for each additional km.
To access unlimited mileage, the customer can purchase an Additional Mileage option for an extra fee. The amount of this fee depends on the vehicle group.
Details are available at the car rental company's reservation office.
Minimum rental age is 21 years.
A young driver fee applies to drivers under the age of 25.

There is no maximum age.
A Senior driver fee is not applied.

The driver license must have been issued by authorized authorities at least 1 year(s) before the date of the commencement of the rental.

UK customers must bring their DVLA check code along with their photo ID. This check code can be obtained from the DVLA website.
Driver licenses will be accepted if issued in the following country(ies): United Kingdom, EU. Driver licenses from all other countries must be accompanied with International Driving Permit (IDP).
For driver licenses from countries not party to the International Driving Permit treaty, an official translation of the license must be presented with the original license. A driver license printed using a non-Roman alphabet (Arabic, Japanese, Cyrillic, etc) must be supplemented by an International Driving Permit.
Please note that the International Driving Permit is valid only if accompanied by the regular driver license.
In addition to documents mentioned previously, the customer will need the following: valid driver license, credit card on a main drivers name, Passport or ID card, booking voucher.
Deposit and deductible policy
A deposit will be blocked on the customer's credit card until the end of the rental period.
The exact deposit is determined on pick up since the amount is dependent on the type of vehicle.
At time of pick up, customers will be required to pay the amount of the rental and a deposit.
It is possible to leave the deposit only with following methods: Diners, MasterCard credit card, VISA credit card, American Express credit card.
For the Luxury, Premium, Cabrios, Special car group, a minimum of two credit cards issued on the main driver's name are required.
Only cards issued in the main driver's name are accepted.

The main driver must provide a physical payment card in their name with enough funds to cover the deposit to pick up the car. The rental company will neither accept virtual credit cards (e.g., GooglePay or ApplePay) nor someone else's card (including family members).
The vehicle is provided with a full tank of fuel and must be returned with the same amount in order to avoid additional charges.
Alternatively, the renter may purchase a tank full of fuel at the time of rental and return the tank empty.
Service outside of business hours is available by request and for an additional charge.
Period of time, during regular working hours, when the car is still guaranteed for the customer, if the customer is late for pick up (the grace period) is 29 minutes.
Pick-up & Drop-off
| | |
| --- | --- |
| Mon: | 00:00 - 01:00, 06:00 - 23:59 |
| Tue: | 00:00 - 01:00, 06:00 - 23:59 |
| Wed: | 00:00 - 01:00, 06:00 - 23:59 |
| Thu: | 00:00 - 01:00, 06:00 - 23:59 |
| Fri: | 00:00 - 01:00, 06:00 - 23:59 |
| Sat: | 00:00 - 01:00, 06:00 - 23:59 |
| Sun: | 00:00 - 01:00, 06:00 - 23:59 |
Top Suppliers at Lisbon Airport