Car Rental – Search, Compare, and Save up to 70%!

Europcar at Orlando Airport
5757 S Semoran Blvd, Orlando, FL 32822
001 4 079 309 520
Pick-up instructions
FOX Rent a Car customers should proceed to level 1 ground transportation on A or B side. Once on level 1, proceed outside to the rental car pick up area. The FOX shuttle picks up at spaces A11, 12, or 13 and B11, 12, or 13. Once at the Fox location please follow the signs to the PRIORITY counter.
Drop-off instructions
Please clarify Drop-off instructions with Car Provider upon Pick-up.
Customer Ratings and Latest Reviews
Overall value for money of your rental car
Ease of finding rental desk or representative
Efficiency of the car rental agents
Time spent picking up the car
Time spent dropping off the car
Overall condition of the car
Because we want to make sure each review listed here is left by a real customer, we don't have an option to post a review here. Instead, we ask each and every customer to leave a review after they return their rental car. This way, you know that all reviews are authentic, verified, and trustworthy.
December 22, 2022
Pros: I cannot judge Europcar, because the rental company was Fox. The rating above is for Fox. The car was better than I was waiting for.
Cons: Livia said that there is no way to drive to Westgate Town Center without the toll roads. I doubt it but then I asked how can I pay the tolls; with credit card or coins or notes? She said: no cards or coins but notes. Then I was in problems at the first toll while I got our for the Sand Lake Road. I had no coins. Fortunatelly behind our car was another car and a lady who gave me 1,50 USD in coins.
Netherlands
Dodge Grand Caravan
December 9, 2022
Pros: Speedy check in and check out
Cons: Had to wait too long at the airport for pick up
United Kingdom
Toyota Yaris
June 5, 2019
Pros: Helpful service.
Cons: It wasn't made clear that Europcar is also called Advantage. When we arrived at Orlando airport we couldn't find the desk for Europcar. It wasn't until after an hour
United Kingdom
Toyota Rav4
April 23, 2019
Pros: Not much
Cons: It was not obvious which desk to go to as Europcar is not a brand at Orlando ariport. The agent at the desk was very confusing to deal with. Eg he did not explain the toll system at all well. The car we upgraded to was a good size and comfortable for my kids. However, it did not have remote cental locking (in 2019!!!!), it did not have a sat nav, it had a slow puncture on the rear left, it was due a service, it was very dirty around the rear row of seats, it had loads of scratches.
United Kingdom
Toyota Rav4
April 16, 2019
Pros: The feul cap would not open, so I had to go back to the villa, and eventually find a way of opening it.
Cons: The extra things on the bill, as in, the toll charge gadget. Cost a total of 140 dollars, when I only went through maybe a dozen tolls. Other extras, didn't know what they were for.
October 30, 2018
Pros: The service provided in Orlando was not Europcar, but an affiliate so that was a bit of a surprised from when I booked the car. However, their price was the cheapest that is why I booked with them.
Cons: I have no issues with Europcar, however, their affiliate Advantage in which my car was actually hired were very pushy and attempted half a dozen times to pressure me into an upgrade, even when I bluntly and explicitly refused. The car I hired also wasn't washed or cleaned, and was poorly inspected. There were multiple minor damages that I had to report before driving off.
United Kingdom
Toyota Rav4
April 20, 2018
Pros: Got great car for great price from member of staff who was really helpful.
Cons: We didn't know to look for a desk under different name. So we looked for Discover Car Hire and European when actually the car was collected from EZ cars or Advantage car hire.
Most Popular Car Rental Deals
Orlando Airport Car Rental
Economy
Toyota Yaris or similar

Orlando Airport Car Rental
Compact
Nissan Versa or similar

Orlando Airport Car Rental
Intermediate
Toyota Corolla or similar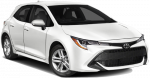 Orlando Airport Car Rental
Standard
Volkswagen Jetta or similar

Orlando Airport Car Rental
Full-size
Toyota Camry or similar

The above prices are only approximate and were last updated at 19:01 on 2023-03-24. Prices may vary based on the booking dates, length of rental, and car class.
Please check the Rental Conditions for each vehicle prior to booking as some conditions, particularly the deposit and deductible, may vary based on the class of vehicle.
Free cancellation with a full refund up to 48 hours before your pick-up time, Unlimited mileage, Loss Damage Waiver, Airport surcharge, Third Party Liability, Free modifications.
It is possible to purchase prepaid tolls.
Prepaid tolls are available for 8.99 USD per day.
If the customer declines Prepaid Toll Service, a penalty of 15.00 USD for each toll used in addition to the cost for each paid or unpaid toll will apply.

Please note that the prepaid toll service will cover only roads operated by the PlatePass Tolling Network. In case of driving on Non-PlatePass roads, the renter will be liable for any toll, or related fines, fees, or penalties incurred during the rental period, and the renter will be charged an administrative fee of 15 USD per toll (up to maximum of 90 USD per rental).

All additional services and extras purchased at the counter are subject to concession and state taxes.
Minimum rental age is 21 years.
A young driver fee applies to drivers under the age of 25.

There is no maximum age.
A Senior driver fee is not applied.

The driver license must have been issued by authorized authorities at least 1 year(s) before the date of the commencement of the rental.

In addition to the regular driver license, an International Driving Permit is also mandatory if the customer is not a resident of the following country(ies): USA.
Please note that the International Driving Permit is valid only if accompanied by the regular driver license.

In addition to documents mentioned previously, the customer will need the following: passport, valid driver license, credit card on a main drivers name, booking voucher, return flight ticket, proof of entry/exit into/out of the country, 2 phone numbers (1 of which is landline).
Renters from the following country(ies): USA must provide the following documents: passport, valid driver license, credit card on a main drivers name, booking voucher, proof of home address (e.g. Utility bill), proof of liability insurance, proof of insurance that covers the rental vehicle for damage and liability, 2 phone numbers (1 of which is landline) in order to collect the car.
Deposit and deductible policy
A deposit will be blocked on the customer's credit card until the end of the rental period.
The exact deposit is determined on pick up since the amount is dependent on the type of vehicle.
Residents of the following country(ies): USA, who use their own insurance, will be personally responsible for the full value of the rental vehicle.
At time of pick up, customers will be required to pay the amount of the rental and a deposit.
The following credit cards issued on the main driver's name are accepted: MasterCard credit card, VISA credit card.

Cash, Debit cards is/are not accepted.

The main driver must provide a physical payment card in their name with enough funds to cover the deposit to pick up the car. The rental company will neither accept virtual credit cards (e.g., GooglePay or ApplePay) nor someone else's card (including family members).
Geographical restrictions
Cross border rentals are allowed only upon previous request.
Additional charges will be applied in case the car is crossing state or region borders.

Crossing country borders is allowed to the following States: USA - Florida.
Details are available from the car rental company's reservation office.

In the event that Cross Border & Territorial Restrictions are violated, all protections lose their validity.
Optional extras and services
Available special equipment: Baby seat (up to 1 year of age), Child seat (2-4 years of age), Child seat (2-4 years of age), Booster seat (4-10 years of age).
Prices for extras are shown on the booking page.

Adding additional drivers is allowed.
Underage additional drivers are subject to both Young Driver and Additional Driver fees.
Underage additional drivers are also subject to a young driver fee.
When picking up the vehicle, all drivers must be present and must provide valid documentation.

Additional drivers are allowed free of charge.
Delivery/collection service is not provided.
The vehicle is provided with a certain amount of fuel and must be returned with the same amount in order to avoid additional charges.
The maximum rental period per agreement is 30 days.
If the renter would like to extend the rental period, renter should return to the car hire office at the end of the rental period to sign a new agreement.
Period of time, during regular working hours, when the car is still guaranteed for the customer, if the customer is late for pick up (the grace period) is 360 minutes.
Pick-up & Drop-off
| | |
| --- | --- |
| Mon: | 05:00 - 23:59 |
| Tue: | 05:00 - 23:59 |
| Wed: | 05:00 - 23:59 |
| Thu: | 05:00 - 23:59 |
| Fri: | 05:00 - 23:59 |
| Sat: | 05:00 - 23:59 |
| Sun: | 05:00 - 23:59 |
Top Suppliers at Orlando Airport