Car Rental – Search, Compare, and Save up to 70%!

Viaggiare at Catania Fontanarossa Airport
Via S. Giuseppe Alla Rena, Fondo 4, 95121 Catania CT.
0039 04 241 958 079 / 0039 3 400 654 729
Pick-up instructions
THE OFFICE IS ON VIP CAR PARK BEHIND THE TERMINAL C
Drop-off instructions
Please clarify Drop-off instructions with Car Provider upon Pick-up.
Period outside of business hours
Mon:
20:31-22:30; 22:31-08:29
Tue:
20:31-22:30; 22:31-08:29
Wed:
20:31-22:30; 22:31-08:29
Thu:
20:31-22:30; 22:31-08:29
Fri:
20:31-22:30; 22:31-08:29
Sat:
20:31-22:30; 22:31-08:29
Sun:
20:31-22:30; 22:31-08:29
Customer Ratings and Latest Reviews
Overall value for money of your rental car
Ease of finding rental desk or representative
Efficiency of the car rental agents
Time spent picking up the car
Time spent dropping off the car
Overall condition of the car
Because we want to make sure each review listed here is left by a real customer, we don't have an option to post a review here. Instead, we ask each and every customer to leave a review after they return their rental. This way, you know that all reviews are authentic, verified, and trustworthy.
November 26, 2022
Pros: Very low price for a good small car. Easy pick-up and drop-off.
Cons: Quite a lot of paperwork at the desk as everything could already be checked out online, so we had to wait some time at pick-up.
October 29, 2022
Pros: Viaggiare were helpful and straightforward during the picking up. Not much time spent there.
Cons: 1) I couldn't easily find the office. 2) They gave me the key and they send me to find the car at the parking (small parking though but not very easy to find) 3) That maybe is not Viaggiare's fault but I asked for full insurance via Discover Cars, I had to pay another 200 Euros to have the full insurance. No one told me that.. And in a place like Sicily its important to know these things.
United Kingdom
Fiat Panda
October 18, 2022
Pros: Size of the car
Cons: It was extremely disorganised, took a very long time. On return the agent said we had put a scratch on it but we were able to prove otherwise with a video we took at the start.
October 17, 2022
Cons: Only one clerk on reception
United Kingdom
Fiat Panda
October 16, 2022
Pros: Very,very slow pick up. Even the were few representatives in the office and only 3 clients in the queue. Dirty cars with lots of scratches and damages. Make sure you mark all of the existing scratches. And some cars were missing aerials. So make sure you point out everything. Drop off again. No one at the spot. When ask been told..leave the car and make pictures!!! Didn't like the service.
Cons: Hybrid car!
October 11, 2022
Pros: pleasant people - patient
Cons: Catania airport Viaggiare were incredibly slow both at check in and at return! they were the slowest car hire desk I've ever come across, and unfortunately (maybe because of their keen pricing) had many customers fuming in a long queue waiting to be dealt with. Their slow computer system didn't help.
United Kingdom
Fiat Panda
October 6, 2022
Pros: Good price
Cons: Really poor signs at the airport for returning car, no one designated for checking cars back in. The staff on the desk had no concern for the long queue and people had flights to catch - really really poor service returning the car.
October 6, 2022
Pros: Il personale molto professionale
Cons: I tempi di attesa per il ritiro dell'auto
September 23, 2022
Pros: Absolutely nothing.
Cons: The whole process took 1,5 hours to pick up the car. You had to take a number and then i turned out they didnt work with a number, so we kept waiting while others skipped the line. We had to pay for a carseat for our baby, that turned out to be broken. And they also didn't want to help fixing it in the car or even bothered explaining how it works to fix it. In the end another car rental company helped us. It was a absolute disaster. Dont even get me started about giving the car back.
September 23, 2022
Pros: The car was in good condition and fuel efficient. But....
Cons: I supposed to pay an extra 150 euros from the total of 220 which was the rental agreement. Instead i paid 400 euros extra. The reason was i didnt had a credit card (They knew from before I am only having a debit card). They should not sign the agreement and i would find other way to rent a car. I didnt had time to argue because they would destroy my trip and unfortunately paid the price. What is more is they kept a 250 euro deposit which i still waiting to be released. Not again in viaggiare...
September 15, 2022
Pros: Poor customer service attitude
Cons: Information was difficult to find
September 14, 2022
Pros: The car was very near the desk. The agent was clear with the options
Cons: It took more than one hour to take the car. The queue was long because not all stands were populated. Every client was handled long time
September 7, 2022
Pros: Friendly and helpful team
Cons: I can't fault them. Lovely service
Czech Republic
Fiat Panda
September 6, 2022
Pros: very comfortable car
Cons: increase of refundable security deposit without giving a reason
August 21, 2022
Pros: Hi I hade a very bed expireance with the rental.. Start by this that the change my program wile I was there. I hade to pay more them what you estimated. Discover rent car charge me and the rent car didn't diduct it from the total price. I hade to pay more then what I was apouse to pay.
August 16, 2022
Pros: The agents have been very kind and professional
Cons: The price was to high, the time at the car pick up has been too long and the insurance guidelines are not clear at the moment i rent the car online, only the agents showed me clearly how the condition really were
August 15, 2022
Pros: Car upgrade
Cons: No response when queried for damage papers
August 15, 2022
Pros: They very nice and friendly
Cons: It took two hours to get the car...
August 9, 2022
Pros: Honest, transparent, friendly. No hard sales tricks to frighten you to sell additional services. Received a new car, exact the type of car we ordered/expected
Cons: One small point, sms verification to my mobile NL number was delivered after 3 hours....the Viagiare lady offered quickly their mobile number as work around.
August 7, 2022
Pros: Personnel incompétents
July 31, 2022
Pros: Nothing,
Cons: rude staff, zero helpfull, trying to tell me a fist panda is an upgrade from a fiat 500
July 30, 2022
Pros: Very efficient and polite.
Cons: Nothing.
July 29, 2022
Pros: Antonella was very sweet and effective! Great service.
Cons: The usual sale pitch that all car rental firms do on extra insurance
July 27, 2022
Pros: Sehr netter Kontakt, sehr zuvorkommend und informativ. Das Auto hat für unseren Zweck optimal gepasst. Gerne wieder.
July 25, 2022
Cons: Unfortunatelly our plane was late, so we didn''t get till planned pick up time. Viaggiare canceled our reservation, didn't want to find compromise. In the end, they offered to make new reservation through them, what was more expensier, we didn't got full coveregare as it was offered through Discovercar. Unfortunately, we got to pay more. Please make a note with a big bolt letters, if you are late more than 2 hours for pick up, this service provider will cancel your booking.
United States of America (USA)
Fiat 500
July 16, 2022
Pros: Kind helpful staff.
Cons: International license requirements should not be sprung on you for the first time at car pick-up!
United States of America (USA)
Fiat Panda
June 15, 2022
Pros: Rental staff was helpful.
Cons: Gave me an underpowered Fiat Panda Hybrid that was inadequate for climbing hills anywhere and dangerous for highway travel.
June 15, 2022
Pros: La simpatia degli addetti
Cons: La riconsegna frettolosa e la pressione per fare l'ulteriore polizza casco.
United Kingdom
Fiat Punto
June 13, 2022
Pros: Nothing . From start they push you to buy things that you don't need using scaring techniques.
Cons: The contract ,their lies and the fact that they tried to scam me with the petrol . Wrote on the contract that the car had half tank when I picked the car up the tank was empty. And as you well know I left a lot of petrol when I returned the car but they refused to give me my money back . Scammers !!!!
United Kingdom
Fiat Panda
June 11, 2022
Pros: When they knew we would arrive post closing time they kept open for us. Very helpful staff
Cons: Nothing
United Kingdom
Fiat Panda
June 6, 2022
Pros: I have lost all faith in car rental industry. I would not use Viaggiare again. Dishonest staff trying to get more money from me.
Cons: Dishonest staff trying to take more money from a hardworking doctor on holiday with his family and friends. I would not use Viaggiare.
United Kingdom
Fiat Panda
June 6, 2022
Pros: Sadly I have lost faith in the car rental business because of Viaggiare
Cons: As above. Dishonest team who have charged me extra money.
United Kingdom
Fiat Panda
June 6, 2022
Pros: Nothing
Cons: Aggressive and intimidating. We were totally ripped off and forced to pay more than double
United Kingdom
Fiat Panda
May 30, 2022
Pros: Cleanliness of the car
Cons: Absolutely difficult to find!!! Performance of the agent and time spent in the office - 45 min!!!
United Kingdom
Fiat Panda
May 12, 2022
Cons: Very slow check in. Forced to pay for full insurance.
May 11, 2022
Pros: quick service
Cons: all the extra charges in order to bring down the excess even though I had previoulsy bought a cover on discover cars website
May 7, 2022
Cons: extra pay for cleaning and insurance extremely expensive
United Kingdom
Fiat Panda
May 7, 2022
Pros: Not much
Cons: I was forced to pay a substantial amount for an additional full insurance as they don't accept AMEX credit cards, and were not willing to take the deposit from my debit card which had sufficient funds. They rental desk was difficult to find and the car was the most basic one I have ever rented.
May 6, 2022
Cons: no asistance on insurance procedure. Just pick up the money was everything done from your side.
May 5, 2022
Pros: Nothing
Cons: De motor van de auto was versleten de communicatie was heel slecht en we moesten daar opnieuw reserveren omdat alleen de naam van de bestuurder een creditcard moest hebben we hebben honderdeb euro's meer moeten betalen dan dat we vooraf dachten
April 30, 2022
Pros: Nice car
Cons: Hidden charges, double price if you don't have a credit card while discover cars allows your reservation with a debit card only
April 21, 2022
Cons: The conditions on the insurance coverage was not clear at all. We had an incident and we had to pay for the one day that the car was stopped, and we had to clean full of glasses and take the car back to the airport.
October 4, 2021
Pros: they gave us a bigger car for the same money and the waiting time for the pick-up was a little too much (possibly because we were 3 drivers)~30 minutes
Cons: the car was dirty inside and outside, but in the end it was ok, because we were at the seaside and there was some sand in the car, but it didn't matter too much
September 18, 2021
Pros: quick delivery
Cons: I was insistently asked to subscribe an additional insurance for car damages. The desk person insisted on saying that damages to car (i.e. when left at park) were not covered by the DiscoverC insurance I subscribed. I tried to contact Disovercars for clarifications but it was not available. 6 days later I received an email from Discovercars helpdesk, explaining that car damages were actually covered by the insurance I subscribed with DC. I find the atttitude of Viaggiare simply unfair
September 7, 2021
Pros: the only thing was, that i had no problem with car.
Cons: Te service, the lady lady behaving in an absolutely unacceptable way, rude, disturbing, screaming. I complaing to another person when I was returning the car. She explained "maybe she nad bad Day". So I hale question if you care more about your Staff ten about clients. I come to Italy every year and rent a car. How you are going to assure me that next time the service will be polite and professional
Most Popular Car Rental Deals
Catania Fontanarossa Airport Car Rental
Economy
Fiat 500 or similar
Catania Fontanarossa Airport Car Rental
Economy
Fiat 500 or similar
Catania Fontanarossa Airport Car Rental
Economy
Fiat Panda or similar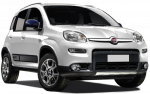 Catania Fontanarossa Airport Car Rental
Economy
Fiat Panda or similar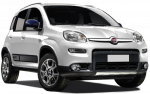 Catania Fontanarossa Airport Car Rental
Minivan
Fiat Ducato or similar
Catania Fontanarossa Airport Car Rental
Minivan
Fiat Ducato or similar
Please check the Rental Conditions for each specific vehicle prior to booking as some conditions, particularly the deposit and deductible, may differ based on the class of vehicle.
Free cancellation with a full refund up to 48 hours before your pick-up time, Unlimited mileage, Collision Damage Waiver
(deductible:

€ 1300.00

)
, Theft Protection, Roadside Assistance (in the country of pick up), Third Party Liability (TPL), Airport surcharge, Road tax, Free modifications, State Tax.
Minimum rental age is 19 years.
A young driver fee applies to drivers under the age of 25.

Maximum rental age is 85 years.
A senior driver fee applies to drivers over the age of 75.

The driver license must have been issued by authorized authorities at least 1 year(s) before the date of the commencement of the rental.

Driver licenses will be accepted if issued in the following country(ies): United Kingdom, EU countries.
Otherwise, the renter must provide an International Driver Permit (IDP).
A driver license printed using a non-Roman alphabet (Arabic, Japanese, Cyrillic, etc) must be supplemented by an International Driving Permit.
Please note that the International Driving Permit is valid only if accompanied by the regular driver license.

In addition to documents mentioned previously, the customer will need the following: passport, valid driver license, credit card on a main drivers name, booking voucher.
Deposit and deductible policy
A deposit will be blocked on the customer's credit card until the end of the rental period.
The exact deposit is determined on pick up since the amount is dependent on the vehicle.
At time of pick up, customers will be required to pay the amount of the rental and a deposit.
The following credit cards issued on the main driver's name are accepted: MasterCard, Visa. Any other cards or cash payments are not accepted.

Credit card must be valid during rental period for at least 180 days.

The main driver must provide a physical payment card in their name with enough funds to cover the deposit to pick up the car. The rental company will neither accept virtual credit cards (e.g., GooglePay or ApplePay) nor someone else's card (including family members).
Geographical restrictions
It is forbidden to cross country borders.
Optional extras and services
Available special equipment: GPS Navigation system, Child seat (2-4 years of age), Booster seat (4-10 years of age), Snow chains.
Prices for extras are shown on the booking page.



The vehicle is provided with a full tank of fuel and must be returned with the same amount in order to avoid additional charges.
The vehicle must be returned in an acceptably clean condition in order to avoid additional charges.
Service outside of business hours is available by request and for an additional charge.
Period of time, during regular working hours, when the car is still guaranteed for the customer, if the customer is late for pick up (the grace period) is 120 minutes.
Pick-up & Drop-off
| | |
| --- | --- |
| Mon: | 08:30 - 20:30 |
| Tue: | 08:30 - 20:30 |
| Wed: | 08:30 - 20:30 |
| Thu: | 08:30 - 20:30 |
| Fri: | 08:30 - 20:30 |
| Sat: | 08:30 - 20:30 |
| Sun: | 08:30 - 20:30 |
Top Suppliers at Catania Fontanarossa Airport