Car Rental – Search, Compare, and Save up to 70%!

Goldcar at Porto Airport
Avenida das Rent a Cars - Aeroporto do Porto , Edificio Goldcar , 4470-995, Maia , Porto.
0035 1 211 451 595 / 00351 211 451 381
Pick-up instructions
After collecting their luggage, the customers have to follow the indications to "Car Rental area". They will have to go to the car rental bus stop and take our shuttle bus. If the shuttle bus is not there, they can wait there until the bus arrives (every 15 minutes). Our shuttle bus will take them directly to our office located inside the airport building.
Drop-off instructions
Clients must also return their cars to the rental office, prior to being taken back to the terminal by our shuttle bus.
Period outside of business hours
Mon:
23:00-01:00; 06:00-06:59
Tue:
23:00-01:00; 06:00-06:59
Wed:
23:00-01:00; 06:00-06:59
Thu:
23:00-01:00; 06:00-06:59
Fri:
23:00-01:00; 06:00-06:59
Sat:
23:00-01:00; 06:00-06:59
Sun:
23:00-01:00; 06:00-06:59
Customer Ratings and Latest Reviews
Overall value for money of your rental car
Ease of finding rental desk or representative
Efficiency of the car rental agents
Time spent picking up the car
Time spent dropping off the car
Overall condition of the car
Because we want to make sure each review listed here is left by a real customer, we don't have an option to post a review here. Instead, we ask each and every customer to leave a review after they return their rental. This way, you know that all reviews are authentic, verified, and trustworthy.
January 10, 2023
Pros: Rien jai pas pu avoir la voiture
Cons: Manque d 'information
December 19, 2022
Pros: Speed to hand over
Cons: Front desk Lady that did not like discover full coverage and did everything she could to argument why discover full protection was not Good and where she mentionned all possible drawbacks in case of crash damage etc.
December 18, 2022
Pros: quick shuttle service to airport
Cons: -
September 27, 2022
Cons: Waiting for hours Unable to get competent call agent to change the date and drop off location (I tried 4 times before it was finally ok)
United Kingdom
Nissan Juke
September 12, 2022
Pros: The receptionist was great and clearly gave all the information, in English and Portuguese, and advice ahead of signing the contract.
Cons: Nothing. All good.
United Kingdom
Nissan Juke
August 1, 2022
Pros: Quick process, everything clearly explained.
July 5, 2022
Pros: We were absolutely stuck as the car provider Opaco we had booked through did not exist at Porto Airport and Goldcar provided a car through Diuscovery. Staff very friendly but over worked and not enough of them. Car return was excellent, staff member very efficient and helpful.
Cons: We got a very small older car - Fiat 500 An amber warning light came on so we rang the number provided and were told if the car was towed we were to find OUR OWN TRANSPORT back to the agency. This is really bad service for Northern rural Portugal. The contract we had was miniscule about font 6 and in Portuguese only. No handbook in the car all very distressing on our touring holiday
United Kingdom
Nissan Juke
June 14, 2022
Pros: Friendly staff
Cons: Computers down when picking up car, took 2hrs. Car displayed engine oil light night morning.
February 17, 2022
Pros: The company seems very good. Same to the car and shuttle.
Cons: The company didn't accept my Portuguese Authorization Card as a document for rental. Then, I needed to go back home to get my passport. I wasted almost 4 hours going and coming back, all costs for that were paid on my own. All other rental companies accept the Card. I don't understand that the Card has much more Portuguese information than my passport and people can't get a Card without a passport. The company put me in an embarrassing situation.
United Kingdom
Fiat Panda
January 23, 2022
Pros: The kindness and the patience to explain everything what we needed,
January 20, 2022
Pros: This time there was not a big waiting line in front of the desk. When you come in summer it is different. The administrative processes in Portugal and also rental companies is long. A lot of bureaucracy I guess.
Cons: The car was not very clean, especially the front window from the inside, you have bad sight when the sun is on your window. That is dangerous. They better clean the windows than the outside of the cars for safety, but they do otherwise around.
January 12, 2022
Pros: The assistant spoke very good English and made us aware of the toll system but was not pushy to over sell services
December 22, 2021
Cons: Scam for money, illegal charges to the credit card
July 1, 2021
Pros: Nice new car. Good friendly service.
Cons: The systems didn't work so picking up the car was during ages... But everybody worked really hard... So i cant blame them.
United Kingdom
Fiat Tipo STW
December 5, 2020
Cons: Insurance misleading
October 21, 2020
Cons: I waited 1 hour for the shuttle to pick me up.
United Kingdom
Fiat Panda
August 27, 2020
Pros: Quick drop off
Cons: Absolute scam, made me pay out over double what I was quoted. Waited well over an hour to get the car
August 23, 2020
Cons: The car was in a bad state, and I also wanted to extend my booking by a day, which I was not able to be with returning to the booking office..... crazy, will never use them again
October 4, 2016
Pros: Contrairement à d'autres avis , rien à dire service rapide accueille très agréable. Il faut juste bien lire les conditions de location et tout ce passe bien .
August 29, 2016
Pros: The staff was very professional, both at pick-up and drop-off.
Cons: when booking on-line I thougt I had full insurance. Later at pick-up this was not the case and I was prposed to pay for additional insurance. When driving away the car indicated a loss of presure in one of the tyres. When I mentioned this at the desk I was told that this was normal for Opel Corsa. I went to the nearest gas-station and put some air in the tyre.
Most Popular Car Rental Deals
Porto Airport Car Rental
Mini
Fiat Panda or similar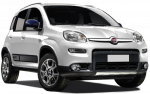 Porto Airport Car Rental
Mini
Fiat Panda or similar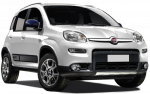 Porto Airport Car Rental
Economy
Fiat 500 or similar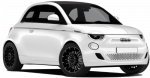 Porto Airport Car Rental
Economy
Fiat 500 or similar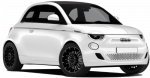 Porto Airport Car Rental
Economy
Opel Corsa or similar
Porto Airport Car Rental
Economy
Opel Corsa or similar
The above prices are only approximate and were last updated at 22:04 on 2023-01-24. Prices may vary based on the booking dates, length of rental, and car class.
Please check the Rental Conditions for each specific vehicle prior to booking as some conditions, particularly the deposit and deductible, may differ based on the class of vehicle.
Free cancellation with a full refund up to 48 hours before your pick-up time, Unlimited mileage, Collision Damage Waiver
(deductible:

€ 1200.00

)
, Theft Protection, Third Party Liability (TPL), Supplemental Liability Insurance (SLI), Airport surcharge, Free modifications, State Tax.
The following surcharges may apply: Premium Location surcharge.
An E-Toll is offered in order to avoid violation fees.
An E-toll charge will apply; personal consumption will be charged separately at the end of the rental period.

The following surcharges may apply: Facility Charge.
Minimum rental age is 19 years.
For certain car groups, minimal rental age is 21 years.
A young driver fee applies to drivers under the age of 25.
A novice driver fee will apply to drivers who have held their driver license for less than 4 years.

There is no maximum age.
A Senior driver fee is not applied.

The driver license must have been issued by authorized authorities at least 1 year(s) before the date of the commencement of the rental.
A novice driver fee will apply to drivers who have held their driver license for less than 4 years.

A driver license printed using a non-Roman alphabet (Arabic, Japanese, Cyrillic, etc) must be supplemented by an International Driving Permit.
Customers not resident in EU countries are required to present the following document(s): International Driving Permit (IDP) in order to collect the car.
Please note that the International Driving Permit is valid only if accompanied by the regular driver license.

In addition to documents mentioned previously, the customer will need the following: valid driver license, credit card on a main drivers name, Passport or ID card, booking voucher.
Deposit and deductible policy
A deposit will be blocked on the customer's credit card until the end of the rental period.

A deposit for a tank of fuel is required upon collecting the vehicle.
The exact deposit is determined on pick up since the amount is dependent on the type of vehicle.

If the customer takes the following extra equipment: GPS Navigation system, Toll pass / E-toll device, then an additional amount of deposit will be held on their credit card.
The following payment methods are accepted: MasterCard credit card, VISA credit card.
It is possible to leave the deposit only with following methods: MasterCard credit card, VISA credit card.

American Express, Cash, Diners is/are not accepted.

The daily limit on the card used for payment must be high enough to cover the deposit. Otherwise, purchase of the following insurance policy(ies): Super Relax Cover is mandatory.

The main driver must provide a physical payment card in their name with enough funds to cover the deposit to pick up the car. The rental company will neither accept virtual credit cards (e.g., GooglePay or ApplePay) nor someone else's card (including family members).
Geographical restrictions
Cross border rentals are allowed only upon previous request.

Using a ferry is allowed on the previous request and for an additional charge with special permission from the car rental company.

Details are available from the car rental company's reservation office.
In the event that Cross Border & Territorial Restrictions are violated, all protections lose their validity.
Optional extras and services
Available special equipment: Baby seat (up to 1 year of age), Child seat (2-4 years of age), Booster seat (4-10 years of age), Toll pass / E-toll device, Young driver fee, Novice driver.
Prices for extras are shown on the booking page.

Adding additional drivers is allowed.
There is an additional charge for each driver.
Underage additional drivers are subject to both Young Driver and Additional Driver fees.
When picking up the vehicle, all drivers must be present and must provide valid documentation.

Optional extras are subject to the following additional charge(s): Premium Location surcharge, Airport Surcharge.
Delivery/Collection service is available only by previous request.
The vehicle is provided with a full tank of fuel and must be returned with the same amount in order to avoid additional charges.
A deposit for a tank of fuel is required upon pick up.
Diesel vehicles are available only by request upon arrival.
Diesel vehicles are available for an additional charge.
The maximum rental period per agreement is 28 days.
If the renter would like to extend the rental period, renter should return to the car hire office at the end of the rental period to sign a new agreement.
Period of time, during regular working hours, when the car is still guaranteed for the customer, if the customer is late for pick up (the grace period) is 59 minutes.
Pick-up & Drop-off
| | |
| --- | --- |
| Mon: | 07:00 - 23:00 |
| Tue: | 07:00 - 23:00 |
| Wed: | 07:00 - 23:00 |
| Thu: | 07:00 - 23:00 |
| Fri: | 07:00 - 23:00 |
| Sat: | 07:00 - 23:00 |
| Sun: | 07:00 - 23:00 |
Top Suppliers at Porto Airport