Car Rental – Search, Compare, and Save up to 70%!

Alamo at Porto Airport
INTL APT FRANCISCO SA CARNEIRO,
00351229415939
Pick-up instructions
Rental desk is located in the arrivals hall.
Drop-off instructions
Please clarify Drop-off instructions with Car Provider upon Pick-up.
Customer Ratings and Latest Reviews
Overall value for money of your rental car
Ease of finding rental desk or representative
Efficiency of the car rental agents
Time spent picking up the car
Time spent dropping off the car
Overall condition of the car
Because we want to make sure each review listed here is left by a real customer, we don't have an option to post a review here. Instead, we ask each and every customer to leave a review after they return their rental car. This way, you know that all reviews are authentic, verified, and trustworthy.
March 20, 2023
Pros: We had a small accident and the manager was on the side of customer finding an option not to charge for the damage. Which he did. We were very pleased.
Hong Kong
Volkswagen T-Roc
March 9, 2023
Pros: Renting the car was handled very professionally with great attention to the detail.
Cons: nothing
United Kingdom
Hyundai Kauai
March 7, 2023
Cons: The car rental company "Guerin" didn't recognise the full over insurance whivh I had already paid and i have to pay additional insurance fees. Also, regarding the deposit they have told me that they'll immediately unlock my 300€ which still has not been released.
February 22, 2023
Pros: Excelent. Easy and fast and pratical way to rent a car
Cons: Nothing
October 16, 2022
Pros: Car in great shape
Cons: Even though I checked in On line a few days before the rental- I had to do the whole procedure a second time at the rental office
September 8, 2022
Pros: when i arrive to pick up my car that i agreed to rent, they want me to pay over a £ 100 pounds extra of insurance plus extra fees. and the 5 door car that i pay for was a 4 door, They saying you pay for a 4 door not 5 door, when i went to collect. i nearly cried on my fist day on holiday I pay extras when i did the booking and in full , Why this is so misleading. the agent that gave me the car did believe that i paid for a 5 door car
May 10, 2022
Pros: Clean, nice staff, wanted to assist
Cons: Took a bit of time to get all the details in the system
March 28, 2022
Pros: The process of pick up and then check in was fast and easy. We were given an Opel Corsa F. The car was clean and functional - perfectly maintained mechanically. It had a scratch here and there from previous users, but it wasn't tragic, just my personal obsession with aesthetics. The scratches were well documented on first pick up anyway and the process was very clear. I found Alamo to be a great rental service with a high standard during my travel around Portugal.
United Kingdom
Mercedes Benz C Class
September 16, 2020
Pros: Quick drop-off.
Cons: They did not have the car with the booked gearbox (manual). Their pick-up was not in terminal, despite different in-terminal option selected on the voucher.
June 2, 2020
Pros: I didnt like that they didnt disclose the 150euro fee that was more than the whole rental fee for 6 days.
Cons: I also didnt like that they said they will return my deposit immediately and now its been 4 days still no deposit returned
United Kingdom
Renault Clio
October 9, 2019
Pros: Friendly and efficient
Cons: Nothing
Most Popular Car Rental Deals
Porto Airport Car Rental
Mini
Fiat 500 or similar

Porto Airport Car Rental
Economy
Renault Clio or similar

Porto Airport Car Rental
Compact
Hyundai i30 or similar

Porto Airport Car Rental
Compact
Hyundai Kauai or similar

Porto Airport Car Rental
Intermediate
Volkswagen T-Roc or similar

Porto Airport Car Rental
Compact
Hyundai i30 STW or similar

Porto Airport Car Rental
Compact
Toyota Corolla or similar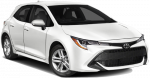 Porto Airport Car Rental
Economy
Toyota Yaris or similar

Porto Airport Car Rental
Intermediate
Toyota C-HR or similar

The above prices are only approximate and were last updated at 21:12 on 2023-03-24. Prices may vary based on the booking dates, length of rental, and car class.
Please check the Rental Conditions for each vehicle prior to booking as some conditions, particularly the deposit and deductible, may vary based on the class of vehicle.
Free cancellation with a full refund up to 48 hours before your pick-up time, Unlimited mileage, Collision Damage Waiver
(deductible:

€ 1180.80

)
, Theft Protection, Roadside Assistance (in the country of pick-up), Third Party Liability, VAT (value added tax), Free modifications.
E-Toll is not mandatory, however, all of the rental cars are equipped with a SunPass/e-toll transponder that is glued to the windshield of the car and is not removable.
Minimum rental age is 18 years for car group Economy, Mini.
Minimum rental age is 21 years for car group Compact, Intermediate.
Minimum rental age is 25 years for car group Premium, Fullsize.
A young driver fee applies to drivers under the age of 21.
Maximum rental age is 80 years.
A Senior driver fee is not applied.

The driver license must have been issued by authorized authorities at least 1 year(s) before the date of the commencement of the rental.

A driver license printed using a non-Roman alphabet (Arabic, Japanese, Cyrillic, etc) must be supplemented by an International Driving Permit.
Please note that the International Driving Permit is valid only if accompanied by the regular driver license.

To rent the following vehicle category(ies): Luxury, Premium, Fullsize, Wagons, you must provide the following document(s) at pickup: return flight ticket, 2 credit cards.
In addition to documents mentioned previously, the customer will need the following: passport, valid driver license, credit card on a main drivers name, booking voucher, return flight ticket.
Deposit and deductible policy
A deposit will be blocked on the customer's credit card until the end of the rental period.
The exact deposit is determined on pick up since the amount is dependent on the type of vehicle.
Deductible/excess will be charged per damage.
At time of pick up, customers will be required to pay the amount of the rental and a deposit.
The following credit cards issued on the main driver's name are accepted: MasterCard credit card, VISA credit card. Any other cards or cash payments are not accepted.
For the Luxury, Premium, Fullsize, Wagons car group, a minimum of two credit cards issued on the main driver's name are required.

The main driver must provide a physical payment card in their name with enough funds to cover the deposit to pick up the car. The rental company will neither accept virtual credit cards (e.g., GooglePay or ApplePay) nor someone else's card (including family members).
Geographical restrictions
Cross border rentals are allowed only upon previous request.
Additional charges will be applied in case the car is crossing state or region borders.

Crossing country borders is allowed to the following countries: Andorra, Iceland, Norway, Switzerland, United Kingdom, European Countries.
Details are available from the car rental company's reservation office. In the event that Cross Border & Territorial Restrictions are violated, all protections lose their validity.
Optional extras and services
Available special equipment: GPS Navigation system, Child seat (2-4 years of age), Booster seat (4-10 years of age), Toll pass / E-toll device.
Prices for extras are shown on the booking page.


Booked extras are not guaranteed. All extras are subject to availability at the rental counter.


The vehicle is provided with a full tank of fuel and must be returned with the same amount in order to avoid additional charges.
In order to have service out of hours, the renter must provide the following information: Flight number.
Service outside of business hours is available by request and for an additional charge.
Period of time, during regular working hours, when the car is still guaranteed for the customer, if the customer is late for pick up (the grace period) is 0 minutes.
Top Suppliers at Porto Airport