Car Rental – Search, Compare, and Save up to 70%!

Centauro at Crete Airport Heraklion
Leof. Ikarou 87 N, Nea Alikarnassos 716 01
00302 111 985 310
Pick-up instructions
Once you have collected your luggage come out of the Arrivals Hall, exit the building and a Centauro Rent a Car staff member will be waiting to escort you to the Centauro Rent a Car shuttle bus.Vehicles must be returned to the Centauro car park and then you will be taken to the Departure Hall by Shuttle Bus. (Contact number 0030 2 811 180 090).
Drop-off instructions
Please clarify Drop-off instructions with Car Provider upon Pick-up.
Customer Ratings and Latest Reviews
Overall value for money of your rental car
Ease of finding rental desk or representative
Efficiency of the car rental agents
Time spent picking up the car
Time spent dropping off the car
Overall condition of the car
Because we want to make sure each review listed here is left by a real customer, we don't have an option to post a review here. Instead, we ask each and every customer to leave a review after they return their rental car. This way, you know that all reviews are authentic, verified, and trustworthy.
March 29, 2023
Pros: Nothing. They were not very helpful and pretty unfriendly .
Cons: I didn't like that I had to call because the rep was not there. I didn't like having to wait for other customers picking up luggage when I had brought none for speed. I didn't like the grumpy face of the rep or being placed in a situation where we had no option but to take a full insurance and ended up paying £130 more than planned because your system wouldn't accept two credit cards or my debit card.
March 13, 2023
Pros: Enjoyable experience overall!
February 21, 2023
Pros: Professionals and Politeness
Cons: You pay the whole amount of gasoline that is inside the reservoir of the car no matter if you deliver the reservoir of the car completely full. Of course, the money will be returned to your credit card after 2-3 working days. I just no see any reason for that. In reality i do not think this is a big problem
October 30, 2022
Pros: Drop-off was easy and fast, transfer also nice.
Cons: Transfer from airport to Centauro office at arrival to Crete was complicated (transfer guy was not at the dedicated place)
October 16, 2022
Pros: Not had a chance to rent a car
Cons: Not had a chance to rent a car
October 11, 2022
Pros: Could have been a little better bye not trying to persuade me that the insurance I booked wasn't good enough!!!
Cons: All cars were quite new and good models of cars
August 22, 2022
Cons: Pay 40€ extra for after hour. Delay is not my responsibility They also charged all gasoline at the beginning. They returned after drop off
United Kingdom
Peugeot 2008
August 21, 2022
Cons: Usual issues and discussion about the need to take out additional insurance despite taking out independent insurance prior to the trip. Being told that this would not cover police reports and that my additional insurance was essentially useless! Also was advised to upgrade car for another 70+ euros in order to reduce costs of the petrol car we had. However another con as given the cost difference I would have had to fill the car 4 or 5 times to make it worth while!
June 12, 2022
Cons: Hello. I am very disappointed and dissatisfied. After I arrived to pick up the vehicle and had already paid for full insurance I was told I had to pay again for the insurance by the receptionist and also after I told him I had already paid for full insurance he did not want to hand over the vehicle to me only after I paid 57 € insurance again
United States of America (USA)
Fiat 500
June 10, 2022
Pros: Very available. Car didn't start one morning (may have left auto setting on) needed battery jump and they were there to take care of it pronto! When returning the car which we rented at the airport we decided to ask an in-town office if we could return it to them. Not only did they say yes, they sent an employee to walk with us to the parking garage to pick it up!
March 31, 2022
Cons: They misinformed me about the tanking policy and then accused me of misunderstanding. They also asked for extra insurance money at the desk, which was not included in the online deal, where i had specifically payed for full coverage, claiming that i payed DiscoverCars, but now i also need to pay Centauro, which is a different company. The customer should know all costs in advance, not after the deal is made and the car is payed for.
February 15, 2022
Pros: The car was in very good contition. It has pretty good equipment and it was not the cheapest basic version.
Cons: The agreement was someone to pick me up from the airport. But none was there and i have to walk for 15min until i find the office.
December 31, 2021
Cons: not clear from the beginning about credit card terms end conditions. extra security cost on rental with debit card when picking up the car. No flexibility at all
United States of America (USA)
Fiat Panda
November 30, 2021
Pros: Nice office, close to the airport. Nice shuttle.
Cons: The fact that they don't accept American Express credit cards.
November 9, 2021
Pros: None
Cons: They will charge you for damages that was not on your mistakes, and they charge it a very expensive price (90$ for a a little scratch on the wheel cover !!). I HIGHLY RECOMMEND to AVOID this company!!
United States of America (USA)
Peugeot 208
October 29, 2021
Cons: The agents were rude and not helpful when there was an issue with the booking
United States of America (USA)
Peugeot 208
May 13, 2021
Pros: Pick up and drop off at the airport was seamless
Cons: Would've been nice it the fee for dropping the car off at a different location was waived. This was a result of a circumstance out of our control (flight cancelled).
August 17, 2020
Pros: Quick
Cons: Cost of insurance for full cover
October 10, 2019
Pros: They helped me get an international driving licence
Cons: I had to ring them to pick me up.
September 4, 2019
Pros: good car, clean, good rep
Cons: out of the airport, no clear pickup point, no key drop, hours of operation problematic when flight early or delayed
August 13, 2019
Pros: A brand new car Friendly and professional service
Cons: All was great!!
United Kingdom
Ford Focus
August 5, 2019
Pros: upgraded to larger but much slower car - because they had run out of mid size.
Cons: - Representative took 30 mins to appear at the airport - "On airport" it was minibus to the reception, the other "off airport" sellers were opposite arrivals. -at reception - there was no queue, but took us over an hour to receive the keys. - one staff member was extremely rude saying "you need to leave now , we want to go home" we were simply trying to strap in our children and put our boot. - returning the cars took over an hour - nearly made us late for light
August 1, 2019
Pros: Nessuno
Cons: Tutti
United Kingdom
Ford Focus
June 26, 2019
Pros: The hire care was clean and in good condition.
Cons: 1/ The Meet & Greet representative being very hard to find; she was standing in the wrong place and wasn't holding up a sign. 2/ Having to walk far to a shuttle bus to then go to an office. 3/ The rude and pushy staff in the office, trying to frighten us into purchasing THEIR additional insurance, even though we'd already purchased full coverage insurance with DiscoverCarHire.com. 4/ Not being given a full tank of fuel, & BEING CHARGED A DEPOSIT for the 30% fuel in the tank they'd provided.
Most Popular Car Rental Deals
Heraklion Airport Car Rental
Compact
Peugeot 2008 or similar

Heraklion Airport Car Rental
Compact
Peugeot 2008 or similar

Heraklion Airport Car Rental
Intermediate
Nissan Qashqai or similar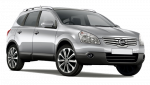 Heraklion Airport Car Rental
Intermediate
Nissan Qashqai or similar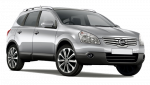 Heraklion Airport Car Rental
Compact
Peugeot 2008 or similar

Heraklion Airport Car Rental
Compact
Peugeot 2008 or similar

Heraklion Airport Car Rental
Intermediate
Nissan Qashqai or similar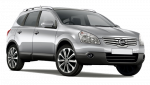 Heraklion Airport Car Rental
Intermediate
Nissan Qashqai or similar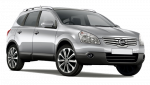 The above prices are only approximate and were last updated at 14:11 on 2023-03-30. Prices may vary based on the booking dates, length of rental, and car class.
Please check the Rental Conditions for each vehicle prior to booking as some conditions, particularly the deposit and deductible, may vary based on the class of vehicle.
Free cancellation with a full refund up to 48 hours before your pick-up time, Unlimited mileage, Collision Damage Waiver
(deductible:

€ 1100.00

)
, Theft Protection, Roadside Assistance (in the country of pick-up), Third Party Liability (TPL), Airport surcharge, Free modifications, State Tax.
Minimum rental age is 19 years.
A young driver fee applies to drivers under the age of 25.

There is no maximum age.
A senior driver fee of 5.00 EUR per day, with a maximum of 25.00 EUR per rental applies to drivers above the age of 75.

The driver license must have been issued by authorized authorities at least 1 year(s) before the date of the commencement of the rental.

Driver licenses will be accepted if issued in the following country(ies): United Kingdom, EU.
Driver licenses from all other countries must be accompanied with International Driving Permit (IDP).
In addition to the regular driver license, an International Driving Permit is also mandatory if the driver license is written in a language other than that of the renting country and/or in characters that cannot be read in the renting country. If the duration of your stay in Greece, Greece - Crete Island is longer than 6 months, a driver license issued in EU countries is required.
Please note that the International Driving Permit is valid only if accompanied by the regular driver license.
In order to pick up the car, the renter and each additional driver must present the following documents: passport, valid driver license, credit card on a main drivers name, booking voucher, flight information. Only physical driver's licenses are accepted (not digital versions).
Deposit and deductible policy
A deposit will be blocked on the customer's credit card until the end of the rental period.
The exact deposit is determined on pick up since the amount is dependent on the type of vehicle.
It is only possible to pay and leave a deposit using the same card.
At time of pick up, customers will be required to pay the amount of the rental and a deposit.
Only cards issued in the main driver's name are accepted.
It is possible to pay and leave the deposit only with the following payment methods: Visa Electron, Visa Debit Card, MasterCard credit card, VISA credit card, MasterCard debit card.
It is only possible to pay and leave a deposit using the same card.
Additional insurance (Super Insurance) must be purchased if using the following payment method(s): Visa Electron, Debit cards, Visa Debit Card.
The daily limit on the card used for payment must be high enough to cover the deposit. Otherwise, purchase of the following insurance policy(ies): Super Insurance is mandatory.
Maestro, American Express, Cash, Diners, Prepaid cards is/are not accepted.

The main driver must provide a physical payment card in their name with enough funds to cover the deposit to pick up the car. The rental company will neither accept virtual credit cards (e.g., GooglePay or ApplePay) nor someone else's card (including family members).
Optional extras and services
Available special equipment: GPS Navigation system, Baby seat (up to 1 year of age), Child seat (2-4 years of age), Booster seat (4-10 years of age), Snow chains, Senior driver fee.
Prices for extras are shown on the booking page.

Adding additional drivers is allowed.
There is an additional charge for each driver.
Underage additional drivers are subject to both Young Driver and Additional Driver fees.
When picking up the vehicle, all drivers must be present and must provide valid documentation.

All extras are available at the rental counter. Prices vary, depending on the rental period.

It is allowed to add up to 3 additional drivers.
Certain additional drivers are subject to both an Additional Driver fee as well as either a Young Driver or Senior Driver fee.
Delivery/Collection service is available within city limits. Additional charges will be applied, depending on the distance.
The vehicle is provided with a full tank of fuel and must be returned with the same amount in order to avoid additional charges.
A deposit for a tank of fuel is required upon pick up.

In case of renting at the airport location, the customer must provide a valid flight number in order to make a reservation.
The maximum rental period per agreement is 29 days.
If the renter would like to extend the rental period, renter should return to the car hire office at the end of the rental period to sign a new agreement.
Period of time, during regular working hours, when the car is still guaranteed for the customer, if the customer is late for pick up (the grace period) is 0 minutes.
Pick-up & Drop-off
| | |
| --- | --- |
| Mon: | 07:00 - 23:00 |
| Tue: | 07:00 - 23:00 |
| Wed: | 07:00 - 23:00 |
| Thu: | 07:00 - 23:00 |
| Fri: | 07:00 - 23:00 |
| Sat: | 07:00 - 23:00 |
| Sun: | 07:00 - 23:00 |
Top Suppliers at Crete Airport Heraklion