Car Rental – Search, Compare, and Save up to 70%!
Carwiz at Heraklion Airport
Karaiskaki 28-30, Nea Alikarnassos 716 01
0030 6 972 263 348/ 0030 2 810 344 631
Pick-up instructions
Exit the arrival hall, turn right and go through the small gate. Cross the main road and in front of the car rental companies parking area, you will see the bus station (wooden kiosk). Carwiz shuttle bus will collect you from the bus stop to transfer you to Carwiz office, 2 minutes away.
Drop-off instructions
Drop off at Carwiz office. Carwiz shuttle bus transfers customers to the airport.
Customer Ratings and Latest Reviews
Overall value for money of your rental car
Ease of finding rental desk or representative
Efficiency of the car rental agents
Time spent picking up the car
Time spent dropping off the car
Overall condition of the car
Because we want to make sure each review listed here is left by a real customer, we don't have an option to post a review here. Instead, we ask each and every customer to leave a review after they return their rental. This way, you know that all reviews are authentic, verified, and trustworthy.
September 26, 2022
Pros: They were friendly but the car was dirty, seats were stained. No safety equipment other than a jack. No flares etc.
Cons: Checkin was ok. Longer than it should be to checkout.
September 20, 2022
Pros: Transportation from the rental car office to the airport. Quick dropping time off the car. Friendly agents
Cons: The interior of the vehicle was not clean enough. Superficially and obviously hastily cleaned. Although the vehicle was practically new (2000 km), it was already damaged. But the price was not reduced.
United States of America (USA)
Opel Corsa
September 18, 2022
Pros: Great company. It's a shame that it's not right in front of the airport but worth for the rest of the service.
September 1, 2022
Pros: The fees were well explained at the beginning. They have service to pick you up and drop you off at the airport. the staff is very helpful. The office open late till 10pm which makes it easy to return the car
Cons: The gear of the car is very tired. the windshield doesn't work, fortunately there is no big rain during our trip
Netherlands
Suzuki Celerio
August 9, 2022
Pros: Really great service, kind welcome and people!
Netherlands
Suzuki Baleno
August 4, 2022
Pros: Prima service
Cons: Geen klachten
August 3, 2022
Pros: Condition of the car
Cons: Was hard to find the shuttle
July 30, 2022
Pros: In the end everything worked out
Cons: I had much better cars in the same class and same class before. There was no indication whether we were at the right spot or if someone actually is coming to pick us up. After waiting and asking around we walked to the place, because it was close to closing time and we didn't want to risk waiting for too long. Their payment options are quite limited
July 5, 2022
Pros: clearness in explanation and punctuality
Cons: nothing
June 29, 2022
Pros: The lady who dropped us off at the airport was pleasant and professional.
Cons: No shuttle at airport. Then lied to telling us there was a shuttle waiting. Then lied to again that there were two shuttles. Shitty way to start a holiday.
June 21, 2022
Cons: More than one hour and half to check-in. The car was dirty at the check-in too.
United States of America (USA)
Fiat Panda
June 16, 2022
Pros: Perfect
Cons: they don't know what insurance you already took if you make the reservation online with discover cars
June 12, 2022
Pros: Decent price for the car
Cons: Was not met by the representative at the airport, had to walk from the airport to the car agency with my family carrying all the suitcases. They keep a deposit of 1300€ and only refund it after 10-15 business days, which is inconvenient.
April 23, 2022
Pros: Fast, friendly
Cons: Nothing
April 17, 2022
Cons: The service representative was not fair when we rented the vehicle (Apparently she knew something we did not know while she tried to persuade us to do full insurance) and as mentioned she was also not fair when we returned it. I have never seen anyone checking a vehicle I returned as she checked.
November 5, 2021
Pros: Thorough.
Cons: Well priced
October 8, 2021
Pros: The quickness to pick-up the car and informations given about the car.
September 27, 2021
Pros: Slecht, moesten extra verzekering nemen. Terwijl alles gedekt was in het contract
Cons: Auto moesten we zelf ophalen en ook zelf terugbrengen. Dit was in het contract anders aangegeven.
September 7, 2021
Cons: I could not pick up the car, although it was rented early and I paid an advance. There was no car of the required category in the parking lot, which is why they claimed that the card was not good. They took their commission from the same card and I was able to use it to rent another car from another company. I emphasize that the card is perfectly valid. Neither Carwiz nor Discover wanted to clarify the issue. Advance payment was not recovered. I recommend using well-known companies even if they
September 1, 2021
Pros: Very polite and professional personnel. They offered us an upgraded gar category. The car provided was in a good overall condition.
Cons: The rental price was very high compared to other Greek islands for the same rental duration and in the same holiday period.
August 24, 2021
Pros: I couldn't take the car because I get robbed so I didn't have the credit card to do the deposit. I asked for the reimbursement to discoverer cars and they didn't answer me.
August 10, 2021
Cons: The meaning of similar car is very relative and gives unreasonable option for company to give a law grade car.
United Kingdom
Fiat Panda
July 6, 2021
Pros: Nothing.
Cons: The staff were verbally and physically abusive. We will be filing a police report due to the severity of the situation.
September 26, 2020
Pros: Very friendly team and good car.
Cons: Resold insurance meaning we spend a total of £160 on insurance alone. Additional £40 charge for a sat--nav that didn't work at all and when we told them this and asked for money back they said no.
August 27, 2020
Pros: that they always answered the phone
Cons: the car was missing the volume button and the radio was working wierd. I would have liked to know how old the car was.
United Kingdom
Opel Combo
August 14, 2020
Pros: Nothing
Cons: Quoted £700 charged £1000 absolute scam! had to haggle the price down as they wanted to charge more. Nightmare to find collection point. !
United Kingdom
Suzuki Celerio
August 4, 2020
Pros: Reliable cars and very efficient.
Cons: Having to add a driver to use a different credit card than the one we booked with.
July 30, 2020
Pros: Car was ok
Cons: Hidden fees, difficult to communicate in the airport
December 10, 2019
Pros: Quick process at picking up the car
Cons: easy drop off
November 6, 2019
Pros: NO Never!!!!
Cons: I rented thecar for 2 weeks & no problems...I came to there office to extend the period and suddenly i had to pay 5€ extra for a second driver witch was my husband, because our Mastercard is on our company's name and his name. First time i rented it it was no problem at all !! It couldbe fixed with my husband as a second driver!!! BTW ...My husband dont have a drivers license!! Crooked practise overthere!!!!
United Kingdom
Nissan Qashqai
November 1, 2019
Pros: Excellent value and service, polite people and super car.
Cons: The desk was difficult to find, easily improved by having a sign facing the direction people would approach from. But we found it eventually.
United Kingdom
Opel Vivaro
October 30, 2019
Pros: Friendly
Cons: Long walk from the terminal with kids and bags
United Kingdom
Nissan Qashqai
October 18, 2019
Pros: Quick drop off
Cons: Very unhappy. Had to pay extra £100 on collection. I'd booked using my flight arrival time as the earliest collection time of the car but when I got through customs and collected my suitcase by around 10:45, the car was apparently gone and I was told another car had been arranged, but I must pay the full amount plus am extra £100 in cash to take it.
October 17, 2019
Pros: Very friendly service.
United Kingdom
Fiat Panda
October 8, 2019
Pros: Easy drop off - fast and minimum fuss
Cons: Extra charge for pick up after 10pm (10.40PM) - 40 Euros plus freezing off 800 Euros deposit off credit card
United Kingdom
Suzuki Swift
October 6, 2019
Pros: Absolutely shocking, upon arrival we had to wait 30 minutes as there was an issue with a previous customer paying. We had an issue as I was paying for the car for my partners birthday which turns out I couldn't thought it would be different as it was a birthday present and I'm under 21. We then get told to get insurance or they will charge us 800 pounds for any damage to the car could be anything from a little scratch to a work out gear box...
Cons: Carrying on, we then got a parking ticket on the last day and the places we needed were shut so the car rental tell us it's 40 euro admin fee which is not in their terms and condition. Never recommend. Would like to take further...
July 30, 2019
Pros: Voiture kilométrée , suspension très mauvaises , la voiture sélectionnée sur le site ( Suzuki baleno ) nous paraît bien supérieur
Cons: Voiture âgée , agence fermée un samedi au milieu de l après midi pour rendre la voiture
United States of America (USA)
Fiat Tipo
July 2, 2019
Pros: The agent at the drop-off point wore appropriately marked attire, was available at time of early drop-off & offered to drive us to the airport to cover the remaining distance.
Cons: The Carwiz/Let's Drive agents at the pick-up at Heraklion airport were not present at the pick-up location at scheduled time of arrival. The promised / paid for car was not available & a bait & switch with unannounced up-charges was presented. I then had to argue w the car representatives about the responsibility for fulfilling the contract. Also the office isn't clearly marked on designations when arriving from the airport. Overall, process took 2 hours when it was intended to take 30 mins.
May 13, 2019
Cons: They didn't provide with a solution for deposit on the car
Most Popular Car Rental Deals
Heraklion Airport Car Rental
Mini
Suzuki Celerio or similar
Heraklion Airport Car Rental
Mini
Suzuki Celerio or similar
Heraklion Airport Car Rental
Economy
Fiat Panda or similar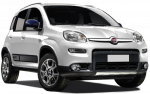 Heraklion Airport Car Rental
Economy
Fiat Panda or similar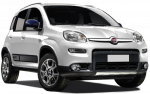 Heraklion Airport Car Rental
Intermediate
Suzuki Vitara or similar
Heraklion Airport Car Rental
Intermediate
Suzuki Vitara or similar
Please check the Rental Conditions for each specific vehicle prior to booking as some conditions, particularly the deposit and deductible, may differ based on the class of vehicle.
Free cancellation with a full refund up to 48 hours before your pick-up time, Unlimited mileage, Collision Damage Waiver
(deductible:

€ 900.00

)
, Theft Protection, Third Party Liability (TPL), Premium Location fee, Free modifications.
Minimum rental age is 21 years.
A young driver fee of 39.99 EUR per rental applies to drivers under the age of 24.

Maximum rental age is 78 years.
A senior driver fee of 8.00 EUR per day, with a maximum of 39.99 EUR per rental applies to drivers above the age of 74.

The driver license must have been issued by authorized authorities at least 1 year(s) before the date of the commencement of the rental.

Driver licenses will be accepted if issued in the following country(ies): United Kingdom, EU countries.
Driver licenses from all other countries must be accompanied with International Driving Permit (IDP).
For driver licenses from countries not party to the Geneva / Vienna Convention on Road Traffic (e.g., China), an official translation of the license in the following language(s): English, together with the original license, must be presented.
A driver license printed using a non-Roman alphabet (Arabic, Japanese, Cyrillic, etc) must be supplemented by an International Driving Permit.
Please note that the International Driving Permit is valid only if accompanied by the regular driver license.
In order to pick up the car, the following documents are required: valid driver license, credit card on a main drivers name, Passport or ID card.
Deposit and deductible policy
A deposit will be blocked on the customer's credit card until the end of the rental period.

At the time of pick up, customers will be required to pay the amount of the rental.
It is possible to pay and leave the deposit only with following payment methods: MasterCard credit card, VISA credit card.
The following payment methods are accepted: Cash, Debit cards, Prepaid cards.
Additional insurance (Super Collision Damage Waiver (SCDW)) must be purchased if using the following payment method(s): Debit cards.

The main driver must provide a physical payment card in their name with enough funds to cover the deposit to pick up the car. The rental company will neither accept virtual credit cards (e.g., GooglePay or ApplePay) nor someone else's card (including family members).
Geographical restrictions
Using a ferry is allowed on the previous request and for an additional charge with special permission from the car rental company.
In the event that Cross Border & Territorial Restrictions are violated, all protections lose their validity.
Optional extras and services
Available special equipment: State Tax, GPS Navigation system, Baby seat (up to 1 year of age), Child seat (2-4 years of age), Booster seat (4-10 years of age), Snow chains, Young driver fee, Senior driver fee.
Prices for extras are shown on the booking page.

Adding additional drivers is allowed.
There is an additional charge for each driver.
Underage additional drivers are subject to both Young Driver and Additional Driver fees.
When picking up the vehicle, all drivers must be present and must provide valid documentation.

Certain additional drivers are subject to both an Additional Driver fee as well as either a Young Driver or Senior Driver fee.
The vehicle is provided with a full tank of fuel and must be returned with the same amount in order to avoid additional charges.
The maximum rental period per agreement is 30 days.
If the renter would like to extend the rental period, renter should return to the car hire office at the end of the rental period to sign a new agreement.
Service outside of business hours is available by request and for an additional charge.
Period of time, during regular working hours, when the car is still guaranteed for the customer, if the customer is late for pick up (the grace period) is 60 minutes.
Pick-up & Drop-off
| | |
| --- | --- |
| Mon: | 08:00 - 22:00 |
| Tue: | 08:00 - 22:00 |
| Wed: | 08:00 - 22:00 |
| Thu: | 08:00 - 22:00 |
| Fri: | 08:00 - 22:00 |
| Sat: | 08:00 - 22:00 |
| Sun: | 08:00 - 22:00 |
Top Suppliers at Heraklion Airport