Car Rental – Search, Compare, and Save up to 70%!

Europcar at Milan Airport Malpensa
MALPENSA APT-TERMINAL 1
00390230568786
Pick-up instructions
C/O TERMINAL 1 MALPENSA APT
Drop-off instructions
Please clarify Drop-off instructions with Car Provider upon Pick-up.
Customer Ratings and Latest Reviews
Overall value for money of your rental car
Ease of finding rental desk or representative
Efficiency of the car rental agents
Time spent picking up the car
Time spent dropping off the car
Overall condition of the car
Because we want to make sure each review listed here is left by a real customer, we don't have an option to post a review here. Instead, we ask each and every customer to leave a review after they return their rental. This way, you know that all reviews are authentic, verified, and trustworthy.
July 25, 2022
Pros: Very easy to book and pick up the car.
Cons: The office in the airport is not working 24 hours and we had to wait almost 6 hours to pick up our car.
April 28, 2022
Cons: Not easy to find car drops location
April 29, 2019
Pros: I hope to thanks europcar staff Every things are fine the prices , car kind and fast
Cons: Nothing
September 28, 2017
Pros: Simple - no fuss
Cons: Their billing arrangement was a little odd - the charge was put through to my credit card quite a few days after the return of the car.
United States of America (USA)
Fiat Panda
July 12, 2017
Pros: Friendly staff. Good car. Nice service
Cons: I queued for about 45 minutes to pick up the keys. There were many customers, but 3 troublesome customers caused a huge queue. It took about 3 minutes to process me, but these other 3 customers were there for over 30 minutes. I'm not sure how to solve this, but maybe there should be only one desk for difficult cases, as these 3 customers used up all the staff.
United States of America (USA)
Peugeot 208 HDI
April 22, 2017
Cons: Sloppy attention to detail by the employees
Most Popular Car Rental Deals
Milan Airport Malpensa Car Rental
Mini
Renault Twingo or similar

Milan Airport Malpensa Car Rental
Economy
Fiat Panda or similar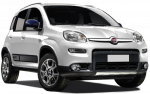 Milan Airport Malpensa Car Rental
Mini Elite
Fiat 500 or similar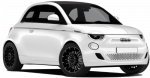 Milan Airport Malpensa Car Rental
Economy
Peugeot 208 or similar

Milan Airport Malpensa Car Rental
Economy
Citroen C3 Picasso or similar

Milan Airport Malpensa Car Rental
Compact
Fiat 500 X or similar

Milan Airport Malpensa Car Rental
Intermediate
Volkswagen T-Roc or similar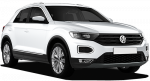 Milan Airport Malpensa Car Rental
Intermediate
Jeep Renegade or similar

Please check the Rental Conditions for each specific vehicle prior to booking as some conditions, particularly the deposit and deductible, may differ based on the class of vehicle.
Free cancellation with a full refund up to 48 hours before your pick-up time, Unlimited mileage, Collision Damage Waiver
(deductible:

€ 900.00

)
, Theft Protection, Airport surcharge, Third Party Liability, VAT (value added tax), Free modifications.
The following surcharges may apply: Winterization fee.
Minimum rental age is 18 years for car group Economy, Mini.
Minimum rental age is 19 years for car group Compact.
Minimum rental age is 21 years for car group Standard, Intermediate, Fullsize.
A young driver fee applies to drivers under the age of 25.

There is no maximum age.
A Senior driver fee is not applied.

For vehicles in groups Mini a driver license valid for at least 1 years is required.
For vehicles in groups Economy, Compact, Intermediate a driver license valid for at least 3 years is required.
For vehicles in groups Luxury, Premium, Special a driver license valid for at least 10 years is required.

Driver licenses will be accepted if issued in the following country(ies): United Kingdom, EU countries.
Driver licenses from all other countries must be accompanied with International Driving Permit (IDP).
A driver license printed using a non-Roman alphabet (Arabic, Japanese, Cyrillic, etc) must be supplemented by an International Driving Permit.
Please note that the International Driving Permit is valid only if accompanied by the regular driver license.

In addition to documents mentioned previously, the customer will need the following: passport, valid driver license, credit card on a main drivers name, booking voucher.
Deposit and deductible policy
A deposit will be blocked on the customer's credit card until the end of the rental period.
The exact deposit is determined on pick up since the amount is dependent on the vehicle.
At time of pick up, customers will be required to pay the amount of the rental and a deposit.
It is possible to pay and leave the deposit only with following payment methods: Diners, MasterCard credit card, VISA credit card, American Express credit card.
For the Luxury, Premium, Fullsize car group, a minimum of two credit cards issued on the main driver's name are required.
Cash, Postbank, Wire Transfer, Prepaid cards, Prepaid Debit cards is/are not accepted.

The main driver must provide a physical payment card in their name with enough funds to cover the deposit to pick up the car. The rental company will neither accept virtual credit cards (e.g., GooglePay or ApplePay) nor someone else's card (including family members).
Geographical restrictions
Cross border rentals are allowed only upon previous request.
Additional charges will be applied in case the car is crossing state or region borders.

Crossing country borders is allowed to the following countries: Austria, Belgium, Croatia, Czech Republic, Finland, France, Germany, Hungary, Ireland, Netherlands, Norway, Portugal, Slovenia, Spain-Mainland, Sweden, Switzerland, United Kingdom.
crossing country borders is forbidden for certain car groups.
Details are available from the car rental company's reservation office. In the event that Cross Border & Territorial Restrictions are violated, all protections lose their validity.
Optional extras and services
Available special equipment: GPS Navigation system, Baby seat (up to 1 year of age), Child seat (2-4 years of age), Booster seat (4-10 years of age), Snow chains.
Prices for extras are shown on the booking page.

Adding additional drivers is allowed.
There is an additional charge for each driver.
When picking up the vehicle, all drivers must be present and must provide valid documentation.

During the winter season (from 15.11. to 15.04.), Snow chains are included in the price only when reserving a vehicle for the following location(s): Northern Italy, Rome, Florence, Ancona, Pescara, L'Aquila, Perugia.

Delivery/Collection service is available within city limits. Additional charges will be applied, depending on the distance.
The vehicle is provided with a full tank of fuel and must be returned with the same amount in order to avoid additional charges.

Alternatively, the renter may purchase a tank full of fuel at the time of rental and return the tank empty.
In no case will a refund be given for unused fuel.
Service outside of business hours is available by request and for an additional charge.
Period of time, during regular working hours, when the car is still guaranteed for the customer, if the customer is late for pick up (the grace period) is 29 minutes.
Pick-up & Drop-off
| | |
| --- | --- |
| Mon: | 07:30 - 23:30 |
| Tue: | 07:30 - 23:30 |
| Wed: | 07:30 - 23:30 |
| Thu: | 07:30 - 23:30 |
| Fri: | 07:30 - 23:30 |
| Sat: | 07:30 - 23:30 |
| Sun: | 07:30 - 23:30 |
Top Suppliers at Milan Airport Malpensa