Car Rental – Search, Compare, and Save up to 70%!

Centauro at Bergamo Airport
Via Cremasca, 96, 24052 Zanica BG
00390 683 662 959
Pick-up instructions
Once you have collected your luggage, come out of the terminal building and turn left and continue until you reach exit number 4 of the departure terminal and just opposite in the parking area the Centauro Rent a Car shuttle bus will be waiting to take you to our office.
Drop-off instructions
Vehicles must be returned to the Centauro car park and then you will be taken to the Departure Hall by Shuttle Bus.
Customer Ratings and Latest Reviews
Overall value for money of your rental car
Ease of finding rental desk or representative
Efficiency of the car rental agents
Time spent picking up the car
Time spent dropping off the car
Overall condition of the car
Because we want to make sure each review listed here is left by a real customer, we don't have an option to post a review here. Instead, we ask each and every customer to leave a review after they return their rental car. This way, you know that all reviews are authentic, verified, and trustworthy.
April 21, 2023
Pros: Only car cleanliness.
Cons: Centauro charge an extra insurance! They didn't speak English to my father (the driver) who is 62 years old and he didn't understand anything of all that staff and charge him upper insurance 180 euros. They behave falsely that they didn't understand what our voucher make reference to. It 's shame on them that they gain money this way! We 've been prepaid an insurance and they get an extra "smart insurance". They take advantage of the situation.
March 23, 2023
Pros: Great personnel, happy, helpful and forgiving - backed into a post and it left a small paint damage on the bumper, but the staff were cool about it as it was such a small thing.
March 13, 2023
Pros: value for money and Overall condition of the car
March 1, 2023
Pros: Efficiency
Cons: Nothing
February 9, 2023
Pros: The process was short and quick
Cons: There were only one representative to deal with all the customers
January 29, 2023
Pros: Very easy to work with Centauro.
Cons: I didn't like the fact that I got twice worn tires. Please keep in mind that tires are essential for safety.
December 27, 2022
Pros: Agent was very helpful and very cheap car.
Cons: Nothing
United Kingdom
Ford Focus
September 30, 2022
Pros: From pick up at the airport to driving away in the rental car all went smoothly
Czech Republic
Ford Fiesta
September 6, 2022
Pros: all infromation was clear we had a bigger car than we order thank you for that
Cons: the timing the company is not open for 24 hours
August 28, 2022
Pros: no queques, easy and clear instruction how to find the transfer to the office, quick rental proces and good price
Cons: during dropping off I was little bit confused what to do, thus this instructions should be presented more clear.
July 3, 2022
Cons: I paid twice for insurance, I paid another 46 euros to the rental company. I will ask for a refund. Thank you.
June 23, 2022
Cons: I didn´t like they tried that I pay for a scratch in the car that existed when I picked it at the rental desk. I have pictures that I took the moment before I left the rental and it showed that the scratch was there before I drive the car. Their employe told me that they are not going to charge, but they charged me 450 euros in my VISA. Now I made an email to them and I am waiting for their reply. This seems not a serious company.
May 26, 2022
Pros: New car no problems
April 9, 2022
Pros: It's a legit company. God identification. Give contracts on paper.
Cons: The car was not clean. Dirty floor. Dirty outside. And was not filled with AdBlue.
April 7, 2022
Pros: I hated every moment. It was a catastrophe
Cons: She insisted that we show her our local israeli driving licence. We explained that we have only the international one and she did not agry that our daughter will scan it and send it right a way by email or whatsup. She had zero willingness to help us in any way possible including connecting to the car rental wifi. We came back to the airport and rented a car on the spot with the same international driving licence we had with us with no problem at all and with a great service. We couldn't contact
December 3, 2021
Cons: I contract a car with snow chains on board and Centauro doesn't have it on the car
October 21, 2021
Pros: Very kind, fair and effective
August 13, 2021
Pros: The service was great, the people were very kind.
Cons: Never ever get the Lancia Ypsilon. Extremely slow and uncomfortable car. Also, the office is not in the airport so you have to drive like 10 minutes to get there.
August 3, 2021
Pros: by dropping of the car, it was great and easy
Cons: by pick up, it was a complete disaster very difficult to explain things to someone who doesn't understand english very well
February 6, 2021
Pros: Fantastic staff.
Cons: No complaints at all.
September 10, 2020
Pros: quick and efficient, no drama during the process.
Cons: The price of delivering in another aeroport, since they got the company there.
October 2, 2019
Pros: The car
Cons: Agents service in the pick up
August 24, 2019
Cons: The brakes and 6th gear squeak sometimes.
United Kingdom
Ford Focus
August 13, 2019
Pros: The driver to the car rental place was friendly and the car was nice
Cons: The rental was far from the airport and because of not having a credit card we had to buy the additional expensive cover.
United Kingdom
Ford Focus
April 16, 2019
Pros: Creative, supportive attitude
Cons: Restrictions about payment cards, high price
United Kingdom
Ford Fiesta
February 13, 2019
Pros: Clear instructions on pickup / drop off
Cons: Supposed to be full tank of fuel on pickup but it was only half of tank
United Kingdom
Ford Fiesta
October 1, 2018
Pros: Every thing is ok appart from what I seen on the website in person to the office
Cons: Service is good
September 14, 2018
Pros: Quick and efficient. Even though off site, frequent and quick minibus shuttle.
Cons: They do really try and push the optional excess cover at 25 euros a day when you can buy in advance on-line through insurers for £2 or £3 a day
United States of America (USA)
Ford Fiesta
June 12, 2018
Pros: Staff friendly and efficient, but not enough of them. Rental was well priced. Car appeared well maintained, no issues there.
Cons: Only 1 staff member at desk, was too busy during pick-up. Only 1 staff member handling returns, was too busy during drop-off. Car was not washed on pick-up. Car was blocked at pick-up, we had to wait for the next customer to get their car before we could leave. The compulsory insurance is not compatible with many premium American credit cards that automatically provide this service - You would get a lot more business from American renters if you were compatible with these cards.
Most Popular Car Rental Deals
Bergamo Airport Car Rental
Economy
Ford Fiesta or similar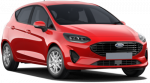 Bergamo Airport Car Rental
Economy
Ford Fiesta or similar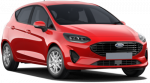 The above prices are only approximate and were last updated at 13:10 on 2023-06-02. Prices may vary based on the booking dates, length of rental, and car class.
Please check the Rental Conditions for each vehicle prior to booking as some conditions, particularly the deposit and deductible, may vary based on the class of vehicle.
Free cancellation with a full refund up to 48 hours before your pick-up time, Unlimited mileage, Collision Damage Waiver
(deductible:

€ 1050.00 - € 1650.00

)
, Theft Protection, Roadside Assistance (in the country of pick-up), Third Party Liability (TPL), Airport surcharge, Free modifications, State Tax.
Minimum rental age is 19 years.
A young driver fee applies to drivers under the age of 25.

There is no maximum age.
A senior driver fee of 5.00 EUR per day, with a maximum of 25.00 EUR per rental applies to drivers above the age of 75.

The driver license must have been issued by authorized authorities at least 1 year(s) before the date of the commencement of the rental.

The driver license must be written in Latin alphabet.
Driver licenses will be accepted if issued in the following country(ies): United Kingdom, EU.
Driver licenses from all other countries must be accompanied with International Driving Permit (IDP).
In addition to the regular driver license, an International Driving Permit is also mandatory if the driver license is written in a language other than that of the renting country and/or in characters that cannot be read in the renting country. Please note that the International Driving Permit is valid only if accompanied by the regular driver license. In order to pick up the car, the renter and each additional driver must present the following documents: valid driver license, credit card on a main drivers name, Passport or ID card.
Only physical driver's licenses are accepted (not digital versions).
Deposit and deductible policy
A deposit will be blocked on the customer's credit card until the end of the rental period.
A deposit for a tank of fuel is required upon collecting the vehicle.

It is only possible to pay and leave a deposit using the same card.
At time of pick up, customers will be required to pay the amount of the rental and a deposit.
It is possible to pay and leave the deposit only with the following payment methods: Visa Electron, Visa Debit Card, MasterCard credit card, VISA credit card, MasterCard debit card.
Only cards issued in the main driver's name are accepted.
It is only possible to pay and leave a deposit using the same card.
The daily limit on the card used for payment must be high enough to cover the deposit. Otherwise, purchase of the following insurance policy(ies): Super Insurance is mandatory.

Maestro, American Express, Cash, Cheques, Diners, Prepaid cards is/are not accepted.

The main driver must provide a physical payment card in their name with enough funds to cover the deposit to pick up the car. The rental company will neither accept virtual credit cards (e.g., GooglePay or ApplePay) nor someone else's card (including family members).
Geographical restrictions
Cross border rentals are allowed only upon previous request.
Additional charges will be applied in case the car is crossing state or region borders.
Crossing country borders is allowed to the following countries: Austria, France, Monaco, Switzerland.

Using a ferry is not allowed.
Optional extras and services
Available special equipment: GPS Navigation system, Baby seat (up to 1 year of age), Child seat (2-4 years of age), Booster seat (4-10 years of age), Snow chains, Senior driver fee, Cross border fee.
Prices for extras are shown on the booking page.

Adding additional drivers is allowed.
There is an additional charge for each driver.
Underage additional drivers are subject to both Young Driver and Additional Driver fees.
When picking up the vehicle, all drivers must be present and must provide valid documentation.

All extras are available at the rental counter. Prices vary, depending on the rental period.

It is allowed to add up to 3 additional drivers.
Delivery/collection service is not provided.
The vehicle is provided with a full tank of fuel and must be returned with the same amount in order to avoid additional charges.
A deposit for a tank of fuel is required upon pick up.
At time of drop off, customers should return the vehicle with a full tank and be able to show the gas station receipt confirming they have filled the tank, in order for the fuel deposit to be refunded.

In case of renting at the airport location, the customer must provide a valid flight number in order to make a reservation.
The maximum rental period per agreement is 29 days.
If the renter would like to extend the rental period, renter should return to the car hire office at the end of the rental period to sign a new agreement.
Service outside of business hours is available by request and for an additional charge.
Period of time, during regular working hours, when the car is still guaranteed for the customer, if the customer is late for pick up (the grace period) is 120 minutes.
If the customer is late for a return for more than 0 minutes, extra day charges will apply, in addition to any other rental charges.
Pick-up & Drop-off
| | |
| --- | --- |
| Mon: | 07:00 - 23:00 |
| Tue: | 07:00 - 23:00 |
| Wed: | 07:00 - 23:00 |
| Thu: | 07:00 - 23:00 |
| Fri: | 07:00 - 23:00 |
| Sat: | 07:00 - 23:00 |
| Sun: | 07:00 - 23:00 |
Top Suppliers at Bergamo Airport