Car Rental – Search, Compare, and Save up to 70%!

Goldcar at Olbia Airport
Aeroporto di Olbia Costa Smeralda Via Aeroporto, 219, 07026 Olbia, OT
0034 965 233 425 / 0039 0 645 209 634 / 0039 078 966 517
Pick-up instructions
Inside Goldcar Office. Once you leave the arrivals hall exit and go to right direction following Rent a Car indications. Once arrived at the car rental terminal (50 meters from arrival exit),do NOT enter in the pink and gray building, but follow the right side building perimeter. At the end of the slope turn right ,cross the road and follow the short path up to Goldcar office.
Drop-off instructions
Please clarify Drop-off instructions with Car Provider upon Pick-up.
Customer Ratings and Latest Reviews
Overall value for money of your rental car
Ease of finding rental desk or representative
Efficiency of the car rental agents
Time spent picking up the car
Time spent dropping off the car
Overall condition of the car
Because we want to make sure each review listed here is left by a real customer, we don't have an option to post a review here. Instead, we ask each and every customer to leave a review after they return their rental car. This way, you know that all reviews are authentic, verified, and trustworthy.
August 3, 2022
Pros: Quick return process.
Cons: Huge line to pick it up.
July 28, 2022
Pros: Nothing.
Cons: They're using scaring tactics to get people to buy the full insurance.
October 22, 2021
Pros: Very little.
Cons: The representative was aggressive, short, unfriendly, arrogant and determined to sell me insurance nothing snout it was pleasant. Do much do I took photos and video of the car to be sure it was returned as found
Czech Republic
Fiat Panda
October 1, 2021
Cons: Rozhodně se mi nelíbilo,že jsem si auto na voucher od discovercars nemohla půjčit, protože jsem neměla kreditní,ale debitní kartu.Je zajímavé, že záloha se z debitní karty strhla a doplatek na pobočce Goldcars nebyl možný.Pujčili jsme si auto jiné,ale na místě za dvojnásobnou cenu.A záloha od Vaší společnosti Discovercars mi vrácena nebyla.Neseriozni.Tudiž nedoporučuji a doporučovat nebudu.Čep
August 24, 2021
Cons: I did not like that they pushed us into another insurence, even we have paid Full coveridge. They eplaind us that is not for scratches and so on and wanted another 130 Eur. I had to persuate that I am not going to pay nothing else but it was not pleasant.
September 8, 2020
Pros: Nothing springs to mind
Cons: The local supplier (Goldcar) did not accept AMEX credit cards, Visa / Mastercard debit cards or cash for the security deposit and rental payment but ONLY Visa / Mastercard credit cards. Further, Goldcar does not accept payment of the rental charge and security deposit by a passenger (rather than the driver named on the contract) even where this person is physically present and in possession of photo ID and/or driver's license. Finally, Goldcar does not recognise insurance coverage purchased
United Kingdom
Opel Corsa
October 7, 2019
Cons: Picking up the car took an hour which is ridiculous, staff were slow and didn't seem to care about a massive queue of people which kept growing due to their slowness!
Czech Republic
Fiat Panda
June 29, 2019
Pros: nice people trying to do their best
Cons: You definitevely need reorganization: I do not understand why everybody should wait at least 1 hour at the rental office if everything is prebooked, I should have my papers already ready and should give only my credit card, and all this should take only couple of minutes! The same for the giving back the keys!
United States of America (USA)
Fiat Panda
December 23, 2018
Cons: There was no exterior light to check the exterior condition. This must be changed.
United States of America (USA)
Citroen C4 Cactus
July 25, 2018
Pros: nothing
Cons: Thieves! They showed me fine print that I needed an international license. Then made me sign a waiver and charged me about $350 EXTRA for full insurance.
United States of America (USA)
Opel Corsa
July 7, 2018
Pros: Cheap and efficient, no issue
Most Popular Car Rental Deals
Olbia Airport Car Rental
Mini
Fiat Panda or similar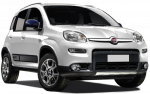 Olbia Airport Car Rental
Mini
Fiat Panda or similar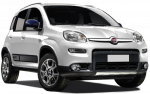 The above prices are only approximate and were last updated at 12:45 on 2023-06-02. Prices may vary based on the booking dates, length of rental, and car class.
Please check the Rental Conditions for each vehicle prior to booking as some conditions, particularly the deposit and deductible, may vary based on the class of vehicle.
Free cancellation with a full refund up to 48 hours before your pick-up time, Unlimited mileage, Collision Damage Waiver
(deductible:

€ 1100.00

)
, Theft Protection, Supplemental Liability Insurance (SLI), Airport surcharge, Free modifications, State Tax.
Minimum rental age is 21 years.
A young driver fee applies to drivers under the age of 25.

There is no maximum age.
A Senior driver fee is not applied.

The driver license must have been issued by authorized authorities at least 1 year(s) before the date of the commencement of the rental.
A novice driver fee will apply to drivers who have held their driver license for less than 4 years.

A driver license printed using a non-Roman alphabet (Arabic, Japanese, Cyrillic, etc) must be supplemented by an International Driving Permit.
In addition to the regular driver license, an International Driving Permit is also mandatory if the customer is not a resident of the following country(ies): EU countries.
Please note that the International Driving Permit is valid only if accompanied by the regular driver license.

In order to pick up the car, domestic renters must present the following documents: valid driver license, ID card, credit card on a main drivers name, booking voucher, Italian fiscal code card.
Residents of the following country(ies): EU are required to present the following document(s): credit card, valid driver license, ID card, booking voucher in order to pick up the car.
Residents of the following country(ies): non-EU are required to present the following document(s): passport, credit card, valid driver license, booking voucher, International Driving Permit (IDP) in order to pick up the car.
Deposit and deductible policy
A deposit will be blocked on the customer's credit card until the end of the rental period.
A deposit for a tank of fuel is required upon collecting the vehicle.

If the customer takes the following extra equipment: GPS Navigation system, then an additional amount of deposit will be held on their credit card.


The following credit cards issued on the main driver's name are accepted: MasterCard credit card, VISA credit card. Any other cards or cash payments are not accepted.

The main driver must provide a physical payment card in their name with enough funds to cover the deposit to pick up the car. The rental company will neither accept virtual credit cards (e.g., GooglePay or ApplePay) nor someone else's card (including family members).
Optional extras and services
Available special equipment: Baby seat (up to 1 year of age), Child seat (2-4 years of age), Booster seat (4-10 years of age), Young driver fee, Novice driver.
Prices for extras are shown on the booking page.

Adding additional drivers is allowed.
There is an additional charge for each driver.
Underage additional drivers are subject to both Young Driver and Additional Driver fees.
When picking up the vehicle, all drivers must be present and must provide valid documentation.

Optional extras are subject to the following additional charge(s): Premium Location surcharge, Airport Surcharge.

Delivery/collection service is not provided.
The vehicle is provided with a full tank of fuel and must be returned with the same amount in order to avoid additional charges.
A deposit for a tank of fuel is required upon pick up.
Diesel vehicles are available only by request upon arrival. Diesel vehicles are available for an additional charge.
The maximum rental period per agreement is 28 days.
If the renter would like to extend the rental period, renter should return to the car hire office at the end of the rental period to sign a new agreement.
Period of time, during regular working hours, when the car is still guaranteed for the customer, if the customer is late for pick up (the grace period) is 59 minutes.
Pick-up & Drop-off
| | |
| --- | --- |
| Mon: | 08:00 - 22:00 |
| Tue: | 08:00 - 22:00 |
| Wed: | 08:00 - 22:00 |
| Thu: | 08:00 - 22:00 |
| Fri: | 08:00 - 22:00 |
| Sat: | 08:00 - 22:00 |
| Sun: | 08:00 - 22:00 |
Top Suppliers at Olbia Airport