Car Rental – Search, Compare, and Save up to 70%!

Enterprise at Thessaloniki Airport
Leof. Georgikis Scholis 122, Pilea Chortiatis 55535
0030 2 310 541 081
Pick-up instructions
For Airport pickups: At the exit of the arrivals please turn right where is the parking 5 at about 150 meters. Our Enterprise shuttle bus is parked there to drive you to the office. For office pickups: The branch is located about 3km away from Thessaloniki International Airport. The address is Leoforos georgikis scholis . Note that the entrance is at the back of the property, driving to the narrow alley called Spordan str, to its right.
Drop-off instructions
Customers have to return the rental vehicle to the off airport branch where the rental was picked up and take the shuttle bus to the airport. When driving from Thessaloniki centre to the Airport customers can take road 16 Leof. Georgikis Scholis. You will see an IKEA on the left and after passing two sets of traffic lights drive on the right and then make a U-turn after taking the right slip road. At the light take a left to get back on Leof. Georgikis Scholis in the opposite direction and after 200 metres take a right turn just before the Audi garage to gain access to the branch parking area. Alternatively customers can follow A25 and take the Airport exit and turn right onto 16 EO Thessalonikis Poligirou and at the traffic lights turn right onto Leof. Georgikis Scholis. Follow 200 metres to the Audi garage and take a right to access the rental branch parking area.
Customer Ratings and Latest Reviews
Overall value for money of your rental car
Ease of finding rental desk or representative
Efficiency of the car rental agents
Time spent picking up the car
Time spent dropping off the car
Overall condition of the car
Because we want to make sure each review listed here is left by a real customer, we don't have an option to post a review here. Instead, we ask each and every customer to leave a review after they return their rental. This way, you know that all reviews are authentic, verified, and trustworthy.
January 11, 2022
Pros: Excellent service ! Full recommend!
May 3, 2020
Pros: Service was never used
Cons: They were good offer the phone explaining their policy due to covid19
Russian Federation
Opel Corsa
June 19, 2019
Pros: Guys waited for us despite luggage delay and provided a car after Business hours Very fast car drop
Cons: AC in the car were not working properly
United States of America (USA)
Suzuki Celerio
August 29, 2017
Pros: I appreciated that I could drop the car off very early in the morning (05:00), thank you to that lady!
Most Popular Car Rental Deals
Thessaloniki Airport Car Rental
Mini
Suzuki Celerio or similar

Thessaloniki Airport Car Rental
Economy
Nissan Micra or similar

Thessaloniki Airport Car Rental
Intermediate
Suzuki S-Cross or similar

Thessaloniki Airport Car Rental
Compact
Opel Astra or similar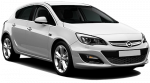 Thessaloniki Airport Car Rental
Mini
Hyundai i10 or similar

Thessaloniki Airport Car Rental
Economy
Peugeot 208 or similar

Thessaloniki Airport Car Rental
Intermediate
Citroen C Elysee or similar

Thessaloniki Airport Car Rental
Intermediate
BMW 1 Series or similar

Thessaloniki Airport Car Rental
Intermediate
BMW 1 Series or similar

Please check the Rental Conditions for each specific vehicle prior to booking as some conditions, particularly the deposit and deductible, may differ based on the class of vehicle.
Free cancellation with a full refund up to 48 hours before your pick-up time, Unlimited mileage, Collision Damage Waiver
(deductible:

€ 700.00

)
, Roadside Assistance (in the country of pick up), Third Party Liability, VAT (value added tax), Free modifications.
Minimum rental age is 21 years for car group Economy, Mini.
Minimum rental age is 23 years for car group Compact, Standard, Luxury, Intermediate, Premium, Fullsize, SUVs, Special.
A young driver fee applies to drivers under the age of 24.

There is no maximum age.
A Senior driver fee is not applied.

The driver license must have been issued by authorized authorities at least 1 year(s) before the date of the commencement of the rental.

In addition to the regular driver license, an International Driving Permit is also mandatory if the customer is not a resident of the following country(ies): EU.
A driver license printed using a non-Roman alphabet (Arabic, Japanese, Cyrillic, etc) must be supplemented by an International Driving Permit.
Please note that the International Driving Permit is valid only if accompanied by the regular driver license.

In addition to documents mentioned previously, the customer will need the following: valid driver license, credit card on a main drivers name, Passport or ID card, booking voucher.
Deposit and deductible policy
A deposit will be blocked on the customer's credit card until the end of the rental period.
The exact deposit is determined on pick up since the amount is dependent on the vehicle.
At time of pick up, customers will be required to pay the amount of the rental and a deposit.
It is possible to pay and leave the deposit only with following payment methods: MasterCard credit card, VISA credit card.
The following payment methods are accepted: Visa Debit Card, MasterCard debit card, Union Pay.
Only cards issued in the main driver's name are accepted.
Maestro, Cash, Cheques, Prepaid cards is/are not accepted.

The main driver must provide a physical payment card in their name with enough funds to cover the deposit to pick up the car. The rental company will neither accept virtual credit cards (e.g., GooglePay or ApplePay) nor someone else's card (including family members).
Geographical restrictions
crossing country borders is available on previous request at least 5 days before the pick up date.
Additional charges will be applied in case the car is crossing state or region borders.

Crossing country borders is allowed to the following countries: Andorra, Austria, Belgium, Bosnia and Herzegovina, Bulgaria, Croatia, Czech Republic, Denmark, Finland, France, Germany, Hungary, Ireland, Italy, Liechtenstein, Luxembourg, Monaco, Netherlands, Norway, Poland, Portugal, Romania, Serbia, Slovakia, Slovenia, Spain-Mainland, Sweden, Switzerland, United Kingdom, Gibraltar.
crossing country borders is forbidden for certain car groups.
The purchase of the following insurance(s): Third Party Liability (TPL) is mandatory.

Details are available from the car rental company's reservation office. In the event that Cross Border & Territorial Restrictions are violated, all protections lose their validity.
Optional extras and services
Available special equipment: GPS Navigation system, Baby seat (up to 1 year of age), Child seat (2-4 years of age), Booster seat (4-10 years of age).
Prices for extras are shown on the booking page.


All extras are available at the rental counter. Prices vary, depending on the rental period.

It is allowed to add up to 2 additional drivers.
Delivery/Collection service is available only by previous request.
Additional charges will be applied.

The vehicle is provided with a full tank of fuel and must be returned with the same amount in order to avoid additional charges.

In case of renting at the airport location, the customer must provide a valid flight number in order to make a reservation.
Service outside of business hours is available by previous request at airport locations.
Period of time, during regular working hours, when the car is still guaranteed for the customer, if the customer is late for pick up (the grace period) is 0 minutes.
Top Suppliers at Thessaloniki Airport