Car Rental – Search, Compare, and Save up to 70%!

Thrifty at Marrakech Airport
Aeroport Menara, Marrakech, 40160
00212 802 007 778
Pick-up instructions
Rental desk is located in the arrivals hall.
Drop-off instructions
Please clarify Drop-off instructions with Car Provider upon Pick-up.
Customer Ratings and Latest Reviews
Overall value for money of your rental car
Ease of finding rental desk or representative
Efficiency of the car rental agents
Time spent picking up the car
Time spent dropping off the car
Overall condition of the car
United Kingdom
Toyota Prado
August 30, 2019
Pros: The drop off was ok as the staff arrived on time and were efficient.
Cons: Was given the wrong car! Spent more than an hour waiting to pick up the car just to be told that they did not have the car that I booked months before!
United Kingdom
Suzuki SX4
August 29, 2019
Pros: Friendly
Cons: Took a long time to collect car, and the very small booth was not air conditioned.
August 5, 2019
Pros: Easy to book online
Cons: The agents make fatal mistakes and refuse to claim their responsibility for example the police stopped me because the car has expired papers and the agent did not have another car and at the same time refused to cancel my booking
July 14, 2019
Pros: The car was new and in good condition overall.
Cons: -I had to wait 2 hours in line in order to pick up the car after a very tiring journey. - They gave us a car with broken window and at the end they tried to blame it on us but luckily we took pictures beforehand.
United Kingdom
Dacia Duster
July 10, 2019
Pros: Fast efficient
Cons: Car could have been cleaner
United Kingdom
Hyundai i10
July 9, 2019
Pros: Good nearly new car in good condition at low prices.
Cons: Air conditioning did not work in the car.
June 12, 2019
Pros: Value, everything else was a fucking disgrace and nightmare. The car had cigarette burns in the seats.
Cons: Everything, took hours to rent, just as long to drop back. Car was a state. So so so unhelpful. Using Avis going forward
June 6, 2019
Cons: I had to wait too long at the desk
Czech Republic
Citroen C Elysee
December 11, 2018
Pros: Good cars.
Cons: High additional fees, obstruction with returning car - it shows not full fuel tank in despite of it was. It was quite difficult to find the rental desk after arrival to airport.
United Kingdom
Toyota Yaris Hybrid
December 6, 2018
Pros: it seemed good at first but we were back stabbed by employee.
Cons: we booked a 1-2 year old car seat but were given a booster seat too big for our baby and he said they dont have baby ones so we had to go rent one on our trip and still have not gotten a refund on the wrong seat provided. the employee said "well you took it" and our response is: "ye it was 11pm when we were there we had no choice to take it because we cant leave our baby at the airport!" please help resolve.
United States of America (USA)
Dacia Duster
November 19, 2017
Cons: please hire more agents in the parking lot, there was one agent for all the rentals and if there was a rush it would take an extremely long time
June 26, 2017
Pros: The fact that they are in the airport
Cons: The car proposed are not on the same standard as in Europe
Most Popular Car Rental Deals
Marrakech Airport Car Rental
Intermediate
Fiat Fullback or similar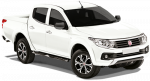 View
Top 27 Suppliers for Marrakech Airport in 2020