Car Rental – Search, Compare, and Save up to 70%!

Goldcar at Cagliari Airport
Cagliari Airport Via Dei Trasvolatori snc C/O Area Rent a Car 09030 Cagliari, Sardinia
0039 0 645 209 634
Pick-up instructions
Going out from the arrivals hall, go left, follow the TRAIN/RENT A CAR signs, go through the sidewalk along the multi-level car park, enter the glass building, just in front of the airport terminal.
Drop-off instructions
Please clarify Drop-off instructions with Car Provider upon Pick-up.
Customer Ratings and Latest Reviews
Overall value for money of your rental car
Ease of finding rental desk or representative
Efficiency of the car rental agents
Time spent picking up the car
Time spent dropping off the car
Overall condition of the car
Because we want to make sure each review listed here is left by a real customer, we don't have an option to post a review here. Instead, we ask each and every customer to leave a review after they return their rental. This way, you know that all reviews are authentic, verified, and trustworthy.
United Kingdom
Opel Corsa
October 14, 2020
Pros: The car itself was ok, small but powerful, so no problems here.
Cons: We had an awful experience with Gold Car. We waited 4.5 hours to rent our car. The agents were reassuring us that this was an exception but when we got back to drop the car off, the queue was even longer. We were told that if we wanted somebody to look at the dropped-off car, we would need to wait in the queue! The agents were trying to push extra insurance as well. I will stay away from this company and will read reviews more carefully. Very frustrating start of hols (and wasted 4.5 hrs)
January 23, 2020
Pros: Nice staff, fast service, highly recommendable.
United Kingdom
Fiat Panda
October 25, 2019
Pros: Very fast.
Cons: Fuel tank wasn't completely full and car had slight damage to paintwork.
October 18, 2019
Pros: nothing
Cons: unprofessional, impolite service desk
Spain
Citroen C3 Aircross
September 11, 2019
Pros: Goldcar Agents lie and make you feel afraid to contract all risk insurance. My car was not enough cleaned
Cons: Goldcar Agents lie and make you feel afraid to contract the all risk insurance. A lot of queue to pick up the car, 1 hour waiting
July 9, 2019
Cons: The car was only 2 years old but had 1 bump on the hood and air ventilation grill inside the cabim was broken. Car rental agent didn t wont to update this in the pick up papers. Very unpleasent situation. He kept on conviencing me that that is nothing and the car is ok etc..
United Kingdom
Opel Astra
November 9, 2018
Pros: Easy and straightforward
Cons: There we're extra costs which were added on. The car was still good value but it would be better if all the costs we're clearly when hiring.
United States of America (USA)
Opel Adam
August 4, 2017
Pros: car was good, return was easy.
Cons: 1.5 hours of waiting time to collect car, in hot queue. Essentially bullied me to take on full insurance saying discover cover would not hold.
June 21, 2017
Pros: When returning the car, the women working at the desk were pleasant and efficient. No issues.
Cons: Upon arrival at the desk, the rep proceeded to try and pressure us into buying the extra damage waiver and when we declined he took it very personally and kept making snippy remarks and generally tried to scare us into getting the extra insurance. Not at all pleased with his attitude. It was a stressful start to the holiday and I wouldn't use Goldcar again.
May 26, 2017
Pros: nothing
Cons: misleading information - I paYed insurance on the website (10 EUR a day, goldman offered their insurance for 100 euro instead. I could not leave deposit from my friend's credit cart (who was added to the contract). MONKEY BUSINESS
Most Popular Car Rental Deals
Cagliari Airport Car Rental
Mini
Fiat Panda or similar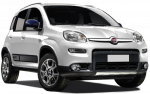 Cagliari Airport Car Rental
Mini
Fiat Panda or similar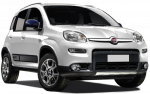 Please check the Rental Conditions for each specific vehicle prior to booking as some conditions, particularly the deposit and deductible, may differ based on the class of vehicle.
Free cancellation with a full refund up to 48 hours before your pick-up time, Unlimited mileage, Collision Damage Waiver
(deductible:

€ 1100.00

)
, Theft Protection, Supplemental Liability Insurance (SLI), Airport surcharge, Free modifications, State Tax.
Minimum rental age is 21 years.
A young driver fee applies to drivers under the age of 25.

There is no maximum age.
A Senior driver fee is not applied.

The driver license must have been issued by authorized authorities at least 1 year(s) before the date of the commencement of the rental.
A novice driver fee will apply to drivers who have held their driver license for less than 4 years.

A driver license printed using a non-Roman alphabet (Arabic, Japanese, Cyrillic, etc) must be supplemented by an International Driving Permit.
In addition to the regular driver license, an International Driving Permit is also mandatory if the customer is not a resident of the following country(ies): EU countries.
Please note that the International Driving Permit is valid only if accompanied by the regular driver license.

In addition to documents mentioned previously, the customer will need the following: valid driver license, credit card on a main drivers name, Passport or ID card, booking voucher.
In order to pick up the car, domestic renters must present the following documents: valid driver license, credit card on a main drivers name, Passport or ID card, booking voucher, Italian fiscal code card.
Deposit and deductible policy
A deposit will be blocked on the customer's credit card until the end of the rental period.
A deposit for a tank of fuel is required upon collecting the vehicle.

If the customer takes the following extra equipment: GPS Navigation system, then an additional amount of deposit will be held on their credit card.


The following credit cards issued on the main driver's name are accepted: MasterCard credit card, VISA credit card. Any other cards or cash payments are not accepted.

The main driver must provide a physical payment card in their name with enough funds to cover the deposit to pick up the car. The rental company will neither accept virtual credit cards (e.g., GooglePay or ApplePay) nor someone else's card (including family members).
Geographical restrictions
Cross border rentals are allowed only upon previous request.
Crossing country borders is allowed to the following countries: Croatia, France, Slovenia, Switzerland.
Crossing the border is not allowed if the vehicle was picked up in Sardinia, Sicily, Apulia, Calabria. Information on the exact fee amount is available by request. In the event that Cross Border & Territorial Restrictions are violated, all protections lose their validity.
Optional extras and services
Available special equipment: Baby seat (up to 1 year of age), Child seat (2-4 years of age), Booster seat (4-10 years of age), Young driver fee, Novice driver.
Prices for extras are shown on the booking page.

Adding additional drivers is allowed.
There is an additional charge for each driver.
Underage additional drivers are subject to both Young Driver and Additional Driver fees.
When picking up the vehicle, all drivers must be present and must provide valid documentation.

Optional extras are subject to the following additional charge(s): Premium Location surcharge, Airport Surcharge.

Delivery/collection service is not provided.
The vehicle is provided with a full tank of fuel and must be returned with the same amount in order to avoid additional charges.
A deposit for a tank of fuel is required upon pick up.
Diesel vehicles are available only by request upon arrival. Diesel vehicles are available for an additional charge.
The maximum rental period per agreement is 28 days.
If the renter would like to extend the rental period, renter should return to the car hire office at the end of the rental period to sign a new agreement.
Period of time, during regular working hours, when the car is still guaranteed for the customer, if the customer is late for pick up (the grace period) is 59 minutes.
Pick-up & Drop-off
| | |
| --- | --- |
| Mon: | 08:00 - 20:00 |
| Tue: | 08:00 - 20:00 |
| Wed: | 08:00 - 20:00 |
| Thu: | 08:00 - 20:00 |
| Fri: | 08:00 - 20:00 |
| Sat: | 08:00 - 20:00 |
| Sun: | 08:00 - 20:00 |
Top Suppliers at Cagliari Airport