Car Rental – Search, Compare, and Save up to 70%!

Flexways at Cancun Airport
Carretera Cancún - Chetumal, Km 22, 77500 Cancún, Q.R
0054 91 152 599 877
Pick-up instructions
Once your flight has arrived and you have collected your luggage, please proceed to the ""Free Shuttle"" area or "Friends and family" exit. This will be our meeting point, there will be a Flexways host waiting for you with your name written on a board. If you cannot find this area, ask any airport employee for help, they will guide you. this will be our meeting place: TERMINAL 2: 21.040239, -86.873963 (Salida amigos y familiares entre puerta 5 y 6) TERMINAL 3: 21.040239, -86.873963 (Salida amigos y familiares) TERMINAL 4: 21.046521, -86.879911 (Salida amigos y familiares) If you do not find our representative please call to 0054 9 11 5259-9877 (Phone and Whatsapp). IMPORTANT NOTE: Please do not go to the platforms aera, we do not have access in that area. Due to internal regulations of the Airport we cannot deliver the car at the airport. We will give you the FREE transfer to our office where the vehicle will be delivered. Our office is only 3 minutes away.
Drop-off instructions
Please clarify Drop-off instructions with Car Provider upon Pick-up.
Customer Ratings and Latest Reviews
Overall value for money of your rental car
Ease of finding rental desk or representative
Efficiency of the car rental agents
Time spent picking up the car
Time spent dropping off the car
Overall condition of the car
Because we want to make sure each review listed here is left by a real customer, we don't have an option to post a review here. Instead, we ask each and every customer to leave a review after they return their rental. This way, you know that all reviews are authentic, verified, and trustworthy.
August 2, 2022
Cons: The fueltank wasn't full when we get the car.
United States of America (USA)
Dodge Grand Caravan
July 29, 2022
Pros: Friendly and attentive
Cons: That they don't have the office or reresentsive right at the airport
June 28, 2022
Cons: Comments in my evaluation. The overall value: Service was pretty bad in all aspects. Besides that we had a terrible experience when we had a small accident even with Flexways and Discovery Cars coverage. The securiy company (ANA) and policy extorted the other driver who caused the accident. It took more than two hours to be released by police. Ease of finding: The staff was responsive but didn't solve my problems. Didn't change my car, take very long time to complete the checkin process, etc
Canada
Chevrolet Spin 5+2
June 15, 2022
Pros: Price were correct. Staff was polite, available, easy to contact.
Cons: No potential accomodation. They deal with local rental company that not only deal with Flexways, but for other companies. They offer other expensive insurances even if you take the full insurance kit at Flexways, it's not confortable to tell them that Glexways recommand me to say no to these extra local insurance.
Netherlands
Hyundai Elantra
June 14, 2022
Pros: They were very helpful and were thinking with us when we had some arguments about the car. They changed the car when we wanted to, without any extra cost.
Cons: We booked with a childchair, which wasn't there. They bought one but probably cheaper then the renting price for 3 weeks. It took them more than 1 hour to finish all the paperwork. It seemed as they were unprepared. When changed the car, we waited the whole day at hour hotel.
United States of America (USA)
Hyundai Elantra
June 10, 2022
Cons: It is subcontracted by premier car rental and they are headquartered in Argentina so communication with the company by phone is difficult. They prefer to use WhatsApp and I don't. It took 2 hours to finally be on the road with the car. That being said however you can't beat the price. Next time I think I'll just be very proactive in communicating before my flight.
Israel
Chevrolet Spin 5+2
May 17, 2022
Pros: No car stereo no USB
United States of America (USA)
Hyundai Elantra
May 16, 2022
Pros: Very friendly and helpful
Cons: All of the problems were caused by DiscoverCars and not Flexway
Switzerland
Hyundai Elantra
May 8, 2022
Pros: Preisverhältnis top, exzellenter Service mit Kontakt per WhatsApp. Sehr zu empfehlen
United States of America (USA)
Hyundai Elantra
May 8, 2022
Pros: easy to find the car I want
Cons: its little difficult to find the airport pick up area and location of the rental car company
May 3, 2022
Pros: Nothing
Cons: You cannot rent cars that old and with that amount of kms. In my country, in Uruguay, it's illegal to rent a car with more than 5 years.
Canada
Chevrolet Spin 5+2
April 13, 2022
Pros: Airport pickup
Cons: Took some time to find the pickup guy and checkin always take so damn long
United States of America (USA)
Chevrolet Spin 5+2
March 31, 2022
Pros: Service agent was super nice and helpful.
Cons: Instructions to pickup the car was not clear. We had to keep calling to confirm where our pickup person was. Had to wait for him. Why do I provide my flight details if you are not going to use them?
United States of America (USA)
Hyundai Elantra
March 4, 2022
Pros: Most pleasant pickup if a rental car in Mexico that I have ever had.
Czech Republic
Hyundai Elantra
February 22, 2022
Cons: They try to sell you the insurance (it costs 3 time the insurance already bought in the contract) when you have already one in the contract and is not honest. The car was having some sand and they charged me 10 euros (I cleaned in the morning with a professional cleaner). should not they clean the car everytime they rent to a new customer?
Switzerland
Hyundai Elantra
January 26, 2022
Pros: Very easy to deal with, great communication.
Cons: Pickup lasted forever (about 1h), car was in bad condition (old, malfunctioning security equipment, different makes of tires)
Croatia
Chevrolet Spin 5+2
January 20, 2022
Pros: All as stated in the offer. Thank you.
Cons: Nothing bad to mention.
United Kingdom
Hyundai Elantra
December 7, 2021
Pros: Really friendly and helpful, good value for money and always available
United States of America (USA)
VW Gol
May 28, 2021
Pros: I liked how translate they were when I picked up my rental and how easy the checkout process was.
Cons: The gentleman asked me to pay him $200MX extra just so that I could drop off the car 10 mins before opening, even though he had another couple already there picking up their rental.
May 23, 2021
Pros: Not expensive. Okay car. Everything with a contract
Cons: The resident was not easy to find and we got another car than we expected
Most Popular Car Rental Deals
Cancun Airport Car Rental
Compact
Chevrolet Beat or similar

Cancun Airport Car Rental
Intermediate
Chevrolet Aveo or similar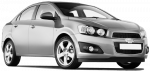 Cancun Airport Car Rental
Intermediate
Chevrolet Aveo or similar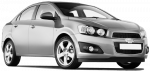 Please check the Rental Conditions for each specific vehicle prior to booking as some conditions, particularly the deposit and deductible, may differ based on the class of vehicle.
Free cancellation with a full refund up to 48 hours before your pick-up time, Unlimited mileage, Collision Damage Waiver
(deductible:

~€ 350.00 - € 1040.00

)
, Theft Protection, Third Party Liability (TPL), Airport surcharge, Free modifications, State Tax.
Minimum rental age is 21 years.
A Young driver fee is not applied.

Maximum rental age is 70 years.
A Senior driver fee is not applied.

The driver license must have been issued by authorized authorities at least 1 year(s) before the date of the commencement of the rental.

The driver license must be written in Latin alphabet.
Otherwise, the renter must provide an International Driver Permit (IDP).
A driver license printed using a non-Roman alphabet (Arabic, Japanese, Cyrillic, etc) must be supplemented by an International Driving Permit.
Please note that the International Driving Permit is valid only if accompanied by the regular driver license.

In addition to documents mentioned previously, the customer will need the following: valid driver license, credit card on a main drivers name, Passport or ID card, booking voucher.
Deposit and deductible policy
A deposit will be blocked on the customer's credit card until the end of the rental period.
The exact deposit is determined on pick up since the amount is dependent on the vehicle.
At time of pick up, customers will be required to pay the amount of the rental and a deposit.
The following credit cards issued on the main driver's name are accepted: MasterCard, Visa, American Express.

Cash, Cheques, Debit cards, Prepaid cards is/are not accepted.

The main driver must provide a physical payment card in their name with enough funds to cover the deposit to pick up the car. The rental company will neither accept virtual credit cards (e.g., GooglePay or ApplePay) nor someone else's card (including family members).
Geographical restrictions
Cross border rentals are allowed only upon previous request.
Optional extras and services
Available special equipment: GPS Navigation system, Baby seat (up to 1 year of age), Child seat (2-4 years of age).
Prices for extras are shown on the booking page.

Adding additional drivers is allowed.
When picking up the vehicle, all drivers must be present and must provide valid documentation.

It is allowed to add up to 2 additional drivers.
Delivery/Collection service is available only by previous request.
Additional charges will be applied.
The vehicle is provided with a full tank of fuel and must be returned with the same amount in order to avoid additional charges.
The vehicle must be returned in an acceptably clean condition in order to avoid additional charges.
Period of time, during regular working hours, when the car is still guaranteed for the customer, if the customer is late for pick up (the grace period) is 120 minutes.
Top Suppliers at Cancun Airport

+529988860221
Aeropuerto Intl Cancun
$92 - $115
Working hours

Enterprise
9988818767
INTERNATIONAL AIRPORT
$76 - $112
Working hours

+529989800608
Blvd Colosio Sm 305 Mz01 L3-02 Cond S2-1, Local 1
Working hours

+529988860100
Carretera Cancún-Chetumal Km 22, 77565 Cancún
$71 - $111

9988818767
INTERNATIONAL AIRPORT, COUNTER
$76 - $115

+529988860063
CARRETERA CANCUN - CHETUMAL KM 22
$73 - $296
Working hours
Rhodium
+523331224758
Zona de Arrendadoras EN
Working hours

+529988860252
Carratera Cancun Chetumal Km22
$122 - $150
Working hours
Goldcar
+523331224758
Zona de Arrendadoras EN
Working hours
+529982536112 / +529982772624 / +529984041947
Calle Acceso A Las Bodegas, Sm 301 Mz. 30 Lote 30, Bodega F1, 77560 Cancun
$44 - $136
Working hours

NUCarrentals
+529988822925
Prq Logistico Smza301 Lt8 Mza8

+529988862427
Carretera Federal 307 Km 17
$53 - $70

+525544400916 / +523312947525
Carr. Federal 307, Cancun-Tulum, Num 138, Centralia Bussines Center,Local 103.
$82 - $176
Working hours
+529982536113
Parque Logístico, Lote 8 Mz 8 Bodega 33A 301, 77536 Cancún
$44 - $212
Working hours

+528004668466
Carretera Chetumal – Cancun Mza 03 Lote 03 local 205 Plaza Centralia Cancun Qroo.
Working hours

529999118040
Intl Airport Of Cancun
Working hours

+523341708243 / +523346242114
Carretera Cancun Chetumal Km 22. 77565
$66 - $280
Working hours
018007095010
CARRETERA CANCUN-CHETUMAL KM 22
Working hours