Car Rental – Search, Compare, and Save up to 70%!

Jucy at Queenstown Airport
52 Grant Road, Frankton, Queenstown 9300, New Zealand
0064 9 374 4360 / 0800 399 736 (toll free)
Pick-up instructions
PICK UPS COMING FROM QUEENSTOWN AIRPORT: • Our free JUCY shuttle can collect customers from the Queenstown Airport. Shuttle runs on demand and can be requested by calling our free phone 0800 399 736 and it takes about 10-15 minutes (depending on traffic). Shuttle runs between 8:30am - 3:45pm. • Shuttle meeting point: Follow the signs to shuttle/car rental pick up, it is located next to Jetstar check in. Also there is a free phone available to call our branch (below map). COMING FROM CITY: • Our branch is near the Airport. This is about 7km (10 mins drive, traffic dependent) from the town. A taxi costs around $30, or customers can catch the number 1 bus from 27 Camp Street to Queenstown Airport. From the airport, you can catch the free JUCY shuttle to branch.
Drop-off instructions
Please clarify Drop-off instructions with Car Provider upon Pick-up. DROP OFFS • On arriving at the branch (52 Grant Road), follow the signage directing you where to park your vehicle. • Ensure the vehicle and all belongings and rubbish have been removed. • A JUCY crew member will assist with vehicle return Our after-hours service is available for cars only and a $30 fee applies. The shuttle service is not available for afterhours pickups and drop offs DROP OFFS Only cars can be returned after-hours. 1. On arriving at the branch (52 Grant Road), follow the signage directing you where to park your vehicle. 2. Return the keys into the Key Drop Box located inside the green shed. This is clearly signposted. 3. Vehicle must be returned clean and tidy as per the terms and conditions. 4. Please ensure: • Vehicle is refueled • All electrical items are turned off • All windows and sunroof are closed • All rubbish has been removed • Doors are closed and locked
Customer Ratings and Latest Reviews
Overall value for money of your rental car
Ease of finding rental desk or representative
Efficiency of the car rental agents
Time spent picking up the car
Time spent dropping off the car
Overall condition of the car
Because we want to make sure each review listed here is left by a real customer, we don't have an option to post a review here. Instead, we ask each and every customer to leave a review after they return their rental car. This way, you know that all reviews are authentic, verified, and trustworthy.
September 14, 2023
Pros: Friendly/no fuss
Cons: Old car ++
August 30, 2023
Cons: waited an hour for shuttle before needing to ring to see wghere they were, supposed to be every 15 mins
New Zealand
Mitsubishi ASX
August 16, 2023
Pros: Smooth check-in experience. Free shuttle service from / to airport
Cons: None
August 14, 2023
Pros: Friendly and helpful
Cons: Limited hours
August 14, 2023
Cons: I booked a SUV so I dont have to use chains on the mountain . An SUV should be all wheel drive. What we got is a 2 wheel drive hatchback. I feel this is false advertising and was very disappointed as putting chains on and off was what I was trying to avoid..lying around in the mud !!!
August 9, 2023
Pros: briskand non fussing
Cons: left rear tail light a third full of water. was concerned it might fail
August 9, 2023
Pros: Guy at the end was super friendly, drop off
Cons: Our flight was slightly delayed and because they shut at a random early time we arrived with no one there. Perhaps if the flight is close to closing time a quick email / phone call of closure times would have been convenient.
July 9, 2023
Pros: Just need new wipers that's all Told them on the return and they said they would get onto it
May 29, 2023
Pros: no hassle, easy to deal with. Provided a GPS
Cons: had to take photos of dents in the car as it was not noted in the contract and advise the Jucy staff in advance so as not to be charged when I returned the car. However, these should have been noted before releasing the vehicle to us.
May 24, 2023
Pros: Friendly and efficient
May 19, 2023
Pros: Great service, quick and efficient. Friendly, helpful staff.
Cons: The service was great but we had to return with the car as the windscreen wipers were too worn to work and had to be replaced which took ages.
May 5, 2023
Pros: Very helpful and friendly staff
Cons: The car I was given looks bad, too many damages internal/external.
April 26, 2023
Pros: So straightforward and friendly staff. Close to airport so very convenient.
Cons: Persuaded my husband to buy more insurance while I was waiting outside, haha.
April 21, 2023
Pros: The saleswomen were beautiful.
Cons: Finding your depot on return. Not on Satnav...horrendous stressy time...nearly missed plane
April 11, 2023
Pros: Friendly and quick
Cons: the car is a little bit old and high milage.
New Zealand
Mitsubishi ASX
April 10, 2023
Pros: Friendly, efficient service. picked up/dropped off promptly by shuttle bus.
March 20, 2023
Pros: Friendly, efficient and very helpful
Cons: Nothing all good
March 18, 2023
Pros: efficient
Cons: need to call the shuttle, with international roaming can be tricky
United Kingdom
Suzuki Swift
February 14, 2023
Pros: The branch staff were helpful and friendly
Cons: Call centre we're not helpful when we had to change the time of pick up
January 24, 2023
Pros: Good service, but disappointed that Jucy did not have a shuttle bus operating after 3pm on Sunday. Needed to organise a taxi to the airport and this was not told to us prior to booking.
December 5, 2022
Pros: Very friendly and knowledgeable.
Cons: Nothing
November 17, 2022
Pros: Very efficient and easy to pick up and drop off. appreciate the pre-check in service making it faster to pick up the car.
Cons: didn't know there was no gps on board.
November 16, 2022
Pros: Extremely fast and friendly service
Cons: Nothing
New Zealand
Toyota Estima *Branded Vehicle*
November 16, 2022
Pros: Had to swap cars due engine light but swap was quick and was refunded a day for the hassle
November 4, 2022
Pros: Friendly quick service
November 2, 2022
Pros: Quick and easy
Cons: No isofix base for the baby cat seat, not really safe
October 30, 2022
Pros: Friendly and a great shuttle service
Cons: N/A
New Zealand
Mitsubishi ASX
October 15, 2022
Pros: Helpful and friendly Gave options for after hours. No issues with pick up and drop off. Efficient. Easy to contact
Cons: Nil
October 2, 2022
Pros: Affordable product and decent quality
Cons: Efficient and they provided a shuttle for pickup
October 1, 2022
Pros: Super fast, easy and efficient with a smile. Had zero problems.
September 22, 2022
Pros: Drop was ok. Car was poor lots of body damage back door rubber feel off every time door opened.
Cons: No much
September 17, 2022
Cons: I didn't like the fact the shuttle finished at 3.30pm and we had to pay to get to get to the car centre. A cost that was very high as it was a peak time.
September 3, 2022
Pros: Friendly quick service
Australia
Toyota Estima *Branded Vehicle*
August 30, 2022
Pros: Great value and car was perfect for our needs
Cons: Very friendly and pickup from the airport was great!
Australia
Toyota Estima *Branded Vehicle*
August 27, 2022
Pros: Quick and easy
Cons: They closed too early so I had to walk from drop off location to airport
August 21, 2022
Pros: Everything was great
Cons: No drop off service after 3:30
French Polynesia
Suzuki Swift
August 20, 2022
Pros: Prebooking is a good idea
Cons: Delivery fee is required even if you go by bus to your office. How to drop-off if your office is closed after 4:00PM?
August 17, 2022
Pros: Very helpful and went out of her way
Cons: Nil
August 14, 2022
Pros: Good shuttle service , cheap car due to our months in advance booking.
Cons: Although Jucy's checklist indicated the car was inspected and ready to go …. the car had a dead flat tyre and our ' ticked box ' snow chains were not in the vehicle.
New Zealand
Toyota Estima *Branded Vehicle*
August 8, 2022
Cons: Life threatening fault. The sliding door (left) with a quite powerful engine would not stop when fully opened. As soon as it reached the back (fully opened) and started to close but the passengers including my 4 old son started to board the car. Terrible. The door jammed his head. When I reported the case to the office (Juice). All they said was 'Oh, it never happened before. You (!!!) must have done something wrong'. Not even apology.
August 3, 2022
Cons: They made us pay pre exsisting damage Scam
New Zealand
Toyota Estima *Branded Vehicle*
July 25, 2022
Cons: Absolute money sucker! Will never recommend to anyone. I do think they knew their bad reputation, so they work with other agency to rent out their cars. We purchased Stress Free insurance cover, and had an small accident which barely caused any damage to the vehicle from their own mechanical inspection. Now they are holding me $2000, for a reason the car need a second mechanical check. For the damaged snow chain, they wouldn't accept replacement by ourselves.
July 25, 2022
Pros: Excellent pick up and drop off shuttle service
Cons: Did seem to take quite awhile to be picked up from airport (20-25mins)
June 11, 2022
Pros: Customer service was great
Cons: Friendly and helpful
May 30, 2022
Pros: Helpful staff and hassle free pickup and delivery
Cons: Nothing I didn't like
May 28, 2022
Pros: Good service and friendly staff
May 1, 2022
Pros: Quick and friendly, car was fantastic just for me.
April 22, 2022
Cons: Lack of customer service and attitude of booking staff combined with distance of depot from airport and lack of shuttles.
April 19, 2022
Cons: So hard to get hold of a person to discuss a change. By phone
New Zealand
Toyota Estima
March 4, 2022
Pros: Friendly and helpful and shuttle service was great. Vehicle we were given was especially helpful as the bed in it enable the passenger to rest without having to return to the accommodation. This enabled us to really enjoy ourselves without having to plan everything around finding somewhere to rest.
Cons: Nothing it was great, we didn't need the top box but it wasn't an issue.
March 2, 2022
Pros: Office closed at 4pm only just made it good communication and pick up from airport
Cons: Tried ringing for over 40 minutes early in the day without answer because flight changed and would struggle to make office before closing, only made it because flight landed 15 mins early. Informed that there were phone line problems.
February 19, 2022
Pros: Easy to deal with, cheap, free shuttle pick up and drop off to airport.
January 8, 2022
Pros: Friendliness and cooperation
Cons: We didn't expect and didn't need the roof luggage rack that made it hard to park in city area. I really like the concept of Jucy, but the car itself was quite old.
New Zealand
Toyota Estima
January 5, 2022
Pros: Fast service in the centre. Bit of attitude around the fact we had rented via a third party - the fact that Juicy'a website had been down and links not working were the only reason we went through a third party.
Cons: See above
November 23, 2021
Pros: Amazing cheap and great car.
Cons: Had to walk back to the airport (around 3km) from the jucy car rental Depot as their shuttles only run at specific times during the day.
November 1, 2021
Cons: Not at airport as stated, no shuttle outside of office hours, full insurance through discover cars not recognised.
September 28, 2021
Pros: Pick from airport was prompt, car was ok for what it was.
Cons: Weren't very helpful with trying to fix Discovery's messed up booking, didn't really try and help.
September 18, 2021
Pros: Quick and efficient
Most Popular Car Rental Deals
Queenstown Airport Car Rental
Economy
Suzuki Swift or similar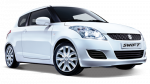 Queenstown Airport Car Rental
Compact SUV
Mitsubishi ASX or similar
The above prices are only approximate and were last updated at 18:20 on 2023-09-22. Prices may vary based on the booking dates, length of rental, and car class.
Please check the Rental Conditions for each vehicle prior to booking as some conditions, particularly the deposit and deductible, may vary based on the class of vehicle.
Free cancellation with a full refund up to 48 hours before your pick-up time, Unlimited mileage, Collision Damage Waiver
(deductible:

~€ 1670.00 - € 2780.00

)
, Theft Protection, Roadside Assistance (in the country of pick-up), Third Party Liability (TPL), Airport surcharge, Premium Location fee, Free modifications, State Tax.
Minimum rental age is 18 years.
A young driver fee applies to drivers under the age of 22.

There is no maximum age.
A Senior driver fee is not applied.

The driver license must have been issued by authorized authorities at least 1 year(s) before the date of the commencement of the rental.

A driver license printed using a non-Roman alphabet (Arabic, Japanese, Cyrillic, etc) must be supplemented by an International Driving Permit.

Please note that the International Driving Permit is valid only if accompanied by the regular driver license. Learner's permits are not accepted; a full driver's license is required.

In order to pick up the car, the renter and each additional driver must present the following documents: valid driver license, credit card on a main drivers name, Passport or ID card, booking voucher, proof of home address (e.g. Utility bill).
Deposit and deductible policy
A deposit will be blocked on the customer's credit card until the end of the rental period.
The exact deposit is determined on pick up since the amount is dependent on the type of vehicle.
At time of pick up, customers will be required to pay the amount of the rental and a deposit.

The main driver must provide a physical payment card in their name with enough funds to cover the deposit to pick up the car. The rental company will neither accept virtual credit cards (e.g., GooglePay or ApplePay) nor someone else's card (including family members).
Geographical restrictions
Crossing country/state borders is not allowed.
In the event that Cross Border & Territorial Restrictions are violated, all protections lose their validity.
It is forbidden to drive to some locations in the country as well as on some specific roads. For more information, please contact the rental office.
Optional extras and services
Available special equipment: GPS Navigation system, Baby seat (up to 1 year of age), Booster seat (4-10 years of age), Snow chains.
Prices for extras are shown on the booking page.

Adding additional drivers is allowed.
There is an additional charge for each driver.
Underage additional drivers are subject to both Young Driver and Additional Driver fees.
When picking up the vehicle, all drivers must be present and must provide valid documentation.

All extras are available at the rental counter. Prices vary, depending on the rental period.


The vehicle is provided with a certain amount of fuel and must be returned with the same amount in order to avoid additional charges.
If the renter would like to extend the rental period, renter should return to the car hire office at the end of the rental period to sign a new agreement.
Service outside of business hours is available by request and for an additional charge.
If the customer is late for a return for more than 60 minutes, extra day charges will apply, in addition to any other rental charges.
Pick-up & Drop-off
| | |
| --- | --- |
| Mon: | 08:30 - 16:00 |
| Tue: | 08:30 - 16:00 |
| Wed: | 08:30 - 16:00 |
| Thu: | 08:30 - 16:00 |
| Fri: | 08:30 - 16:00 |
| Sat: | 08:30 - 16:00 |
| Sun: | 08:30 - 16:00 |
Top Suppliers at Queenstown Airport