Car Rental – Search, Compare, and Save up to 70%!

Ace Rent a car at Gran Canaria Airport
Aeropuerto de Gran Canaria, 35230 Telde, Las Palmas, Spain
0034 603 843 898
Pick-up instructions
Pick up of car in the Parking area P1 Zone A in front of doors 1 & 2 Call 34 603843898 for assistance."
Drop-off instructions
Please clarify Drop-off instructions with Car Provider upon Pick-up.
Customer Ratings and Latest Reviews
Overall value for money of your rental car
Ease of finding rental desk or representative
Efficiency of the car rental agents
Time spent picking up the car
Time spent dropping off the car
Overall condition of the car
Because we want to make sure each review listed here is left by a real customer, we don't have an option to post a review here. Instead, we ask each and every customer to leave a review after they return their rental car. This way, you know that all reviews are authentic, verified, and trustworthy.
United Kingdom
Toyota Aygo
November 25, 2023
Pros: The instructions to pick up the car were completely wrong.
United Kingdom
Peugeot 308
November 10, 2023
Pros: Nothing never there when we wanted them and did not want to sign the car off till they took it back to the office. Saying we were fully insured. That's not the point I do not want to claim if they dent the car going back tothepffice
Cons: Everything very unprofessional
March 6, 2023
Pros: They downgraded me from my car class claiming they upgraded me. Will never rent from them again. The only positives were the agent was nice, the car was clean. The car was delivered with less than 1/2 tank, so I returned it with something more than when I picked it up. The car was a hybrid, with 0% electricity. Average consumption 0.84 liters per 10 km. TOO MUCH
Cons: Gave me a Citröen C5 when I should have had a premium class (E class or similar) They claim I was upgraded for free from the BMW X1. A ridiculously small, cheap car compared to the class I chose! I will never use ACE, Omega or Dicover car again! The car was supposed to be delivered by ACE, but was delivered by Omega! Was offered €30 which MUST be used at Dicover car!
February 2, 2023
Cons: We first got the wrong car, but then it was corrected and ok.
United Kingdom
Peugeot 208
January 15, 2023
Pros: Very good customer service
Cons: nothing
United Kingdom
Mercedes E Class
December 27, 2022
Pros: SCAMMERS. They claimed damage and took money from my account with no proof or receipt. SCAMMERS
Cons: SCAMMERS. They claimed damage and took money from my account with no proof or receipt. SCAMMERS
December 3, 2022
Pros: The car and price comparison, the car itself and social skills of the person we dealt with were very good
Cons: The pick up and drop was confusing
Czech Republic
Peugeot 208
October 26, 2022
Pros: Easiest drop off ever.
Cons: Hard to find rental location.
November 17, 2021
Pros: The car was clean and well maintained.
Cons: The rep was difficult to find at the airport. The car was not available to pick up at the airport. We had to take a 10 minute shuttle bus to the car rental place.
October 25, 2021
Cons: It wasn't ACE, it turned out to be Orlando. Which meant meet and greet was a minibus out to their site. And it wasn't full to full, which was a set criteria, so you end up paying more for fuel you don't use. The seats were badly stained- they had got wet with saltwater in the past and it doesn't clean off.
September 22, 2021
Pros: reasonable value for money. check in was efficiant when i was eventually picked up.
Cons: not picked up at the airport. car in poor condition stained drivers seat.
August 31, 2021
Pros: Cobran algo de lo q después no se responsabilizan,
Cons: Contacto con el teléfono q facilitan, y lejos de solucionar, te tratan mal, .... Una vergüenza
January 11, 2019
Pros: Apparently good value.
Cons: I wasn't aware Rhodium were in fact Gold Car who are a bunch of cheats. We are in dispute about damage to the car and an extra charge of €200.
United Kingdom
Volkswagen Polo
January 7, 2019
Pros: It was through gold car. Very bad customer service
Cons: As above
January 3, 2019
Pros: They were quick at the counter and the car was ready and waiting
Cons: We ended up getting charged more than the quoted price. Quoted 175.54 Euro and ended up paying 191.93 Euro! They didn't block the deposit as it stated in the T&C's, they charged it to my card and I had to pay a 2.99% card transaction fee on this large amount, the location fee was higher than quoted and they also added on a 'smart return' fee, none of which was contestable. Plus we didn't get a full tank of petrol, which wasn't noticed till we left the car park. Had to return full of course!
Most Popular Car Rental Deals
Gran Canaria Airport Car Rental
Mini
Toyota Aygo or similar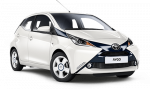 Gran Canaria Airport Car Rental
Mini
Toyota Aygo or similar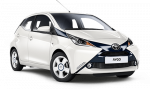 The above prices are only approximate and were last updated at 18:01 on 2023-11-27. Prices may vary based on the booking dates, length of rental, and car class.
Please check the Rental Conditions for each vehicle prior to booking as some conditions, particularly the deposit and deductible, may vary based on the class of vehicle.
Free cancellation with a full refund up to 48 hours before your pick-up time, Unlimited mileage, Collision Damage Waiver
(deductible:

€ 450.00 - € 1000.00

)
, Third Party Liability (TPL), Airport surcharge, Free modifications, State Tax.
Minimum rental age is 23 years.
A Young driver fee is not applied.

Maximum rental age is 80 years.
A Senior driver fee is not applied.

The driver license must have been issued by authorized authorities at least 1 year(s) before the date of the commencement of the rental.

The driver license must be written in Latin alphabet.
Otherwise, the renter must provide an International Driver Permit (IDP).
A driver license printed using a non-Roman alphabet (Arabic, Japanese, Cyrillic, etc) must be supplemented by an International Driving Permit.
Please note that the International Driving Permit is valid only if accompanied by the regular driver license.

In order to pick up the car, the renter and each additional driver must present the following documents: passport, valid driver license, credit or debit card on a main driver's name, booking voucher.
Deposit and deductible policy
A deposit will be blocked on the customer's credit card until the end of the rental period.
The exact deposit is determined on pick up since the amount is dependent on the type of vehicle.
Optional extras and services
Available special equipment: Baby seat (up to 1 year of age), Child seat (2-4 years of age).
Prices for extras are shown on the booking page.


Additional drivers are allowed free of charge.

The vehicle is provided with a certain amount of fuel and must be returned with the same amount in order to avoid additional charges.
Period of time, during regular working hours, when the car is still guaranteed for the customer, if the customer is late for pick up (the grace period) is 0 minutes.
Pick-up & Drop-off
| | |
| --- | --- |
| Mon: | 08:00 - 21:00 |
| Tue: | 08:00 - 21:00 |
| Wed: | 08:00 - 21:00 |
| Thu: | 08:00 - 21:00 |
| Fri: | 08:00 - 21:00 |
| Sat: | 08:00 - 21:00 |
| Sun: | 08:00 - 21:00 |
Top Suppliers at Gran Canaria Airport