Car Rental – Search, Compare, and Save up to 70%!
WANALOU at Agadir Airport
8HGP+QV Ikhourbane, Morocco
00 212 666 101 051 / 00212 661 712 009
Pick-up instructions
Outside the terminal at exit door a representative will be waiting
Drop-off instructions
Vehicles must be returned to the Wanalou car park.
Customer Ratings and Latest Reviews
Overall value for money of your rental car
Ease of finding rental desk or representative
Efficiency of the car rental agents
Time spent picking up the car
Time spent dropping off the car
Overall condition of the car
Because we want to make sure each review listed here is left by a real customer, we don't have an option to post a review here. Instead, we ask each and every customer to leave a review after they return their rental car. This way, you know that all reviews are authentic, verified, and trustworthy.
March 2, 2023
Pros: Everything
Cons: - except that the car rental guy was really extremely picky - happy he didn't charge us for the 2 tiny chips on paintwork on boot. Most other cars have rubber at that point on the car...
United Kingdom
Renault Clio
November 17, 2022
Pros: Easy, great communication, had no problems with my experience
August 11, 2022
Pros: You get what you ordered.
Cons: That you had to give 30 Dirham for the car wash. In my opinion, that is included for such a high price. And in my experience I have never paid that before.
August 6, 2022
Cons: Everything is made to pay more. I had a problem on my credit card so I had to pay 50€ more because of that. At the end of the travelling, they ask you money to clean up the car. I Marocco with that all dust how can someone manage to don't have some dust on the car and inside… The car wasn't that bad but carful with the cost they gonna ask you later.
United States of America (USA)
Dacia Logan
September 3, 2020
Pros: The guy was nice and polite
Cons: The car rental is not located at the airport outside the airport
February 25, 2020
Pros: Service in Agadir and car good, cheap.
Cons: Telephone-service very bad. Deposit without credit-card so difficult.
United States of America (USA)
Renault Clio
January 30, 2020
Pros: Professional
Cons: No delivery
August 2, 2017
Pros: Merci pour le service belaid
United Kingdom
Hyundai i10
January 17, 2017
Pros: Easy, quick, straightforward
Most Popular Car Rental Deals
Agadir Airport Car Rental
Mini
Kia Picanto or similar
Agadir Airport Car Rental
Mini
Kia Picanto or similar
Agadir Airport Car Rental
Economy
Dacia Logan or similar
Agadir Airport Car Rental
Economy
Dacia Logan or similar
Agadir Airport Car Rental
Economy
Dacia Logan or similar
Agadir Airport Car Rental
Economy
Dacia Logan or similar
Agadir Airport Car Rental
Economy
Peugeot 208 or similar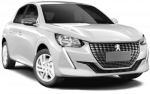 Agadir Airport Car Rental
Economy
Peugeot 208 or similar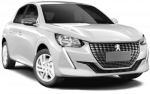 The above prices are only approximate and were last updated at 20:07 on 2023-03-24. Prices may vary based on the booking dates, length of rental, and car class.
Please check the Rental Conditions for each vehicle prior to booking as some conditions, particularly the deposit and deductible, may vary based on the class of vehicle.
Free cancellation with a full refund up to 48 hours before your pick-up time, Unlimited mileage, Collision Damage Waiver
(deductible:

€ 1200.00

)
, Theft Protection, Roadside Assistance (in the country of pick-up), Third Party Liability (TPL), Airport surcharge, Road tax, Environmental charge, State Tax.
Minimum rental age is 21 years.
A Young driver fee is not applied.

Maximum rental age is 75 years.
A Senior driver fee is not applied.

The driver license must have been issued by authorized authorities at least 2 year(s) before the date of the commencement of the rental.

In addition to documents mentioned previously, the customer will need the following: passport, valid driver license, credit or debit card on a main driver's name, booking voucher.
Deposit and deductible policy
A deposit will be blocked on the customer's credit card until the end of the rental period.
The exact deposit is determined on pick up since the amount is dependent on the type of vehicle.
At time of pick up, customers will be required to pay the amount of the rental and a deposit.
It is possible to pay and leave the deposit only with the following payment methods: MasterCard, Visa, Maestro, Cash, Diners, Debit cards.
When using Debit cards, a 3 % surcharge on the total cost of extra equipment and services will apply.
When paying with cash, a debit/credit card issued on the main driver's name is required for security purposes. American Express is/are not accepted.

The main driver must provide a physical payment card in their name with enough funds to cover the deposit to pick up the car. The rental company will neither accept virtual credit cards (e.g., GooglePay or ApplePay) nor someone else's card (including family members).
Optional extras and services
Available special equipment: GPS Navigation system, Outside of business hours.
Prices for extras are shown on the booking page.

Adding additional drivers is allowed.
There is an additional charge for each driver.
When picking up the vehicle, all drivers must be present and must provide valid documentation.

It is allowed to add up to 3 additional drivers.
Certain additional drivers are subject to both an Additional Driver fee as well as either a Young Driver or Senior Driver fee.

Delivery/collection service is not provided.
The vehicle is provided with a certain amount of fuel and must be returned with the same amount in order to avoid additional charges.
Alternatively, the renter may purchase a tank full of fuel at the time of rental and return the tank empty.
In no case will a refund be given for unused fuel.

If the vehicle requires a special cleaning procedure after it is returned, a minimum charge of 40 MAD will apply.
If the customer is late for a return for more than 60 minutes, extra day charges will apply, in addition to any other rental charges.
Service outside of business hours is available by request and for an additional charge.
Pick-up & Drop-off
| | |
| --- | --- |
| Mon: | 09:00 - 17:00 |
| Tue: | 09:00 - 17:00 |
| Wed: | 09:00 - 17:00 |
| Thu: | 09:00 - 17:00 |
| Fri: | 09:00 - 17:00 |
| Sat: | 09:00 - 17:00 |
| Sun: | 09:00 - 17:00 |
Top Suppliers at Agadir Airport