Car Rental – Search, Compare, and Save up to 70%!

Surprice at Sofia Airport
Sofia airport Bulgaria
00359 883 966 366 / 00359 882 721 117
Pick-up instructions
Surprice car rentals office is located in terminal 2, in the car rental area. There is a free shuttle service provided from terminal 1.
Drop-off instructions
Please clarify Drop-off instructions with Car Provider upon Pick-up.
Period outside of business hours
Customer Ratings and Latest Reviews
Overall value for money of your rental car
Ease of finding rental desk or representative
Efficiency of the car rental agents
Time spent picking up the car
Time spent dropping off the car
Overall condition of the car
Because we want to make sure each review listed here is left by a real customer, we don't have an option to post a review here. Instead, we ask each and every customer to leave a review after they return their rental. This way, you know that all reviews are authentic, verified, and trustworthy.
March 23, 2022
Pros: Not much
Cons: Extra charges as above. Rude agent who was also extremely slow. Rear driverside door on car wouldn't open when we picked the car up and they had no replacements.
United Kingdom
Hyundai i30
March 14, 2022
Pros: Nothing
Cons: Didn't have the car that I ordered so gave us an alternative. Then wouldn't allow us to use that car a C1 as it was too small to carry our ski luggage no mention on the paper work this was a thing and just cancelled our booking on the spot. Poor server won't be using ever again
March 3, 2022
Pros: They demanded an international driver's license, this is a rare requirement, I rented in about 10 countries, including Bulgaria twice, and never asked me, such a requirement should be in bold, not in small print, and not as something 'option' !!!
Cons: They demanded an international driver's license, this is a rare requirement, I rented in about 10 countries, including Bulgaria twice, and never asked me, such a requirement should be in bold, not in small print, and not as something 'option' !!!
March 1, 2022
Pros: The price.
Cons: Took 2 hours to pick up the car. Despite having purchased the full insurance from Discovery, I was pressed at the counter to purchase Surprice's own insurance under the threat that I would be forced to pay for "every scratch" upon returning the car. The process of inventoring all existing issues with the car was severely downplayed by the rental agent, as if there was no problem with any issue not being recorded. However, upon returning the car, it was throroughly checked for all possible minor
December 26, 2021
Cons: topay more than the planned. the car with the light that switch on
United Kingdom
Hyundai i30
August 19, 2021
Pros: I have already sent an email explaining my awful experience with discover cars.
July 17, 2021
Cons: they refused to rent the car
June 26, 2021
Pros: I'll not rent anymore with Surprise car.
Cons: They try to cheat the customer, about the damage of car. In 20 years that I rent car this is my first poor experience!!l
November 2, 2020
Pros: There was no service.
Cons: There was no service.
United Kingdom
Fiat Panda
September 27, 2020
Cons: Surprice had no record of my reservation so had to set up a new one. Car hadnt been cleaned very well when collected, so was deep cleaned before I returned it. Charged €45 for a lost wheel trim which wasn't fixed to the car properly, and was only a cheap, unoriginal part anyway. Unfair to be charged so much when it was impossible to find and replace, and should have been cable tied in the first place.
United Kingdom
Hyundai i30
September 18, 2020
Pros: Awfully service! Do not book with them!
Cons: Do Not book from Sur Price! They gave a car that did not have engine oil on it. When we discovered this+ water leek from the car we tried to call them but they did not pick the phone for 2 hours in week day! We were stuck in the mountain without car for hours! Awfull service. The car wasn't cleaned and desinfected inside as advertised even in pandemic!!! We had to do it yourselfs!
September 17, 2020
Cons: They played on me saying that the deposit was being cancelled but they were making me pay for 2 invented mini scratches for which they made me pay 600 euro. The car (focus) was old no blootooth no USB working. Run away from this thieves
August 22, 2020
Pros: Friendly efficient service, smooth transaction
Cons: Car radio didn't work
August 11, 2020
Pros: very bad customer service and very expensive
Cons: Company trying to make more money when returned car and trying to charge more money for extra cover When I returned my rental car Company charge me for tyres and wheels because it's been scratched very little but I have extra insurance for excuses hi said extra insurance not covering tyres for 1 tyre hi charge me 150 pounds
March 5, 2020
Pros: - Rate was good. - Dropping off procedure was very smooth
Cons: - The guy at the office wanted us to add an extra insurance, and told us that the insurance we bought at discovercars did not cover everything. We found this rather confusing and rude, as we had already bought one! - The car had many small scratches to it that were not specified on the renting form. We made a video beforehand which came in handy.
United Kingdom
Hyundai i30
February 24, 2020
Pros: Community and fast responding.
Cons: The company u've picked to make contract with , they were inapproprieate.
February 17, 2020
Pros: everything
Cons: nothing
February 15, 2020
Pros: Friendly staff
Cons: Took too long to deal with paperwork on pick up
United States of America (USA)
Fiat Panda
February 8, 2020
Pros: this was as good as it gets
Cons: no problems at all
January 8, 2020
Pros: Quick and smooth, hassle free :)
Cons: Their website states is 24/7, when I rang their Sofia Terminal 2 stand was told they open at 8:30.
United Kingdom
Hyundai i30
October 24, 2019
Cons: Made-up issue to justify getting money out of me.
September 25, 2019
Pros: Quick and willing to help as much as they can.
September 18, 2019
Pros: The returning of the car was done efficiently and my card deposit was released that day once the vehicle had been checked
Cons: Their was no one available at the desk and we had to wait 20 minutes before we were seen too.
September 11, 2019
Pros: Everything
Cons: Nothing
United Kingdom
Fiat Panda
August 16, 2019
Pros: Very efficient and easy access to the rental and we were very happy with the car.
Cons: Not a complaint, but observation. We were told about the card swipe to leave the airport, but it wasn't made clear about re entering at the end of the hire which caused faffing about trying to find the currency to pay for a ticket we collected as a result.
United Kingdom
Fiat Panda
August 14, 2019
Pros: Polite applogetic staff.
Cons: Car was not ready for collection. Car broke down on return to airport withh a complete loss of power and steering, I had to make my own arrangement to continue journey, Surprice would not offer compensation.
July 25, 2019
Pros: Very reliable, friendly and helpful.
Cons: Everything was exceptional good.
July 17, 2019
Pros: nothing
Cons: we queued for an hour both picking up and dropping off the car Staff were unhelpful They said that as we had rented trough you our car insurance may not be valid
United Kingdom
Renault Fluence
March 14, 2019
Pros: The staff were very friendly and helpful. They explained everything clearly and answered all my questions. They were very professional and I would not hesitate to use them again. The car was also in great working order, and extremely reasonably priced.
January 28, 2019
Cons: First of all everything's was ok since my 31 days about to end I talked to the company and renew 5 days and we didn't negotiate about the price since it must be like the previous days . Today and before 1 day from the dropping they called me and said that every day price must be double since the Renewal was throug then locally not through net . Is this case fair to me.
January 9, 2019
Pros: Very good service, nice staff
Cons: None
January 8, 2019
Pros: Wery nice people
Cons: Good and fast service
January 2, 2019
Cons: I could only pay with credit card and I offered many other ways to give the amount but they did not accept them so I did not get the car..
March 19, 2018
Pros: The car was clean when we get it.
Cons: They're costumer service was very bad. When we came to take the car nobody wait for us and we needed to look for them and call them to come, they was late in a half an hour. Also when we went to return the car we call them the evning before we sepose to departur and told them the hour and terminal we needed them to come to, but they didn't show in time and they was late in 45 minutes. This company is a very bad company and I wouldn't recommend it to nobody that want to have a good trip.
Most Popular Car Rental Deals
Sofia Airport Car Rental
Mini
Fiat Panda or similar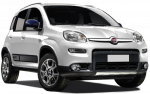 Sofia Airport Car Rental
Economy
VW Polo or similar

Sofia Airport Car Rental
Standard Elite
VW Passat STW or similar

Sofia Airport Car Rental
Luxury
VW Touareg or similar

Please check the Rental Conditions for each specific vehicle prior to booking as some conditions, particularly the deposit and deductible, may differ based on the class of vehicle.
Free cancellation with a full refund up to 48 hours before your pick-up time, Unlimited mileage, Collision Damage Waiver
(deductible:

€ 2000.00

)
, Theft Protection, Roadside Assistance (in the country of pick up), Contract fee, Third Party Liability (TPL), Airport surcharge, Free modifications, State Tax.
Minimum rental age is 21 years.
A young driver fee applies to drivers under the age of 25.

There is no maximum age.
A Senior driver fee is not applied.

The driver license must have been issued by authorized authorities at least 1 year(s) before the date of the commencement of the rental.

A driver license printed using a non-Roman alphabet (Arabic, Japanese, Cyrillic, etc) must be supplemented by an International Driving Permit.
In addition to the regular driver license, an International Driving Permit is also mandatory if the customer is not a resident of the following country(ies): EU countries.
Please note that the International Driving Permit is valid only if accompanied by the regular driver license.
In order to pick up the car, the following documents are required: valid driver license, credit card on a main drivers name, Passport or ID card, booking voucher.
Deposit and deductible policy
A deposit will be blocked on the customer's credit card until the end of the rental period.
The exact deposit is determined on pick up since the amount is dependent on the vehicle.
In the event of damages to the car, without providing a police report, CDW and any other additional protection become voided.
At time of pick up, customers will be required to pay the amount of the rental and a deposit.
It is possible to pay and leave the deposit only with following payment methods: MasterCard credit card, VISA credit card.

The main driver must provide a physical payment card in their name with enough funds to cover the deposit to pick up the car. The rental company will neither accept virtual credit cards (e.g., GooglePay or ApplePay) nor someone else's card (including family members).
Geographical restrictions
crossing country borders is available on previous request at least 7 days before the pick up date.
Crossing country borders is allowed to the following countries: Albania, Croatia, Greece, Kosovo, North Macedonia, Montenegro, Romania, Serbia.
In the event that Cross Border & Territorial Restrictions are violated, all protections lose their validity.
Optional extras and services
Available special equipment: GPS Navigation system, Baby seat (up to 1 year of age), Child seat (2-4 years of age), Booster seat (4-10 years of age), Snow chains, Wi-Fi.
Prices for extras are shown on the booking page.

Adding additional drivers is allowed.
There is an additional charge for each driver.
Underage additional drivers are subject to both Young Driver and Additional Driver fees.
When picking up the vehicle, all drivers must be present and must provide valid documentation.

Delivery/Collection service is available within city limits. Additional charges will be applied, depending on the distance.
The vehicle is provided with a certain amount of fuel and must be returned with the same amount in order to avoid additional charges.
In no case will a refund be given for unused fuel.
If the renter would like to extend the rental period, renter should return to the car hire office at the end of the rental period to sign a new agreement.
Period of time, during regular working hours, when the car is still guaranteed for the customer, if the customer is late for pick up (the grace period) is 120 minutes.
Pick-up & Drop-off
| | |
| --- | --- |
| Mon: | 08:30 - 20:30 |
| Tue: | 08:30 - 20:30 |
| Wed: | 08:30 - 20:30 |
| Thu: | 08:30 - 20:30 |
| Fri: | 08:30 - 20:30 |
| Sat: | 08:30 - 20:30 |
| Sun: | 08:30 - 20:30 |
Top Suppliers at Sofia Airport