Car Rental – Search, Compare, and Save up to 70%!

Jucy at Cairns Airport
55 Dutton Street Portsmith QLD 4870
0061 1 800 150 850
Pick-up instructions
After you have arrived at Cairns Airport, cleared customs and collected your luggage, phone us on 1800 150 850 and select Option 1 to request our free shuttle service. Domestic terminal: Exit the terminal past carousel 3. Wait at the bus bays marked 1 - 12 for bright green JUCY shuttle to arrive. INTERNATIONAL TERMINAL: Exit the terminal, turn left and follow signs to the BUS & TOUR GROUP PICK UP area. Last shuttle is 30 mins prior to closing time Afterhours must be arranged 48 hours prior by contacting our reservations team.
Drop-off instructions
Please clarify Drop-off instructions with Car Provider upon Pick-up.
Holidays (Office closed)
December 25
December 26
January 1
December 25
December 26
Customer Ratings and Latest Reviews
Overall value for money of your rental car
Ease of finding rental desk or representative
Efficiency of the car rental agents
Time spent picking up the car
Time spent dropping off the car
Overall condition of the car
Because we want to make sure each review listed here is left by a real customer, we don't have an option to post a review here. Instead, we ask each and every customer to leave a review after they return their rental car. This way, you know that all reviews are authentic, verified, and trustworthy.
United Kingdom
Hyundai Kona
November 21, 2023
Pros: As above cant fault the service abd company. Staff at the depots were so happy and helpfull
Cons: Nil
November 12, 2023
Pros: The price was probably 40% lower than the rest of the rental car providers. However, Jucy were amazing from start to finish. The customer service at both pick-up and drop-off were extremely good. Superb employees!
Cons: Nothing to declare.
New Zealand
Toyota Corolla
November 6, 2023
Pros: The young lady at the desk was so helpful and was very informative keep up the good work 💯
Cons: There was nothing negative
Australia
Toyota Corolla Sedan
October 27, 2023
Pros: Nothing
Cons: Nothing
Australia
Toyota Corolla Sedan
October 22, 2023
Pros: Efficient. Good value for the money. Didnt realise that I had contracted for what Jucy termed an "El cheapo". Initially a bit hesitant to take a car that had done some 300K but it proved to be remarkably comfortable and economical and did all that I asked of it.
Cons: Nothing
September 20, 2023
Pros: Quick and efficient
Cons: The car was heavily damaged with dints in most panels
September 18, 2023
Pros: Young people happy to help out
Cons: Nit disclosed real costs - international transaction fee. 2 seperate drivers meant l was charged for 2 drivers over whole time of rental when each person was not even in Q during over a week that l was required to pay for them to drive car- not disclosed at point of purchase!,, Car had flat tyre WE had to pay for!, what a rort!
September 18, 2023
Pros: Friendly
Cons: Drop off and miscommunication by staff.
Australia
Toyota Corolla Sedan
September 15, 2023
Pros: The service by the staff was excellent
Cons: The car was a bit of a bomb, over 10 years old and with over 330,000km on the clock. It ran fine, but boy was it old
August 29, 2023
Cons: No early morning shuttle.
August 24, 2023
Pros: Good car and rates
Cons: Bit of a queue on pickup at the office in Cairns
August 23, 2023
Pros: Nothing
Cons: Car hire was nowhere near the airport, no service to take back to airport as closed, told to write down on paper and marks on car, there were too many to be able to write them all down so filmed it in case. Car had newly 300000klms on it.
August 20, 2023
Cons: What got a smaller car than we had signed up for and when I questioned this the person handing over the car became agitated and angry. She said the boss would speak to us when she was free but after a short wait we decided to leave with the car provided. The person doing the delivery said we could take one of the Corolla' (as per our contract) but she wouldn't recommend that as they were not in good condition. She also said that the booking agents gave misleading information to people.
August 19, 2023
Pros: Very friendly and efficient
July 27, 2023
Pros: Helpful staff
Cons: the car had no cruise control and was an old model without backing camera or comfortable seats.
July 23, 2023
Pros: Fun atmosphere
Cons: The baby car seat given to us did not include the attachment to allow it to hook into place, causing us to have to return to the rental office to remedy the issue. The girl helping me was a bit brusk.
New Zealand
Toyota Corolla
July 15, 2023
Pros: Easy and efficient
Cons: General condition of car. Slightly damaged panels, but the performance was not affected
July 12, 2023
Pros: Quick service. Shuttle bus from airport to car pick up. Affordable.
Cons: To open earlier than 9am to drop off car, then shuttle bus back to airport.
July 6, 2023
Pros: Customer service non existent
Cons: Customer service
July 3, 2023
Pros: attitude consistently above what most offer.
Cons: nothing
June 28, 2023
Pros: Economical rental
Cons: The car wasn't cleaned well at all, and had many chips, small dents, markings and scratches on the car. Always concerning when signing you ok with the vehicle disclosure form if any further damage. We took photos.
June 24, 2023
Pros: Nothing
Cons: We booked a car to pick up, the flight was delayed and the office closed. I had to book a car through another provider. I was extremely disappointed by the telephone operator's manners. He was extremely short, bordering on rude. Even if I was unable to pick up the car until after the weekend I would have appreciated kindness and understanding in communication.
June 18, 2023
Pros: Friendly and welcoming staff
Cons: Had an out of hours car drop off and so deposit wasn't automatically refunded, had to call jucy to get this returned after it didn't automatically clear in my bank account after a few days
June 15, 2023
Pros: Friendly staff and relatively quick service once I'd gotten to the collection point.
Cons: The car came with a pre-filled condition report, but not all the marks, knocks etc. were shown on it. Check it for yourself before you take the car and and do the same upon return. Also, I was promised a FREE shuttle to and from the airport. Our flight was at 10am, so we had to get the car back in time to get to the airport, but there was no one at the office to return the car to and no shuttle back to the airport forcing us to have to pay for a taxi. Very disappointing
June 15, 2023
Pros: Friendly staff
Cons: Photos on line didn't match car
June 13, 2023
Pros: I thought the car could be collected at the airport so this added time to our transfer
Cons: Location of deport and above comments No maps or details of the area provided
June 13, 2023
Pros: Nice staff. Paid for taxi on arrival at airport.
Cons: Old car with much damage. Took time on collection. No courtesy bus on arrival at airport. Location of car collection depot.
June 10, 2023
Pros: Very smooth and efficient service
Cons: Nothing not to like!
June 9, 2023
Pros: Trouble free smooth transaction.
Cons: Car I was given had 360k on the clock and old so a bit disappointed but it work well and no trouble.
May 31, 2023
Pros: Very efficient service. Helpful staff.
Cons: Car had minor dents and scratches but these did not affect the performance.
May 30, 2023
Pros: Super friendly and flexible staff.
Cons: Distance from terminal
United Kingdom
Toyota Corolla
May 24, 2023
Pros: Airport pick-up was easy and the driver was friendly and gave recommendations for restaurants and places to visit.
May 22, 2023
Pros: Always good service cars are a little basic.
Cons: All good with hire.
May 20, 2023
Pros: We were in and out fast. No messing around.
Cons: Contacting them from the airport was difficult and they didn't provide a shuttle from the airport. However they did reimburse our taxi fare.
April 29, 2023
Pros: They were fast, friendly and efficient.
April 25, 2023
Pros: The service agent was friendly, but there was a long wait to get the car.
Cons: Took a long time for the courtesy bus to arrive at airport after calling, also when I booked the rental it stated that a courtesy bus would be available after hours with prior arrangement, but it wasn't. The condition of the car was below average, the car had a lot of kilometres and a great deal of damage. There were so many dents and scratches that I spent a while documenting them. The rental agent stated that it was the previous driver, but it seems like they gave us the worst car on the lot.
April 17, 2023
Pros: The car condition was horrible and not well maintained
April 3, 2023
Pros: The girls were friendly and helpful
Cons: No checking receipt on the car at end of rental
March 30, 2023
Pros: Average with many scratches and dents. Creaked a lot and seats were not comfortable for long distance travelling. Perhaps a newer model would have been better, as we were concerned travelling along way down to Brisbane, and more comfortable for our backs, but thankfully it travelled ok.
Cons: The juicy agent seemed to lacked interest and we didn't feel valued. The check in was arduous and seemed to take a lot longer Where as the juicy agent at Brisbane was welcoming and offered a Uber to the airport as the last shuttle bus had left for the day
January 4, 2023
Cons: ON THE PAPER THE SAY THE HAD A LOCKBOX
December 6, 2022
Cons: Key was about to fall apart completely! It was much further from the airport than I expected
November 29, 2022
Pros: Staff friendly
Cons: Took a long time to get there from the airport. Wasted time on our short holiday. Car also had engine issues on the lastt day which was a worry about not making flight
November 28, 2022
Pros: Very good experience
November 23, 2022
Pros: Very happy.
Cons: none
November 7, 2022
Pros: very helpful and easy
November 2, 2022
Pros: The service was fine
Cons: Nothing
November 1, 2022
Pros: individual staff member very helpful
Cons: very limited hours for shuttle bus to and from airport to depot, even though you advertise as an airport rental
United Kingdom
Toyota Corolla
October 30, 2022
Cons: Car had debts and scratches on. Rep at the desk wasn't very helpful
October 27, 2022
Cons: Female rep was pretty rude Car wasn't in the best condition but did the job; electric window issues and Bluetooth issues
October 27, 2022
Pros: It worked.
Cons: Attitude of first staff member.
October 24, 2022
Cons: No shuttle service. Not at airport as requested.
October 13, 2022
Pros: They explained and kept me informed about the delay
Cons: No througher check of the vehicle was done while we were there when we returned it
October 7, 2022
Cons: Even after uploading all the credit cards and drivers licence we had to stand there and confirm the details . Pickup car took us more than 45mins . Juicy promised to give us shuttle service from airport to the car rental place - when we arrived at the airport we were told because we were a big group this was not possible . At the time of returning the car there was a big queue of people - not enough staff or place for people to line up who were picking up and returning the cars- chaotic
September 28, 2022
Pros: Not much
Cons: Poor customer service and car seat wasn't installed prior to arrival and was told that they cannot install car seat. Wasn't happy about that. Was unaware of that before we rocked up.
September 27, 2022
Pros: Efficient and friendly
Cons: Location a little factory like
United Kingdom
Toyota Corolla
September 26, 2022
Pros: ready to pick up straight away
Cons: car was dated
New Zealand
Toyota Corolla
September 14, 2022
Pros: Helped with time problem east to deal with
Cons: Shuttle service to and from Brisbane Airport is not regular enough
September 6, 2022
Cons: The car i got was a very old model corolla with over 225,000 on the clock. In fact I was provided with another old model corolla that I returned and swapped 5mins after leaving the depot as I could not see out of the back window due to the film on the glass cracking / peeling. Being provided with cars of this age is unsafe and false advertising. This was 'rent a bomb' and I feel ripped off paying hard earned money for a bomb. I will never use Jucy or Discovery again
September 6, 2022
Pros: Very quick drop off
Cons: A rental company that advertises itself as having airport pickup but closes its shuttle service at 3.30pm and its pickup at 3.55pm is not particularly user friendly for tourists.
September 5, 2022
Pros: All good
Cons: Nothing to mention
September 4, 2022
Pros: Returning the car
Cons: As above
August 28, 2022
Pros: Good service, good car
United Kingdom
Toyota Corolla
August 26, 2022
Pros: Terrible car
Cons: Terrible car
New Zealand
Toyota Corolla
August 18, 2022
Pros: Service was average. No free shuttle to take us to the airport, as Brisbane branch closed on a Sunday.
Cons: Team at Cairns were efficient so all good.
New Zealand
Toyota Corolla
August 16, 2022
Pros: They were friendly
Cons: Time to get car
August 14, 2022
Pros: Good communication
Cons: Not located at the Airport, it cost us an additional $60 for cabs, also expectation for us to clean the vehicle before returning it out of business hours
August 13, 2022
Cons: When arrived at airport called the number for shuttle for him to tell us that he made a mistake and is full so get a taxi and we would be reimbursed. Having to wait in line for almost half hour to get a taxi and then when we got to office we were not reimbursed. Waiting in line at the office to collect the car for another half hour while the staff member was just talking and laughing with clients for such a long time oblivious to the 8 other clients waiting furiously to collect their car.
August 10, 2022
Pros: overall professionalism
Cons: nothing
August 9, 2022
Pros: Friendly staff.
Cons: No airport pick up. Very old car. 215,000 kms
August 5, 2022
Pros: Customer service was great.
August 2, 2022
Pros: friendly staff . good follow up calls re repairs
Cons: working hours too short especially when flights delayed
August 1, 2022
Pros: Clean car
Cons: Long trip to pick up car in bus, rental desk not manned on arrival had to wait 15 min for staff, no shuttle back to airport for early flights.
July 28, 2022
Pros: Changed over the faulty car ( wheel bearing noisy
Cons: No shuttle to the rental company, had to get taxi which had a long queue
July 28, 2022
Pros: Service members were friendly and assisted in the best way they could.
Cons: Very busy affecting their efficiency.
July 23, 2022
Pros: Nothing - there was no service.
Cons: Car faulty, no service to airport via courtesy bus.
July 22, 2022
Pros: Service was very good.
Cons: Nothing
July 10, 2022
Pros: Customer service was faultless
Cons: The car we were given was not up to the standard of cars that we have rented in the past
June 15, 2022
Pros: good value, however the rental location is inconvenient
Cons: efficient
June 13, 2022
Pros: friendly and professional.
June 13, 2022
Cons: We were told transfers to and from Airport were included. When we landed there was no shuttle available so we caught a cab and sought reimbursement. When we dropped the car of at 8.45 am the girl who signed off on the return told us it was after hours and we had to pay our own cab fare back to the Airport. If someone is at the Depot signing off on the returned vehicles how could that be after hours.
June 12, 2022
Pros: Customer service was excellent and staff very helpful and friendly.
Cons: Office hours start at 9 am. Had early flight, and decided to take taxi from Jucy office
June 11, 2022
Cons: Its very far from the airport and I thought I was renting a car from airport.
June 10, 2022
Pros: Great staff. Too easy..
Cons: Absolutely nothing.
June 7, 2022
Pros: Car pick up was a $25 cab ride15min from the air port
Cons: As above
June 4, 2022
Pros: Easy to deal with and fun
May 18, 2022
Cons: Fleet cars are heavily used so wear is evident.
May 16, 2022
Pros: We actually got what we ordered for the cost
Cons: The car floor mats hindered driving so we threw them in the boot!
May 14, 2022
Pros: My emails were rerun when ever I asked a question
May 11, 2022
Pros: the price and face to face was easy
Cons: your phone skills are crap every thing was too hard
May 9, 2022
Pros: it was easy and cheap
Cons: no complaints, the service was great.
May 7, 2022
Pros: Staff that where on where very good
Cons: Not there problem due to what's happening around the world but under staffed
May 3, 2022
Pros: Very helpful, very friendly
May 3, 2022
Pros: Car and price
Cons: Not aware of flight details and that plane was I An hour late
May 1, 2022
Pros: Quick and easy
Cons: I thought $100 fee for a Public holiday pick up was a little steep.
April 29, 2022
Pros: So easy, didn't try to sell me anything extra
Cons: Shuttle service took a little too long to arrive. Allow extra time
April 27, 2022
Pros: Car was old and dirty. And was charged a extra $75 for 1 hour over drop off time even though I notified them that I would be late.
April 25, 2022
Pros: Quick and easy with friendly staff
April 25, 2022
Pros: The contract had some contradictions in regards to insurance and for the overall price I would rent airport rather than walking 25 minutes from Cairns City!
April 12, 2022
Pros: I went with Jucy based on price and we wanted the car for the three weeks we would be staying at our holiday accommodation even if we were only doing low km. It was really about price.
Cons: I was picking up the car by phoning the depot and not being sure where we were to meet the shuttle bus. Jucy need a presence at the Airport.
April 11, 2022
Pros: Nothing
Cons: I felt they'd given me a lemon because I didn't go directly to them but had come through Discover, particularly with regards to the insurance.
April 6, 2022
Pros: Very cooperative and helpful
Cons: Only that we had to check for any pre-existing damage ourselves. Jucy hadn't prrepared their own report for us to refer to.
April 1, 2022
Pros: The staff
Cons: N/A
March 29, 2022
Pros: Friendly and helpful staff.
Cons: Service was fine.
March 24, 2022
Pros: Quick & easy
Cons: Having to get our luggage into the car in the downpour.
March 17, 2022
Pros: Cheap
Cons: Should emphasise the importance of having a credit card (not debit card) for the car bond.
March 14, 2022
Pros: Good price and straightforward hire process when actually picking up vehicle
Cons: Really disappointed that the Jucy headquarters were not even close to the airport, let alone at the airport in Cairns. A lot of wasted time in waiting for shuttle, travelling to pick car up etc.
February 24, 2022
Pros: Juicy were amazing! They explained everything and the reason for 3,000 excess. Next time will book with them directly
Cons: Nothing
February 20, 2022
Pros: Jucy gives door-to-door service. All the staff offered excellent service, were extremely helpful and very friendly. The vehicle suited my needs perfectly and was bigger than the size I had ordered which was perfect. It was both clean and comfortable. Thanks a million Mike and your efficient team at Jucy, Cairns! 10/10!! Five stars!!
Cons: Nothing
February 18, 2022
Pros: It was so easy to get the car after hours the system they have with the lock box was great.
Cons: There is no shuttle service when landing at airport after hours.
February 15, 2022
Pros: Car pick up drop off was pretty quick.
Cons: Car was far away from the airport, we could not drop it off conveniently as by that time shuttle service was not longer available.
February 14, 2022
Pros: highly maintained car
Cons: had to get taxi from airport to pick-up and drop off car as they close at 4 pm cost me extra $80
February 13, 2022
Pros: The people there were lovely and managed to find me a car closer to what I booked as the car i was going to be given was the complete opposite.
Cons: No ride to the airport after drop off.
February 10, 2022
Pros: Excellent customer service the whole time when picking up and dropping off.
Cons: I requested a slightly larger vehicle but not important happy with the outcome.
February 5, 2022
Pros: Good people in the Cairns office
Cons: Customer service was extremely slow, waiting up to 45 minutes to be answered. Too slow to follow through when I finally spoke to Jucy. Misleading email and directions saying all was ok for a remote pickup when it wasn't.. I lost half a day's rental and spent around $150 on cab fares because of it. Hopefully Jucy is following through.
January 20, 2022
Pros: Nthing it was trrible. Never again
Cons: I was given a very old car - (250K KM). The wheels were not balanced so it drifted on the road. The car was covered in scratches and bumps which were not noted on the check sheet. I was asked to checked the car when it was inside with no light. I was personally very embarrassed by the cars appearance. There was no air con in the back so my son was always hot. I filled up the petrol from the gas station around the corner before returning it (as requested it) and have a receipt to prove this.
January 20, 2022
Pros: Service was great, easy to find and get too and the staff were lovely!
Cons: Horrible old aged Toyota Corolla, very dirty on the inside, stained seats and sticky residue on the steering wheel, horrible! The car would start to shake as soon as you drove to the 100 km/h mark, had to stop multiple times to check if there was a flat tyre as this is what it felt like, felt very unsafe to drive. One morning the car wouldn't turn on, we lost money on a tour that we couldn't attend too, we had to wait an hour for road side assistance to come. Never hiring from them again
January 15, 2022
Pros: Friendly and efficient
Cons: Couldn't fault anything
January 12, 2022
Pros: Friendly staff - but completely under the pump and overwhelmed.
Cons: Barely road worthy vehicle.
January 9, 2022
Pros: Quick and easy
Cons: Car radio didn't work
November 29, 2021
Cons: Good price, good service, good vehicle that met our needs. Thank you.
November 26, 2021
Pros: Jucy were brilliant
Cons: Insurance
November 24, 2021
Pros: Jucy car rentals did not hold my vehicle instead they cancelled it because of a mis communication in after hours pickup. Payed 200 dollars and multiple taxis to get to location because instead of holding vehicle till next day they just cancelled it and charged me for everything.
Cons: Nothing terrible .
November 13, 2021
Pros: Easy to deal with.. all questions answered.. no hassle.. staff were great
Cons: As above
November 4, 2021
Pros: nothing.
Cons: All of the cars I loked at online appeared to be fairly new, the car Jucy gave us was at least 10-years old and had scratches and accident damage all over the car. I also bought insurance when booking on your site, when I got to the branch, Jucy advised that I was completely covered by your policy and I had to buy another policy for $110. Car also had lights showing up on the dash which suggested aspects of the car were faulty e.g. ABS brake light kept showing up. The car also had a funny smell.
November 3, 2021
Pros: Price, service and quality of car
November 2, 2021
Pros: We had a very bad experience with Jucy in Cairns. Our flight from Brisbane was at 11:00am but due to extreme weather conditions our flight got delayed until 1430pm. I contacted Jucy's 1800 number which the operator advised our pick up times are outside of business hours of 1555pm and have to pay 30 dollars holding and addition 3000 dollars for insurance. After alot of negotiations with the operator we paid 125 dollar for a risk insurance. My partner and I paid the 125 plus 30 dollars extra.
Cons: Additionally, their fleet of vehicles are old. We paid 580 dollars to be driving around in a 2000 Toyota Corolla, with screws holding the seat belt cover in, screws in dash and screws holding the bumper together. Definitely vehicle doesn't meet vehicle safety standards. Will be reporting unroadworthy vehicle to Department Transport and main roads. Be aware and don't go near Jucy and their vehicles
October 13, 2021
Pros: Very easy
Cons: Only only downfall is no early shuttles to the airport
October 5, 2021
Pros: Only the friendly ness of the young lady web w dropped the vehicle back
Cons: Vehicle was unroadworthy and dirty and customer service we received when collecting the vehicle was not very accomodating. We were told to hurry the vehicle inspection reports as the service agent was in a hurry and was supposed to have been at another appointment 20 minutes earlier and he cannot wait for us any longer. The vehicle was old smelled bad inside and exterior was very scratched and damaged
September 29, 2021
Pros: Nothing, the experience was horrible
Cons: Terrible. I was unable to access the car and needed to book a new hire car through a different company. Hence, not only did i have the insult of losing money on a hire car i paid for, but when i contacted them, they quickly shirked assistance in woefully apathetic and rude manner. End result: 1) Lost all money on the hire car (~$250) 2) had to pay for a new hire car through different company (~ $400) 3) Lost money on taxi to Jucy and to other hire car company (~ $60) Awful
September 22, 2021
Pros: Happy friendly efficient and courteous staff
Cons: Not at airport
August 28, 2021
Pros: Very knowledgeable! Very friendly!
Cons: We got good service but upon returning the car we waited a very very long time for them to come to the desk to serve us. They must have been busy.
August 27, 2021
Pros: There is no service
Cons: Could not find the car at airport, could not find the provider at the airport.
August 4, 2021
Pros: Super helpful receptionist and friendly staff
Cons: The car had pretty bad wheel balancing so the steering wheel vibrated quite heavily once reaching 70-80kmph
July 29, 2021
Cons: The windows were very very dirty.
July 25, 2021
Pros: The transfer person was very helpful and friendly.
Cons: The car we had ordered was unavailable, they offered us a huge sedan instead, but we refused it. Then they upgraded us to a SUV, which we were very happy with. Leaving us to inspect the car and add to the damage checklist by ourselves instead of showing us it. The difficulty of pulling our cases over dusty stone rubble to the entry.
July 23, 2021
Pros: Fast drop off
Cons: Felt like we were in a bad part of town The car was old and dented but still charged full rate same as a new car Won't be using July again
Most Popular Car Rental Deals
Cairns Airport Car Rental
Intermediate
Toyota Corolla Sedan or similar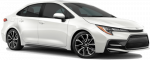 Cairns Airport Car Rental
Compact
Hyundai Accent or similar
The above prices are only approximate and were last updated at 12:17 on 2023-11-27. Prices may vary based on the booking dates, length of rental, and car class.
Please check the Rental Conditions for each vehicle prior to booking as some conditions, particularly the deposit and deductible, may vary based on the class of vehicle.
Free cancellation with a full refund up to 48 hours before your pick-up time, Unlimited mileage, Collision Damage Waiver
(deductible:

~€ 1805.00

)
, Theft Protection, Roadside Assistance (in the country of pick-up), Third Party Liability (TPL), Airport surcharge, Free modifications, State Tax.
Minimum rental age is 18 years.
A young driver fee applies to drivers under the age of 22.

There is no maximum age.
A Senior driver fee is not applied.

The driver license must have been issued by authorized authorities at least 1 year(s) before the date of the commencement of the rental.

A driver license printed using a non-Roman alphabet (Arabic, Japanese, Cyrillic, etc) must be supplemented by an International Driving Permit.
Please note that the International Driving Permit is valid only if accompanied by the regular driver license.

Learner's permits are not accepted; a full driver's license is required.
In order to pick up the car, the renter and each additional driver must present the following documents: valid driver license, credit card on a main drivers name, Passport or ID card, booking voucher, proof of home address (e.g. Utility bill).
Deposit and deductible policy
A deposit will be blocked on the customer's credit card until the end of the rental period.
The exact deposit is determined on pick up since the amount is dependent on the type of vehicle.
At time of pick up, customers will be required to pay the amount of the rental and a deposit.
The following payment methods are accepted: Visa Debit Card, MasterCard credit card, VISA credit card, American Express credit card, MasterCard debit card, American Express Debit card, Union Pay.

The main driver must provide a physical payment card in their name with enough funds to cover the deposit to pick up the car. The rental company will neither accept virtual credit cards (e.g., GooglePay or ApplePay) nor someone else's card (including family members).
Geographical restrictions
Crossing country/state borders is not allowed.
In the event that Cross Border & Territorial Restrictions are violated, all protections lose their validity.
It is forbidden to drive to some locations in the country as well as on some specific roads. For more information, please contact the rental office.
Optional extras and services
Available special equipment: GPS Navigation system, Baby seat (up to 1 year of age), Booster seat (4-10 years of age), Roof rack.
Prices for extras are shown on the booking page.

Adding additional drivers is allowed.
There is an additional charge for each driver.
Underage additional drivers are subject to both Young Driver and Additional Driver fees.
When picking up the vehicle, all drivers must be present and must provide valid documentation.

All extras are available at the rental counter. Prices vary, depending on the rental period.


The vehicle is provided with a certain amount of fuel and must be returned with the same amount in order to avoid additional charges.
If the renter would like to extend the rental period, renter should return to the car hire office at the end of the rental period to sign a new agreement.
If the customer is late for a return for more than 60 minutes, extra day charges will apply, in addition to any other rental charges.
Pick-up & Drop-off
| | |
| --- | --- |
| Mon: | 09:00 - 15:55 |
| Tue: | 09:00 - 15:55 |
| Wed: | 09:00 - 15:55 |
| Thu: | 09:00 - 15:55 |
| Fri: | 09:00 - 15:55 |
| Sat: | 09:00 - 13:55 |
| Sun: | 09:00 - 13:55 |
Top Suppliers at Cairns Airport

+61740339800
SIXT, Terminal building, Cairns Airport, QLD 4870
$42 - $81
Working hours

+610740349088
Terminal Building Cairns Airport, Cairns City QLD 4870
$35 - $83
Working hours

0740339777
Terminal Building
$61 - $181
Working hours

+611300729230
410 Sheridan St, Cairns North QLD 4870
$31 - $110
Working hours
Ace Rent a car
+61392222595 / 1800620408
147 Lake Street
$59 - $142
Working hours

National
+61740349045 / +61740349052
Beaufort St, Aeroglen QLD 4870
$108 - $163
+611800474258 / +61755558908
411 Sheridan Street, Cairns, 4870
$31 - $60
Working hours

+61740349045
Beaufort Street, Aeroglen QLD 4870
$29 - $88

0740339555
Terminal Building
$72 - $201
Working hours
Simba Car Hire
+61740212777
432 Sheridan St, Cairns North QLD 4870
$31 - $79
Working hours

Hertz
+610740389990
Terminal Building Cairns Airport, Cairns City QLD 4870
Working hours

+61136139
Terminal Building Cairns Airport, Cairns City QLD 4870
$58 - $97
Working hours

+61740349045
Beaufort St, Aeroglen QLD 4870
$38 - $58

Dollar
+611800501934
Terminal Building Cairns Airport, Cairns City QLD 4870
$63 - $95
Working hours

+610740349088
Terminal Building Cairns Airport, Cairns City QLD 4870
$41 - $75
Working hours

Firefly
0740389990
Airport Ave
Working hours