Car Rental – Search, Compare, and Save up to 70%!
Interrent at Ibiza Airport
Aeropuerto De Ibiza, 07830 Ibiza, Illes Balears
0034 918 340 262
Pick-up instructions
Rental office is in the arrival hall in the Rent a Car area.
Drop-off instructions
Please clarify Drop-off instructions with Car Provider upon Pick-up.
Customer Ratings and Latest Reviews
Overall value for money of your rental car
Ease of finding rental desk or representative
Efficiency of the car rental agents
Time spent picking up the car
Time spent dropping off the car
Overall condition of the car
Because we want to make sure each review listed here is left by a real customer, we don't have an option to post a review here. Instead, we ask each and every customer to leave a review after they return their rental. This way, you know that all reviews are authentic, verified, and trustworthy.
November 8, 2021
Pros: Desk was closed so dealt with GoldCar instead.
Cons: Desk was closed so dealt with GoldCar instead.
October 6, 2021
Cons: Their rental office was closed and customers were redirected to one specific desk at Goldcar - this created very long queue. Other Goldcar employees refused to service us, even if they had no-one else to service. On top, Goldcar staff was utterly inefficient and each customer took ~20-30min. to service. A nightmare
September 27, 2020
Pros: price
Cons: they refused to let me pick up car 1 hour before designated arrival time. i think this was a bit too inflexible
United Kingdom
Fiat Panda
October 12, 2019
Pros: Used before - Good
Cons: Never enough staff at rental desk after flight arrival.
July 22, 2019
Pros: Very quick and easy. Good car as well.
Cons: I was annoyed at the airport that the person behind the counter tried to charge me extra than the agreed price. He said this was the extra surcharge for a diesel car but this had not been included in the confirmation email.
United Kingdom
Fiat 500 2 doors
May 19, 2019
Pros: Car clean and in good condition
Cons: Length of time to serve.
United Kingdom
Renault Clio
August 5, 2018
Pros: Process was pretty easy. They didn't push the upselling of insurance too much, returning the car was extremely simple.
Cons: They tried to give me a three door car when I had specified a five door car. When I went back to query it, they did fix it quickly but I had to wait a while to be seen again.
Most Popular Car Rental Deals
Ibiza Airport Car Rental
Mini
Fiat Panda or similar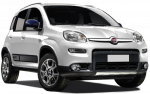 Ibiza Airport Car Rental
Economy
Fiat 500 or similar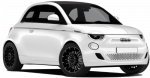 Please check the Rental Conditions for each specific vehicle prior to booking as some conditions, particularly the deposit and deductible, may differ based on the class of vehicle.
Free cancellation with a full refund up to 48 hours before your pick-up time, Unlimited mileage, Collision Damage Waiver
(deductible:

€ 1100.00

)
, Theft Protection, Supplemental Liability Insurance (SLI), Airport surcharge, Free modifications, State Tax, Environmental Contribution fee.
The following surcharges may apply: Premium Location surcharge, Airport Surcharge, Carbon Emissions Fee.
Minimum rental age is 21 years.
A young driver fee of 44.52 EUR per rental applies to drivers under the age of 25.

There is no maximum age.
A Senior driver fee is not applied.

The driver license must have been issued by authorized authorities at least 1 year(s) before the date of the commencement of the rental.

A novice driver fee will apply to drivers who have held their driver license for less than 4 years.

Driver licenses will be accepted if issued in the following country(ies): United Kingdom, EU.
Driver licenses from all other countries must be accompanied with International Driving Permit (IDP).
A driver license printed using a non-Roman alphabet (Arabic, Japanese, Cyrillic, etc) must be supplemented by an International Driving Permit.
Please note that the International Driving Permit is valid only if accompanied by the regular driver license.

In order to pick up the car, the following documents are required: valid driver license, credit card on a main drivers name, Passport or ID card, booking voucher.
Deposit and deductible policy
A deposit will be blocked on the customer's credit card until the end of the rental period.
A deposit for a tank of fuel is required upon collecting the vehicle.
The exact deposit is determined on pick up since the amount is dependent on the vehicle.

If the customer takes the following extra equipment: GPS Navigation system, Child seat (2-4 years of age), Booster seat (4-10 years of age), then an additional amount of deposit will be held on their credit card.
At time of pick up, customers will be required to pay the amount of the rental and a deposit.
It is possible to pay and leave the deposit only with following payment methods: MasterCard credit card, VISA credit card.
All credit cards must be capable of the following: CHIP verification, PIN verification, Embossed; cards without this capability will not be accepted. The daily limit on the card used for payment must be high enough to cover the deposit. Otherwise, purchase of the following insurance policy(ies): Super Relax Cover is mandatory.
The main driver's full first and last name must be on the credit card without abbreviations.

The main driver must provide a physical payment card in their name with enough funds to cover the deposit to pick up the car. The rental company will neither accept virtual credit cards (e.g., GooglePay or ApplePay) nor someone else's card (including family members).
Geographical restrictions
Domestic one-way rentals are possible on request and for an additional charge.
One-way rentals are not possible between islands.

International one-way rentals are allowed when requested in advance and for an additional charge, the amount of which varies according to the location.
Details are available from the car rental company's reservation office.

Cross border rentals are allowed only upon previous request.
For more details about permitted destination locations, please contact the Customer service department.
Information on the exact fee amount is available by request.

Driving vehicles to Ceuta, Melilla is not allowed.
In the event that Cross Border & Territorial Restrictions are violated, all protections lose their validity.
Optional extras and services
Available special equipment: GPS Navigation system, Baby seat (up to 1 year of age), Child seat (2-4 years of age), Booster seat (4-10 years of age), Outside of business hours, Young driver fee.
Prices for extras are shown on the booking page.

Adding additional drivers is allowed.
There is an additional charge for each driver.
Underage additional drivers are subject to both Young Driver and Additional Driver fees.
When picking up the vehicle, all drivers must be present and must provide valid documentation.

All extras are available at the rental counter. Prices vary, depending on the rental period.
Optional extras are subject to the following additional charge(s): Premium Location surcharge, Airport Surcharge.

Delivery/collection service is not provided.
The vehicle is provided with a full tank of fuel and must be returned with the same amount in order to avoid additional charges.
A deposit for a tank of fuel is required upon pick up.
Diesel vehicles are available for an additional charge.
All refunds (unused fuel, deposit, etc.) are made in EUR even if the customer was originally charged in a different currency when picking up the vehicle.
The vehicle must be returned in an acceptably clean condition in order to avoid additional charges.
The maximum rental period per agreement is 28 days.
If the renter would like to extend the rental period, renter should return to the car hire office at the end of the rental period to sign a new agreement.
Period of time, during regular working hours, when the car is still guaranteed for the customer, if the customer is late for pick up (the grace period) is 59 minutes.
If the customer is late for a return for more than 59 minutes, extra day charges will apply, in addition to any other rental charges.
Pick-up & Drop-off
| | |
| --- | --- |
| Mon: | 07:00 - 23:00 |
| Tue: | 07:00 - 23:00 |
| Wed: | 07:00 - 23:00 |
| Thu: | 07:00 - 23:00 |
| Fri: | 07:00 - 23:00 |
| Sat: | 07:00 - 23:00 |
| Sun: | 07:00 - 23:00 |
Top Suppliers at Ibiza Airport
+34971809178
Ibiza Airport,07820 Sant Antoni de Portmany, Balearic Islands
$46 - $58
Working hours
+34971395720 / +34971395737
Carretera de Sa Caleta s/n
Working hours
Hiper rent a car
+34971395720 / +34971395737
Carretera de Sa Caleta s/n San Francisco – San José 07818 Ibiza
Working hours
+34971809178
Ibiza Airport,07820 Sant Antoni de Portmany, Balearic Islands
$40 - $51
Working hours

Alamo
+34971395402
Aeropuerto De Ibiza, Ctra. sa Caleta, 07818, Illes Balears

Budget
+34902090262
Aeropuerto De Ibiza
$68 - $105
Working hours
Dollar
971809178
Ibiza Airport
Working hours

+34871180192
Aeroport d'Eivissa, 07830 Ibiza, Illes Balears
$71 - $137

Enterprise
+34971395402
Aeropuerto De Ibiza, Ctra. sa Caleta, 07818, Illes Balears

National
+34971395402
Ibiza Airport
+34971396897
Carrer del Paio, 07817 Sant Josep de sa Talaia, Illes Balears, Ibiza
$40 - $241
Working hours

+34902090262
Aeropuerto De Ibiza
$75 - $75
Working hours
Key'n Go
+34918340262
Aeropuerto de Ibiza 07818 Sant Jordi de Ses Salines, San José (Ibiza) Islas Baleares
Working hours
+34971730696
Carrer Sant Jordi 22, Polígono industrial Can Frigoles, 07817 Sant Jordi, Balearic Island
$25 - $252
Working hours

Europcar
+34911505000
IBIZA AEROPUERTO
Working hours

+34902105055
Ibiza Airport, 07817 Sant Jordi de ses Salines
$41 - $50
Working hours

+34971394917 / +34966360360
Carretera Ibiza-Aeropuerto, Km 6, Número 24 - Sant Jordi de Salines, 07817 Ibiza, Islas Baleares
$45 - $154

+34600967554 / +34600901856 / +34627548685
Aeroport d'Eivissa,, Carrer de l'Àngel, 07818 Aeroport d'Eivissa, Illes Balears, Spain
$36 - $161
Working hours

+34971126880
Carretera de l'Aeroport, 126, 07817 Sant Josep de sa Talaia, Illes Balears
$31 - $78
Working hours
+34971730696
Carretera del Aeropuerto km 5.8, Polígono industrial Can Frigoles, 07817 Sant Jo, 07817 Sant Jordi de ses Salines, Balearic Islands
$16 - $357
Working hours

+34902360636 / +34971084916
Carretera de l'Aeroport Km 4,2, 07817
Working hours

+34918341400
Aeropuerto de Ibiza 07818 Sant Jordi de ses Salines, San José (Ibiza), Islas Baleares
$27 - $28
Working hours