Car Rental – Search, Compare, and Save up to 70%!

Jucy at Melbourne Airport
1 Silicon Place Tullamarine VIC 3043
0061 1 800 150 850
Pick-up instructions
After you have arrived at Melbourne Airport, cleared customs and collected your luggage, phone us on 1800 150 850 and select Option 1 to request our free shuttle service. Our JUCY shuttle bus will meet you at the 'HOTELS & OFF AIRPORT BUSES' collection point. To get there, cross either of the pedestrian crossings outside the main doors of terminals 1 or 3 and follow the signs. Last shuttle is 30 mins prior to closing time Afterhours must be arranged 48 hours prior by contacting our reservations team
Drop-off instructions
After you have returned your vehicle, jump on board the next shuttle bus at the JUCY branch.
Customer Ratings and Latest Reviews
Overall value for money of your rental car
Ease of finding rental desk or representative
Efficiency of the car rental agents
Time spent picking up the car
Time spent dropping off the car
Overall condition of the car
Because we want to make sure each review listed here is left by a real customer, we don't have an option to post a review here. Instead, we ask each and every customer to leave a review after they return their rental car. This way, you know that all reviews are authentic, verified, and trustworthy.
New Zealand
Toyota Corolla
May 29, 2023
Pros: Great staff
Cons: Not much
New Zealand
Toyota Corolla
May 19, 2023
Pros: Service
Cons: Nothing
May 13, 2023
Pros: No fuss.
Cons: No GPS
New Zealand
Toyota Corolla
May 4, 2023
Pros: Great friendly guys helping out.
Cons: I was stunned that if I had somehow damaged the roof of a Toyota Corolla with no racks or anything on the roof i'd somehow be up for $5k. That's is madness. I get the reason but write a different contract for cars vs vans etc. Otherwise very happy with Jucy.
April 29, 2023
Pros: They were very helpful and friendly. assisted us with the pick up and make the whole process short
Cons: NIL
April 25, 2023
Pros: they were friendly
Cons: The vehicle was so old, scratched and rusted that it was embarrassing to be seen parking it at the apartments and hotels we stayed at. It was also not suitable for a 8 day hire and broke down. When it broke down, Jucy was not proactive in keeping us informed of what was happening as regards the repair or replacement of the vehicle.
April 13, 2023
Pros: Nothing
Cons: Flight delayed in air , still arrived b4 advertised closing time however NO one answered 24/7 line for p/u shuttle so NO hire car that night had to spend $200 to get to accommodation and back to airport next day. Discover cars said they could do nothing even though l had taken out & paided for insurances that should cover such instances. Have now been promised to have a Supervisor ring me back 3 days in a row and NOTHING, both admit to mess but blame other company and have NO outcome 4 me.
April 12, 2023
Pros: Car performed as it should experience was easy and I will use again!!
Cons: All great
April 2, 2023
Pros: Price
Cons: Car working perfectlly, but really old
April 2, 2023
Pros: The suspension was rough, noisy, not sure if fan belt or exhaust. We didn't think it would last the distance, it did.
United States of America (USA)
Toyota Corolla
March 31, 2023
Pros: Friendly staff. Everything worked.
Cons: Headlights dangerously poor. I doubt the car is legal to drive. I would not use this car after dark. YOU NEED TO FIX IT!!. Shock absorbers poor.
March 15, 2023
Pros: good customer service
Cons: make sure that the car photo on your website is the car that the rental company offers.
February 9, 2023
Pros: All good!!
Cons: Nil
Isle of Man
Toyota Corolla
January 17, 2023
Pros: A good friendly staff, helpfull advice.
Cons: Sat nav provided failed to work , But was given a refund when car was returned.
United Kingdom
Toyota Corolla
November 29, 2022
Pros: Car was a bit battered but the company can't get replacements due to the issues since covid and this was explained. It didn't bother us at all.
Cons: Service was great. Even got a lift into city centre on our return rather than back to airport to catch the shuttle into CBD.
New Zealand
Toyota Corolla
October 27, 2022
Pros: Condition of car
Cons: Poor communication and planning. No one pick us up upon arrival.
October 16, 2022
Pros: They were friendly, efficient and easy to deal with.
September 25, 2022
Cons: Shuttle information on the weekend. Fine print just talks about calling the shuttle nothing about taxi's or uber.
August 4, 2022
Pros: Prompt pick up and drop off, great car
Cons: Nothing
May 5, 2022
Pros: Every thing went well pickup and drop off at airport . Car went well
Cons: Condition of car had a few dents all over it but was put down on the sheet when we picked ked it up so wasn't a problem.
April 29, 2022
Pros: relatively easy
Cons: size and condition of the car but there isnt much around so beggars cant be choosers
April 19, 2022
Pros: Agents were very good and bus driver on arrival was lovely .
Cons: They do not have a courtesy bus on Saturday Saturday when I dropped the car off which made me feel uneasy about getting a taxi to the airport in time. All was fine in the end but I feel this would make it easier for people
United States of America (USA)
Toyota Corolla
April 18, 2022
Pros: Staff excellent
Cons: Car
April 3, 2022
Pros: Professional service
March 21, 2022
Pros: courteous service, fast process
January 9, 2022
Pros: Was a totally different car then what was on the photo 10 year older then the photo
Cons: Won't refund, damaged car makes noises brakes make noises
January 5, 2022
Cons: Old car with 285k . Dropping off nightmare
October 19, 2021
Pros: They dropped me off after returning the car
Cons: The hidden cost of no fault minor damage
Most Popular Car Rental Deals
Melbourne Airport Car Rental
Compact
Toyota Corolla or similar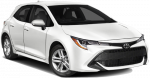 Melbourne Airport Car Rental
Intermediate
Toyota Corolla or similar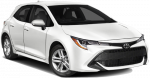 Melbourne Airport Car Rental
Compact SUV
Hyundai Kona or similar
The above prices are only approximate and were last updated at 20:48 on 2023-05-29. Prices may vary based on the booking dates, length of rental, and car class.
Please check the Rental Conditions for each vehicle prior to booking as some conditions, particularly the deposit and deductible, may vary based on the class of vehicle.
Free cancellation with a full refund up to 48 hours before your pick-up time, Unlimited mileage, Collision Damage Waiver
(deductible:

~€ 1830.00

)
, Theft Protection, Roadside Assistance (in the country of pick-up), Third Party Liability (TPL), Airport surcharge, Free modifications, State Tax.
Minimum rental age is 18 years.
A young driver fee applies to drivers under the age of 22.

There is no maximum age.
A Senior driver fee is not applied.

The driver license must have been issued by authorized authorities at least 1 year(s) before the date of the commencement of the rental.

A driver license printed using a non-Roman alphabet (Arabic, Japanese, Cyrillic, etc) must be supplemented by an International Driving Permit.
Please note that the International Driving Permit is valid only if accompanied by the regular driver license.

Learner's permits are not accepted; a full driver's license is required.
In order to pick up the car, the renter and each additional driver must present the following documents: valid driver license, credit card on a main drivers name, Passport or ID card, booking voucher, proof of home address (e.g. Utility bill).
Deposit and deductible policy
A deposit will be blocked on the customer's credit card until the end of the rental period.
The exact deposit is determined on pick up since the amount is dependent on the type of vehicle.
At time of pick up, customers will be required to pay the amount of the rental and a deposit.
The following payment methods are accepted: Visa Debit Card, MasterCard credit card, VISA credit card, American Express credit card, MasterCard debit card, American Express Debit card, Union Pay.

The main driver must provide a physical payment card in their name with enough funds to cover the deposit to pick up the car. The rental company will neither accept virtual credit cards (e.g., GooglePay or ApplePay) nor someone else's card (including family members).
Geographical restrictions
Crossing country/state borders is not allowed.
In the event that Cross Border & Territorial Restrictions are violated, all protections lose their validity.
It is forbidden to drive to some locations in the country as well as on some specific roads. For more information, please contact the rental office.
Optional extras and services
Available special equipment: GPS Navigation system, Baby seat (up to 1 year of age), Booster seat (4-10 years of age), Roof rack.
Prices for extras are shown on the booking page.

Adding additional drivers is allowed.
There is an additional charge for each driver.
Underage additional drivers are subject to both Young Driver and Additional Driver fees.
When picking up the vehicle, all drivers must be present and must provide valid documentation.

All extras are available at the rental counter. Prices vary, depending on the rental period.


The vehicle is provided with a certain amount of fuel and must be returned with the same amount in order to avoid additional charges.
If the renter would like to extend the rental period, renter should return to the car hire office at the end of the rental period to sign a new agreement.
If the customer is late for a return for more than 60 minutes, extra day charges will apply, in addition to any other rental charges.
Pick-up & Drop-off
| | |
| --- | --- |
| Mon: | 08:00 - 17:55 |
| Tue: | 08:00 - 17:55 |
| Wed: | 08:00 - 17:55 |
| Thu: | 08:00 - 17:55 |
| Fri: | 08:00 - 17:55 |
| Sat: | 08:00 - 13:55 |
| Sun: | 10:00 - 13:55 |
Top Suppliers at Melbourne Airport

+61392416100
Terminal Building Tullamarine Airport
$69 - $123
Working hours

136139
Arrival Drive
$83 - $132
Working hours
Mon:
00:00-01:00; 06:00-23:59
Tue:
00:00-01:00; 06:00-23:59
Wed:
00:00-01:00; 06:00-23:59
Thu:
00:00-01:00; 06:00-23:59
Fri:
00:00-01:00; 06:00-23:59
+61393304442 / +61406316284
A1 Airport Parking 133-141 Western Avenue, Westmeadows, Vic 3049
$53 - $161
Working hours

+610393302314
Ground Floor, Park Royal Hotel, Melbourne Airport
$93 - $122
Working hours
+611800474258 / +61755558908
2 Tarmac Drive, Tullamarine, 3043
$33 - $50
Working hours

+611300729230
3 Annandale Road, Tullamarine VIC 3045
$28 - $85
Working hours

+610393302314
Melbourne Airport, Arrival Dr, Melbourne VIC 3045
$56 - $72
Working hours
Ace Rental Cars
+61383128400 / 1800620408
16 Tarmac Drive, Tullamarine
$42 - $123
Working hours

+610383129590
Arrival Dr, Melbourne Airport VIC 3045
$101 - $128
Working hours
Mon:
00:00-01:00; 06:00-23:59
Tue:
00:00-01:00; 06:00-23:59
Wed:
00:00-01:00; 06:00-23:59
Thu:
00:00-01:00; 06:00-23:59
Fri:
00:00-01:00; 06:00-23:59

+610393302314
Melbourne Airport VIC 3045, Australia
$63 - $82
Working hours

Avis
0388555300
Arrivals Dr
$138 - $166
Working hours

yesaway
+61413778666
77 Queens Lane, VIC3004, Melbourne
$49 - $85
Working hours

Keddy
+610392416800
Arrival Dr, Tullamarine VIC 3043
$38 - $58
Working hours

Firefly
0383129590
Arrival Drive
Working hours
Mon:
00:00-01:00; 06:00-23:59
Tue:
00:00-01:00; 06:00-23:59
Wed:
00:00-01:00; 06:00-23:59
Thu:
00:00-01:00; 06:00-23:59
Fri:
00:00-01:00; 06:00-23:59

Dollar
+611800501934
T1, T2, T3 Car Park, Melbourne Airport VIC 3045
$53 - $76
Working hours
Mon:
00:00-01:00; 06:00-23:59
Tue:
00:00-01:00; 06:00-23:59
Wed:
00:00-01:00; 06:00-23:59
Thu:
00:00-01:00; 06:00-23:59
Fri:
00:00-01:00; 06:00-23:59
JACE
+61385908533 / +61420294357
39 Garden Drive - Shuttle -
Working hours

+610393306161 / +61399992626
189 South Centre Rd Tullamarine, VIC 3043
$43 - $48
Working hours