Car Rental – Search, Compare, and Save up to 70%!

Keddy at Paris Charles de Gaulle Airport
Niveau boutiquaire, Roissy Cdg Termianl 2D, 95700 Roissy-en-France
0033 0 825 825 490
Pick-up instructions
Please follow signs to car rental area.
Drop-off instructions
Please clarify Drop-off instructions with Car Provider upon Pick-up.
Customer Ratings and Latest Reviews
Overall value for money of your rental car
Ease of finding rental desk or representative
Efficiency of the car rental agents
Time spent picking up the car
Time spent dropping off the car
Overall condition of the car
Because we want to make sure each review listed here is left by a real customer, we don't have an option to post a review here. Instead, we ask each and every customer to leave a review after they return their rental car. This way, you know that all reviews are authentic, verified, and trustworthy.
January 24, 2023
Pros: Very efficient
Cons: Nothing all good - maybe make sure the inside of the doors and door trims are clean!
October 20, 2022
Cons: No Keddy signs or desks. till asked eurocar desk what is keddy and they said it's eurocar
May 12, 2022
Pros: i didn't find anything better in tems of proposal and simple user experience
United Kingdom
Peugeot 208
May 10, 2022
Pros: The woman helped get a car seat which I had booked but they didn't have one, but she managed to borrow one from Hertz.
Cons: Didn't know where to pick up car until I asked a few people and eventually someone told me it was the Europcar desk.
United Kingdom
Peugeot 208
November 7, 2021
Pros: good price
Cons: couldnt find the rental desk.... then they wouldnt add my partner as he didnt have his plastic card licence despite having an international code for rental
October 6, 2020
Pros: CAR UPGRADE
Cons: THE AGENT COULD NOT FIND THE RESERVATION, THE CAR WAS NOT BOOKED, I HAVE BEEN WAITING FOR AROUND HALF AN HOUR ST THE DESK AND THEN THEY PROVIDEDAN UPGRADED CAR
United Kingdom
Renault Twingo
February 18, 2020
Pros: Easy
Cons: Staff dealt very well with an angry customer who has had hired from another company and they had shut. Stayed professional and sorted me out at the same time.
August 29, 2019
Pros: Good value
Cons: The car was beaten up a little
July 15, 2019
Pros: Absolutely shocking service
Cons: Absolutely shocking service
United Kingdom
Ford Focus
May 6, 2019
Cons: As mentioned above, the car seats were not ready as we had booked online and I had to manually pick them up from inside their little cupboard and fit them myself. This took about 1 hour as I don't speak or read French! To be honest, it put a real bad start to the holiday
United Kingdom
Citroen C3
February 19, 2019
Pros: Good, clean car
Cons: Was overcharged by £30+
December 19, 2018
Pros: Tienen que saber también un poco de español
Cons: Tardan mucho en devolver la fianza
March 31, 2018
Pros: Condition of car. ++
Cons: Was looking for the Keddy rental desk, but apperantly it was Europcar rental desk..?
United States of America (USA)
Fiat 500
May 4, 2017
Pros: When I arrived at Keddy counter after an 11h flight the representatives made me wait 45 minutes birite telling me they couldn't give me a car. I had to go to another rental agency and pay 3 times the price for a car. I want a full refund if my deposit. Thank you.
Most Popular Car Rental Deals
Paris Charles de Gaulle Airport Car Rental
Mini
Fiat 500 or similar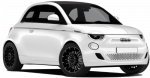 Paris Charles de Gaulle Airport Car Rental
Economy
Peugeot 208 or similar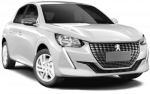 Paris Charles de Gaulle Airport Car Rental
Compact
Hyundai Kona or similar

Paris Charles de Gaulle Airport Car Rental
Compact
Fiat 500X or similar

Paris Charles de Gaulle Airport Car Rental
Compact
Toyota Corolla or similar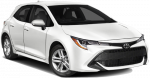 Paris Charles de Gaulle Airport Car Rental
Intermediate
Citroen C5 or similar

Paris Charles de Gaulle Airport Car Rental
Intermediate
Hyundai Tucson or similar

The above prices are only approximate and were last updated at 17:56 on 2023-03-24. Prices may vary based on the booking dates, length of rental, and car class.
Please check the Rental Conditions for each vehicle prior to booking as some conditions, particularly the deposit and deductible, may vary based on the class of vehicle.
Free cancellation with a full refund up to 48 hours before your pick-up time, Unlimited mileage, Collision Damage Waiver
(deductible:

€ 1400.00

)
, Theft Protection, Third Party Liability (TPL), Airport surcharge, Road tax, Vehicle registration fee, Free modifications, State Tax.
Minimum rental age is 18 years.
A young driver fee applies to drivers under the age of 26.

There is no maximum age.
A Senior driver fee is not applied.

The driver license must have been issued by authorized authorities at least 1 year(s) before the date of the commencement of the rental.
For vehicles in groups Compact, Standard, Luxury, Intermediate, Fullsize, Compact Elite a driver license valid for at least 3 years is required.
For vehicles in groups Premium a driver license valid for at least 5 years is required.

A driver license printed using a non-Roman alphabet (Arabic, Japanese, Cyrillic, etc) must be supplemented by an International Driving Permit.
In addition to the regular driver license, an International Driving Permit is also mandatory if the customer is not a resident of the following country(ies): EU. Please note that the International Driving Permit is valid only if accompanied by the regular driver license.

In order to pick up the car, the following documents are required: valid driver license, credit card on a main drivers name, Passport or ID card, booking voucher, proof of home address (e.g. Utility bill).
Deposit and deductible policy
A deposit will be blocked on the customer's credit card until the end of the rental period.
The exact deposit is determined on pick up since the amount is dependent on the type of vehicle.
At time of pick up, customers will be required to pay the amount of the rental and a deposit.
The following payment methods are accepted: Diners, Debit cards, MasterCard credit card, VISA credit card, American Express credit card.
It is possible to pay and leave the deposit only with the following payment methods: Diners, MasterCard credit card, VISA credit card, American Express credit card.
Cash, Prepaid cards is/are not accepted.

The main driver must provide a physical payment card in their name with enough funds to cover the deposit to pick up the car. The rental company will neither accept virtual credit cards (e.g., GooglePay or ApplePay) nor someone else's card (including family members).
Geographical restrictions
Cross border rentals are allowed only upon previous request.
Additional charges will be applied in case the car is crossing state or region borders.
Details are available from the car rental company's reservation office.

Crossing country borders is allowed to the following countries: Andorra, Austria, Belgium, Denmark, Finland, France - Corsica, Germany, Greece, Ireland, Italy, Luxembourg, Monaco, Netherlands, Norway, Portugal, Spain - Balearic Islands, Spain-Canary Islands, Spain-Mainland, Sweden, Switzerland, United Kingdom.
In the event that Cross Border & Territorial Restrictions are violated, all protections lose their validity.
Optional extras and services
Available special equipment: GPS Navigation system, Baby seat (up to 1 year of age), Child seat (2-4 years of age).
Prices for extras are shown on the booking page.

Adding additional drivers is allowed.
There is an additional charge for each driver.
Underage additional drivers are subject to both Young Driver and Additional Driver fees.
When picking up the vehicle, all drivers must be present and must provide valid documentation.


The vehicle is provided with a full tank of fuel and must be returned with the same amount in order to avoid additional charges.

Diesel vehicles are available only by request upon arrival.
Diesel vehicles are available for an additional charge.
Service outside of business hours is available by previous request at airport locations.
Period of time, during regular working hours, when the car is still guaranteed for the customer, if the customer is late for pick up (the grace period) is 0 minutes.
Pick-up & Drop-off
| | |
| --- | --- |
| Mon: | 08:00 - 22:00 |
| Tue: | 08:00 - 22:00 |
| Wed: | 08:00 - 22:00 |
| Thu: | 08:00 - 22:00 |
| Fri: | 08:00 - 22:00 |
| Sat: | 08:00 - 22:00 |
| Sun: | 08:00 - 22:00 |
Top Suppliers at Paris Charles de Gaulle Airport

+33820007498
95711 Paris Roissy

+33820611620
Roissy Charles De Gaulle Tous Terminaux
$91 - $167
Working hours

+330821230641
Paris Aeroport Roissy Charles De GaulleTous Terminaux
Working hours

0148626581
PARIS CH DE GAULLE APT T1 T2
$60 - $132
Working hours

+330148626581
Aéroport de Paris-Charles de Gaulle T1 T2 Roissy Apt Bp 332 Cedex Cdg, 95700 Roissy-en-France
$62 - $138

Dollar
+33825889755
Aéroport de Paris-Charles de Gaulle, 93290 Paris, France
$46 - $62
Working hours

+330825889755
Aeroport Charles De Gaulle,
$46 - $73
Working hours

+330825825490
Paris Charles De Gaulle Airport, Terminal 2
$52 - $88
Working hours

+33148626581
Roissy Apt Bp 332 Cedex CDG, 95716 Roissy-en-France, France
$54 - $124
Firefly
+33148161222
Aeroport de Roissy Charles de Gaulle Terminal 2D
Working hours
Mon:
08:00-13:00; 14:00-20:00
Tue:
08:00-13:00; 14:00-20:00
Wed:
08:00-13:00; 14:00-17:00
Thu:
08:00-13:00; 14:00-20:00
Fri:
08:00-13:00; 14:00-20:00
Sat:
10:00-13:00; 14:00-19:00
Sun:
10:00-13:00; 14:00-19:00

Interrent
+33977401992
Terminal 2 - Car Rental Center
Working hours
Mon:
08:00-13:00; 14:00-18:00
Tue:
08:00-13:00; 14:00-18:00
Wed:
08:00-13:00; 14:00-18:00
Thu:
08:00-13:00; 14:00-18:00
Fri:
08:00-13:00; 14:00-18:00
Sat:
08:00-13:00; 14:00-18:00
Sun:
08:00-13:00; 14:00-18:00