Car Rental – Search, Compare, and Save up to 70%!

Surprice in Lisbon (Downtown)
Rua Américo de Jesus Fernandes, Lote G, 1800-023 Lisbon
00351 300 509 199
Drop-off instructions
Please clarify Drop-off instructions with Car Provider upon Pick-up.
Customer Ratings and Latest Reviews
Overall value for money of your rental car
Ease of finding rental desk or representative
Efficiency of the car rental agents
Time spent picking up the car
Time spent dropping off the car
Overall condition of the car
Because we want to make sure each review listed here is left by a real customer, we don't have an option to post a review here. Instead, we ask each and every customer to leave a review after they return their rental car. This way, you know that all reviews are authentic, verified, and trustworthy.
United States of America (USA)
Renault Megane
September 20, 2022
Pros: The rental car got us where we were going and back.
Cons: Difficult to find, address had a street name, no number. Took over an hour to pick up the car. Informed at the agency I had to pay a security deposit on the car, (1845.00 Euros) despite having full coverage insurance. Discovered when I returned the car that a wheel was scratched and was required to pay for the damages plus 64% administrative fee to have security deposit released and Surprice could not/would not provide proof that the security deposit was released.
United States of America (USA)
Toyota Corolla
August 23, 2022
Cons: The business model is a scam meant to rip off customers. I will never rent from here again.
United States of America (USA)
Toyota Corolla SW
August 22, 2022
Cons: We lost a lot of time waiting for got the car is a lot of people in a room waiting for the car and the environment is not really clean and healthy You news to put more people working behind the desk.
July 29, 2022
Cons: Tank should be given full
July 27, 2022
Pros: The guys in the lot/garage helping to get the car and check damage etc were very helpful.
Cons: The clerks behind the desk
June 26, 2022
Pros: The staff, the support, slow but helpful
Cons: Bad communications, not efficient organization, no hotline operator on duty
United States of America (USA)
Nissan Juke
November 7, 2021
Pros: Frienly and fast
Cons: When the car was given to me, they spent ONE SECOND to tell me it was like new,with no knicks nor dents. When I brought back..... It was several minutes, twisting, contorting, looking and inspecting from different angles as if to TRYING very hard to find the slightest knick! Really petty, and disgusting and unprofessional.
October 20, 2021
Pros: The Car was nice and clean and fairly new. The agent I dealt with Ricardo Martins was very helpful and pleasant to deal with.
Cons: I tried on several occasions to phone and despite getting a handling agent I was always put through to an answering machine. After leaving several messages nobody phoned me back. I then sent an email requesting someone to contact as I wanted to extend my booking. Still nobody contacted me, Not even a reply to my email. This is just downright rude and very poor service. I had to get in the Car and drive 350 kilometers to resolve the issue.
October 18, 2021
Pros: Nothing.
Cons: I didn't like it at all. Staff were not helpful.
September 13, 2021
Pros: very good quality price. Very fast pick up and drop off car.
Cons: I needed to prolongate my renting of two days. I struggle a lot to talk with someone and accomplished only via facebook
August 25, 2021
Pros: Easiness on finding the company
Cons: The company you referred me oblige costumers to rent a device for automatic payment of tolls when there is a possibility of using tolls without the device. I didn't ask for the device in my contract and now I can't voluntarily pay for the service with the toll company because the device was active when I passed. The car rental company requires me to pay a fine of 36 euros for each toll ticket because the payment was associated with a device I didn't ask for. I consider this a scam.
July 11, 2019
Pros: Very good value for money. Clean, new car.
Cons: Horrible pick up arrangements. It took me approx. 2 hours to pick up the car! I am sure that it should be possible to do this function more efficiently. I have never queued so long for the car.
June 20, 2019
Cons: O carro foi entregue com o combustível na reserva. Foi necessário parar em um posto próximo onde o valor não é barato.
May 30, 2019
Pros: Quickly service tod dropp off the car
Cons: tires in poor condition
May 19, 2019
Pros: very easy
Cons: very easy
United States of America (USA)
VW Golf
March 6, 2019
Pros: Everything was fine until we dropped off the car and the agent was incredibly rude. They were trying to say that j
May 24, 2018
Cons: We had some damage to the windshield and the agents were extremely unprofessional in handling it when we returned the car. When we questioned the repair sum we were quoted all three of them got up in our faces and shouted at us, when the only thing we wanted was some documentation to prove that this was actually the cost of repairing the damage.
Most Popular Car Rental Deals
Downtown Car Rental
Mini
Hyundai i10 or similar

Downtown Car Rental
Mini
Fiat Panda or similar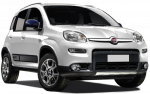 Downtown Car Rental
Mini
Peugeot 108 or similar

Downtown Car Rental
Mini
Volkswagen Up or similar

Downtown Car Rental
Economy
Citroen C3 or similar

Downtown Car Rental
Economy
Renault Clio or similar

Downtown Car Rental
Economy
Peugeot 208 or similar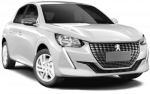 Downtown Car Rental
Economy
Toyota Yaris or similar

Downtown Car Rental
Mini
Fiat 500 Cabrio or similar

Downtown Car Rental
Economy
Renault Megane STW or similar

Downtown Car Rental
Economy
Skoda Scala or similar

Downtown Car Rental
Compact
Seat Arona or similar

Downtown Car Rental
Compact
Renault Megane or similar

Downtown Car Rental
Compact
Toyota Corolla STW or similar

Downtown Car Rental
Premium Elite
BMW 3 Series or similar

The above prices are only approximate and were last updated at 17:25 on 2023-03-30. Prices may vary based on the booking dates, length of rental, and car class.
Please check the Rental Conditions for each vehicle prior to booking as some conditions, particularly the deposit and deductible, may vary based on the class of vehicle.
Free cancellation with a full refund up to 48 hours before your pick-up time, Unlimited mileage, Collision Damage Waiver
(deductible:

€ 1599.00

)
, Theft Protection, Roadside Assistance (in the country of pick-up), Contract fee, Third Party Liability (TPL), Airport surcharge, Road tax, Free modifications, State Tax.
An E-Toll is offered in order to avoid violation fees.
Minimum rental age is 21 years.
A young driver fee applies to drivers under the age of 25.

Maximum rental age is 99 years.
A senior driver fee applies to drivers over the age of 75.

The driver license must have been issued by authorized authorities at least 1 year(s) before the date of the commencement of the rental.

Senior drivers 75 years of age or older who wish to rent a vehicle must purchase Additional Insurance.

In addition to the regular driver license, an International Driving Permit is also mandatory if the customer is not a resident of the following country(ies): non-EU. A driver license printed using a non-Roman alphabet (Arabic, Japanese, Cyrillic, etc) must be supplemented by an International Driving Permit.
For driver licenses from countries not party to the International Driving Permit treaty, an official translation of the license must be presented with the original license. Please note that the International Driving Permit is valid only if accompanied by the regular driver license.
In addition to documents mentioned previously, the customer will need the following: valid driver license, credit card on a main drivers name, Passport or ID card, booking voucher, return flight ticket, flight information, boarding pass.
Deposit and deductible policy
A deposit will be blocked on the customer's credit card until the end of the rental period.
When rental period exceeding 25 days, the deposit will be charged at the beginning of the rental.
The exact deposit is determined on pick up since the amount is dependent on the type of vehicle.

In the event of damages to the car, without providing a police report, CDW and any other additional protection become voided.
At time of pick up, customers will be required to pay the amount of the rental and a deposit.
It is possible to pay and leave the deposit only with the following payment methods: MasterCard credit card, VISA credit card.
Visa Electron, American Express, Cash, Debit cards, Prepaid cards is/are not accepted.

The main driver must provide a physical payment card in their name with enough funds to cover the deposit to pick up the car. The rental company will neither accept virtual credit cards (e.g., GooglePay or ApplePay) nor someone else's card (including family members).
Geographical restrictions
Cross border rentals are allowed only upon previous request.
Additional charges will be applied in case the car is crossing state or region borders.

Crossing country borders is allowed to the following country: Spain-Mainland. In the event that Cross Border & Territorial Restrictions are violated, all protections lose their validity.
Optional extras and services
Available special equipment: GPS Navigation system, Baby seat (up to 1 year of age), Child seat (2-4 years of age), Booster seat (4-10 years of age), Wi-Fi.
Prices for extras are shown on the booking page.

Adding additional drivers is allowed.
There is an additional charge for each driver.
Underage additional drivers are subject to both Young Driver and Additional Driver fees.
When picking up the vehicle, all drivers must be present and must provide valid documentation.

Certain additional drivers are subject to both an Additional Driver fee as well as either a Young Driver or Senior Driver fee.

The vehicle is provided with a certain amount of fuel and must be returned with the same amount in order to avoid additional charges.
In no case will a refund be given for unused fuel.
Period of time, during regular working hours, when the car is still guaranteed for the customer, if the customer is late for pick up (the grace period) is 60 minutes.
If the customer is late for a return for more than 120 minutes, extra day charges will apply, in addition to any other rental charges.
Pick-up & Drop-off
| | |
| --- | --- |
| Mon: | 08:00 - 20:00 |
| Tue: | 08:00 - 20:00 |
| Wed: | 08:00 - 20:00 |
| Thu: | 08:00 - 20:00 |
| Fri: | 08:00 - 20:00 |
| Sat: | 08:00 - 20:00 |
| Sun: | 08:00 - 20:00 |
Top Suppliers in Lisbon (Downtown)
+351213839700
Rua Braamcamp, 52-A, 1250-051 Lisboa
$48 - $162
Working hours
Sat:
09:00-13:00; 14:00-18:00
Sun:
09:00-13:00; 14:00-18:00

+351255788199
R. Andrade Corvo 31B, 1050-010 Lisboa
$52 - $269
+351218966320
Av. D. João Ii - Estação Do Oriente | Loja G204 - Lote 1.07.15 - 1990-233, Lisbon
$39 - $93
Working hours
Mon:
08:30-13:00; 15:00-18:30
Tue:
08:30-13:00; 15:00-18:30
Wed:
08:30-13:00; 15:00-18:30
Thu:
08:30-13:00; 15:00-18:30
Fri:
08:30-13:00; 15:00-18:30
Sat:
08:30-13:00; 15:00-18:30
Sun:
08:30-13:00; 15:00-18:30

+351213535115
AV.ANTONIO AUGUSTO AGUIAR,24 C/D
$39 - $74
Working hours
+351210134927
Avenida Gomes Pereira 27-B, 1500-328 Lisboa
$50 - $640
Working hours

+351217818295
Rua Dr. Silva Teles 5, Lisbon
$36 - $191
Working hours
Mon:
08:00-12:30; 14:29-18:00
Tue:
08:00-12:30; 14:29-18:00
Wed:
08:00-12:30; 14:29-18:00
Thu:
08:00-12:30; 14:29-18:00
Fri:
08:00-12:30; 14:29-18:00
+351910628505 / +351210966330
Av. Severiano Falcão, 10 2685-378 Prior Velho
$25 - $229
Working hours
+351262077098
R. Vasco Da Gama 7A, 2685-011 Portela, Lisboa
Working hours

Ok Mobility
+34971126880
Praça dos Restauradores 15A, 1250-096 Lisboa
$34 - $84
Working hours
+351217815750
Rua Diogo Bernardes 17 D
$24 - $49
Working hours
Sat:
09:00-12:59; 14:59-19:00
Sun:
09:00-12:59; 14:59-19:00
First Rent
+351229568856
N249-4, 2710-089 Sintra
Working hours

Thrifty
+351219426300
Rua Castilho 72 RUA CASTILHO 72 Lisbon
Working hours

Budget
+351213514560
Rua Castilho 167 E
$43 - $153
Working hours
Mon:
08:00-12:30; 14:30-18:00
Tue:
08:00-12:30; 14:30-18:00
Wed:
08:00-12:30; 14:30-18:00
Thu:
08:00-12:30; 14:30-18:00
Fri:
08:00-12:30; 14:30-18:00

+351213535115
AV.ANTONIO AUGUSTO AGUIAR,24 C/D
$43 - $141
Working hours

Hertz
+351219426300
R. Castilho 72, 1250-068 Lisboa
$36 - $67
Working hours

Avis
+351213514560
Rua Castilho 167 E
$49 - $157
Working hours
Mon:
08:00-12:30; 14:30-18:00
Tue:
08:00-12:30; 14:30-18:00
Wed:
08:00-12:30; 14:30-18:00
Thu:
08:00-12:30; 14:30-18:00
Fri:
08:00-12:30; 14:30-18:00