Car Rental – Search, Compare, and Save up to 70%!
AUSOCAR RENT-A-CAR in Lisbon (Downtown)
Rua Diogo Bernardes 17 D
00351 217 815 750
Drop-off instructions
Please clarify Drop-off instructions with Car Provider upon Pick-up.
Business hours
Sat:
09:00-12:59; 14:59-19:00
Sun:
09:00-12:59; 14:59-19:00
Customer Ratings and Latest Reviews
Overall value for money of your rental car
Ease of finding rental desk or representative
Efficiency of the car rental agents
Time spent picking up the car
Time spent dropping off the car
Overall condition of the car
Because we want to make sure each review listed here is left by a real customer, we don't have an option to post a review here. Instead, we ask each and every customer to leave a review after they return their rental car. This way, you know that all reviews are authentic, verified, and trustworthy.
August 2, 2022
Pros: Speed, working
Cons: (eg suspension not idealversus many 'stone' roads in Portugal). Car agency should offer solution for the electronic only highways in portugal
July 21, 2022
Pros: The gay at the desk was very efficient.
Cons: Car was old with more then 100,000 Km and Poor condition.
United States of America (USA)
Fiat Panda
June 6, 2022
Pros: pick up and drop off
Cons: The car was really old. The USB cable didn't work.
June 5, 2022
Pros: Cars are a old and run down.
June 3, 2022
Pros: nothing
Cons: They obviously try and compensate for cheap rentals by charging ridiculous ''damage'' fees to people. Pretty much all their cars are damaged. Most of them are also rented with empty fuel tanks.
May 10, 2022
Cons: Car was given with empty fuel tank; Car had 2 spies on the whole time I drove it.
May 10, 2022
Pros: The service desk representatives at both pick-up and drop-off were very quick and efficient. They were fluent in English and explained very well how Portugal's toll system worked.
Cons: The car was in overall decent condition, but was not aging very well - gear stick leather sleeve was detaching from the console at every gearshift, the clutch pedal was acting a bit weird (and I usually drive a manual, wasn't for lack of experience). The biggest disappointment was that we had booked a fiat 500 and we were very excited to drive this super funky car, but received a dull Fiat Panda instead.
April 30, 2022
Pros: That it didn't break down.
Cons: No shuttle service from the airport, vehicle was in terrible shape. Key fob was falling apart. Mechanical light indicating service required was lit for the last week.
April 20, 2022
Pros: Servico rapido e objetivo.
Cons: tudo perfeito
United States of America (USA)
Fiat Punto
March 30, 2022
Pros: Price.
Cons: The car is picked up with the tank empty. It would be preferable to pick up and return with the tank full.
October 28, 2021
Pros: I did not like basically any of it to be honest. Not going to rent a car from there ever again.
Cons: The car, the condition of the car, the service and the office did not look good/professional. When I went to pick up the car, Joao was eating a cookie while typing on the computer and he showed no interest in me as a customer. The car (Fiat Panda) did not have a long enough seatbelt in the back to attach the baby seat, seats were dirty, the dashboard had visible damages, the seats were uncomfortable, the air conditioning did not work properly and the overall driving experience was not good.
June 4, 2021
Pros: simpatia, eficiência, profissionalismo e disponibilidade
Netherlands
Skoda Citigo 3d
September 4, 2020
Pros: Customer service
Cons: The car condition was not as good as I thought
August 6, 2020
Pros: Everything went fine, I was proposed a new small Fiat 500, but I preferred an old Punto, and I got it.
August 25, 2016
Pros: See above ...
Cons: No advice about radar pay toll in Portugal!
Czech Republic
Opel Corsa
August 24, 2016
Pros: very freindly
Cons: Portugal - overprice country with no quality, you can go to France for less money. I would not go back even if they change it to Paradise island and Brad Pitt is in same room and Carlos Santana play by pool
August 22, 2016
Pros: Pleasant overall experience.
Cons: The fee for an additional driver had to be paid in cash.
Most Popular Car Rental Deals
Downtown Car Rental
Mini
Fiat 500 or similar
Downtown Car Rental
Mini
Fiat Panda or similar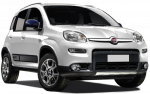 Downtown Car Rental
Economy
Fiat Punto or similar
Downtown Car Rental
Compact
Fiat Tipo or similar
Downtown Car Rental
Compact
Fiat Tipo STW or similar
The above prices are only approximate and were last updated at 20:21 on 2023-03-17. Prices may vary based on the booking dates, length of rental, and car class.
Please check the Rental Conditions for each vehicle prior to booking as some conditions, particularly the deposit and deductible, may vary based on the class of vehicle.
Free cancellation with a full refund up to 48 hours before your pick-up time, Unlimited mileage, Collision Damage Waiver
(deductible:

€ 1200.00

)
, Theft Protection, Roadside Assistance (in the country of pick-up), Third Party Liability (TPL), VAT (value added tax), Free modifications.
E-Toll is not mandatory, however, all of the rental cars are equipped with a SunPass/e-toll transponder that is glued to the windshield of the car and is not removable.
Minimum rental age is 21 years.
A young driver fee of 3.00 EUR per day applies to drivers under the age of 24, with a maximum of 15.00 EUR per rental.

There is no maximum age.
A Senior driver fee is not applied.

The driver license must have been issued by authorized authorities at least 2 year(s) before the date of the commencement of the rental.

A driver license printed using a non-Roman alphabet (Arabic, Japanese, Cyrillic, etc) must be supplemented by an International Driving Permit.
Please note that the International Driving Permit is valid only if accompanied by the regular driver license.

In addition to documents mentioned previously, the customer will need the following: passport, valid driver license, credit card on a main drivers name, booking voucher, flight information.
Deposit and deductible policy
A deposit will be blocked on the customer's credit card until the end of the rental period.
At time of pick up, customers will be required to pay the amount of the rental and a deposit.
It is possible to pay and leave the deposit only with the following payment methods: MasterCard, Visa, American Express, Diners.
Only cards issued in the main driver's name are accepted.
The following payment methods are accepted: Maestro, Cash, Visa Debit Card, MasterCard debit card, American Express Debit card.

The main driver must provide a physical payment card in their name with enough funds to cover the deposit to pick up the car. The rental company will neither accept virtual credit cards (e.g., GooglePay or ApplePay) nor someone else's card (including family members).
Geographical restrictions
Cross border rentals are allowed only upon previous request. Crossing country borders is allowed to the following country: Spain-Mainland. Information on the exact fee amount is available by request.
Optional extras and services
Available special equipment: Baby seat (up to 1 year of age), Child seat (2-4 years of age), Booster seat (4-10 years of age), Outside of business hours, Young driver fee.
Prices for extras are shown on the booking page.

Adding additional drivers is allowed.
There is an additional charge for each driver.
Underage additional drivers are subject to both Young Driver and Additional Driver fees.
When picking up the vehicle, all drivers must be present and must provide valid documentation.

Delivery/Collection service is available only by previous request.
Additional charges will be applied.
The vehicle is provided with a certain amount of fuel and must be returned with the same amount in order to avoid additional charges.
The maximum rental period per agreement is 30 days.
If the renter would like to extend the rental period, renter should return to the car hire office at the end of the rental period to sign a new agreement.
Period of time, during regular working hours, when the car is still guaranteed for the customer, if the customer is late for pick up (the grace period) is 60 minutes.
Pick-up & Drop-off
| | |
| --- | --- |
| Mon: | 09:00 - 19:00 |
| Tue: | 09:00 - 19:00 |
| Wed: | 09:00 - 19:00 |
| Thu: | 09:00 - 19:00 |
| Fri: | 09:00 - 19:00 |
| Sat: | 09:00 - 12:59, 14:59 - 19:00 |
| Sun: | 09:00 - 12:59, 14:59 - 19:00 |
Top Suppliers in Lisbon (Downtown)
+351213839700
Rua Braamcamp, 52-A, 1250-051 Lisboa
$29 - $159
Working hours
Sat:
09:00-13:00; 14:00-18:00
Sun:
09:00-13:00; 14:00-18:00

+351255788199
R. Andrade Corvo 31B, 1050-010 Lisboa
$28 - $117

+351213535115
AV.ANTONIO AUGUSTO AGUIAR,24 C/D
$17 - $95
Working hours
+351218966320
Av. D. João Ii - Estação Do Oriente | Loja G204 - Lote 1.07.15 - 1990-233, Lisbon
$15 - $71
Working hours
Mon:
08:30-13:00; 15:00-18:30
Tue:
08:30-13:00; 15:00-18:30
Wed:
08:30-13:00; 15:00-18:30
Thu:
08:30-13:00; 15:00-18:30
Fri:
08:30-13:00; 15:00-18:30
Sat:
08:30-13:00; 15:00-18:30
Sun:
08:30-13:00; 15:00-18:30
+351210134927
Avenida Gomes Pereira 27-B, 1500-328 Lisboa
$49 - $638
Working hours
+351910628505 / +351210966330
Av. Severiano Falcão, 10 2685-378 Prior Velho
$7 - $207
Working hours

+351217818295
Rua Dr. Silva Teles 5, Lisbon
Working hours
Mon:
08:00-12:30; 14:29-18:00
Tue:
08:00-12:30; 14:29-18:00
Wed:
08:00-12:30; 14:29-18:00
Thu:
08:00-12:30; 14:29-18:00
Fri:
08:00-12:30; 14:29-18:00
+351262077098
R. Vasco Da Gama 7A, 2685-011 Portela, Lisboa
Working hours

Ok Mobility
+34971126880
Praça dos Restauradores 15A, 1250-096 Lisboa
$8 - $49
Working hours
First Rent
+351229568856
N249-4, 2710-089 Sintra
Working hours

Thrifty
+351219426300
Rua Castilho 72 RUA CASTILHO 72 Lisbon
Working hours

Budget
+351213514560
Rua Castilho 167 E
$26 - $112
Working hours
Mon:
08:00-12:30; 14:30-18:00
Tue:
08:00-12:30; 14:30-18:00
Wed:
08:00-12:30; 14:30-18:00
Thu:
08:00-12:30; 14:30-18:00
Fri:
08:00-12:30; 14:30-18:00

+351213535115
AV.ANTONIO AUGUSTO AGUIAR,24 C/D
$24 - $82
Working hours

Hertz
+351219426300
R. Castilho 72, 1250-068 Lisboa
$28 - $46
Working hours

Avis
+351213514560
Rua Castilho 167 E
$28 - $77
Working hours
Mon:
08:00-12:30; 14:30-18:00
Tue:
08:00-12:30; 14:30-18:00
Wed:
08:00-12:30; 14:30-18:00
Thu:
08:00-12:30; 14:30-18:00
Fri:
08:00-12:30; 14:30-18:00

+351300509199
Rua Américo de Jesus Fernandes, Lote G, 1800-023 Lisbon
$13 - $103
Working hours