Car Rental – Search, Compare, and Save up to 70%!
Thrifty at Tanger Airport
Aeroport Tanger Ibn Battouta, 90000, Tanger
00212 802 007 778
Pick-up instructions
Rental desk is located in the car rental center.
Drop-off instructions
Please clarify Drop-off instructions with Car Provider upon Pick-up.
Customer Ratings and Latest Reviews
Overall value for money of your rental car
Ease of finding rental desk or representative
Efficiency of the car rental agents
Time spent picking up the car
Time spent dropping off the car
Overall condition of the car
Because we want to make sure each review listed here is left by a real customer, we don't have an option to post a review here. Instead, we ask each and every customer to leave a review after they return their rental car. This way, you know that all reviews are authentic, verified, and trustworthy.
November 27, 2022
Cons: I haven't received my security deposit money of 15,600 Dirham back to my account and I tried contacting them and nobody answering me.
September 22, 2022
Pros: They were thinking about every solution.
United Kingdom
Dacia Duster
September 15, 2022
Pros: explained everything very well and in english
United Kingdom
Peugeot 308
February 27, 2020
Pros: Customer service
Cons: All good
October 29, 2019
Pros: Very helpful, even when I had to upgrade to fit in a wheelchair.
Cons: Everything from start to finish was handled smoothly.
July 17, 2019
Pros: The desk is in airport easy to vind
Cons: Thy dont show evry dameg on de car i most vind end show them de dameg on de car
United States of America (USA)
Toyota Yaris Hybrid
July 29, 2018
Pros: the car's almost new condition.
Cons: there was no representative at the tie of drop-off (after midnight).
Most Popular Car Rental Deals
Tanger Airport Car Rental
Economy
Kia Rio or similar
Tanger Airport Car Rental
Mini
Kia Picanto or similar
Tanger Airport Car Rental
Intermediate SUV
Dacia Duster or similar
Tanger Airport Car Rental
Intermediate Van
Kia Carens or similar
Tanger Airport Car Rental
Economy
Fiat Punto or similar
Tanger Airport Car Rental
Economy
Peugeot 301 or similar
Tanger Airport Car Rental
Economy
Peugeot 208 or similar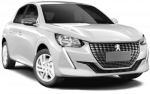 Tanger Airport Car Rental
Compact
Fiat Tipo or similar
Tanger Airport Car Rental
Intermediate
Peugeot 3008 or similar
Tanger Airport Car Rental
Intermediate SUV
Kia Seltos or similar
Tanger Airport Car Rental
Premium
Peugeot 508 or similar
Tanger Airport Car Rental
Full-size SUV
Kia Sorento or similar
The above prices are only approximate and were last updated at 17:18 on 2023-06-09. Prices may vary based on the booking dates, length of rental, and car class.
Please check the Rental Conditions for each vehicle prior to booking as some conditions, particularly the deposit and deductible, may vary based on the class of vehicle.
Free cancellation with a full refund up to 48 hours before your pick-up time, Unlimited mileage, Collision Damage Waiver
(deductible:

~€ 1095.00

)
, Theft Protection, Roadside Assistance (in the country of pick-up), Third Party Liability (TPL), Airport surcharge, Free modifications, State Tax.
The following surcharges may apply: Railway Station Surcharge.
Minimum rental age is 21 years.
A young driver fee of 32.85 EUR per rental applies to drivers under the age of 23.

Maximum rental age is 80 years.
A Senior driver fee is not applied.

The driver license must have been issued by authorized authorities at least 1 year(s) before the date of the commencement of the rental.

A driver license printed using a non-Roman alphabet (Arabic, Japanese, Cyrillic, etc) must be supplemented by an International Driving Permit. Please note that the International Driving Permit is valid only if accompanied by the regular driver license.

In addition to documents mentioned previously, the customer will need the following: passport, valid driver license, credit card on a main drivers name, booking voucher.
Deposit and deductible policy
A deposit will be blocked on the customer's credit card until the end of the rental period.
The exact deposit is determined on pick up since the amount is dependent on the type of vehicle.
At time of pick up, customers will be required to pay the amount of the rental and a deposit.
It is possible to pay and leave the deposit only with the following payment methods: Diners, MasterCard credit card, VISA credit card, American Express credit card.
Cash, Debit cards, Prepaid cards is/are not accepted.
A signed credit card imprint will be taken at the start of all rentals for security reasons. The imprint may be used to cover any additional charges at the end of the rental.

The main driver must provide a physical payment card in their name with enough funds to cover the deposit to pick up the car. The rental company will neither accept virtual credit cards (e.g., GooglePay or ApplePay) nor someone else's card (including family members).
Optional extras and services
Available special equipment: GPS Navigation system, Baby seat (up to 1 year of age), Booster seat (4-10 years of age), Young driver fee, Personal Accident Insurance, Tyres and Windscreen Protection.
Prices for extras are shown on the booking page.

When picking up the vehicle, all drivers must be present and must provide valid documentation.

Additional charges will be applied.

The vehicle is provided with a full tank of fuel and must be returned with the same amount in order to avoid additional charges.


The vehicle must be returned in an acceptably clean condition in order to avoid additional charges.
Service outside of business hours is available by request and for an additional charge.
Period of time, during regular working hours, when the car is still guaranteed for the customer, if the customer is late for pick up (the grace period) is 120 minutes.
The grace period will be honored only during business hours.
Pick-up & Drop-off
| | |
| --- | --- |
| Mon: | 07:00 - 22:00 |
| Tue: | 07:00 - 22:00 |
| Wed: | 07:00 - 22:00 |
| Thu: | 07:00 - 22:00 |
| Fri: | 07:00 - 22:00 |
| Sat: | 07:00 - 22:00 |
| Sun: | 07:00 - 22:00 |
Top Suppliers at Tanger Airport

Optimo Rent
+2120663372920 / +2120663519794
Aéroport Tanger-Ibn Batouta
$9 - $11
Working hours

+212660174119
Aeroport De Boukhalef
Working hours
+212522049312 / +212522049311 / +212539335121 / +212663476051 / +212522269168
Tangier Battouta Airport, Tanger 90040
$24 - $157
Working hours

ACARENT
+212699191114
Aéroport Tanger-Ibn Batouta, Tanger, Morocco
$16 - $117
Working hours

+212600077800
Tangier Int. Airport
$33 - $75
Working hours
+212676953888 / +212666144838 / +212665797629
Aéroport Tanger-Ibn Batouta, 90032, Tanger
$20 - $367
Working hours

+212539393033
Ibn Batouta Airport
$40 - $87
Working hours
+212539393093 / +212802007778
Aeroport Tanger Ibn Battouta, 90000, Tanger
$24 - $62
Working hours

+212661357853
Tangier Ibn Batouta Airport
$39 - $337
Working hours
Payless
+212539393033 / +212522688968
Ibn Batouta Airport
$36 - $90
Working hours
FoxCar
+212661284001
Tanger Airport, P3gp+8Rw, Aéroport Tanger-Ibn Batouta, Tanger
$65 - $244
Working hours

EXER
+212666780750
TANGIER AIRPORT
$19 - $221
Working hours

+212662665424 / +212662825938
Aéroport Tanger-Ibn Batouta, Tanger
$24 - $932
Working hours
+212600078444
Aуroport Tanger-Ibn Batouta, Tange
$18 - $23
Working hours
Firefly
+212802007778
Tanger-Ibn Batouta Airport, Tangier 90100
$38 - $42
Working hours

Interrent
+212661357853
Tanger-Ibn Batouta Aéroport
Working hours

Keddy
+212661357853
Tangier Ibn Batouta Airport
$28 - $274
Working hours

802007778
Tangier-Boukhalef Ap
Working hours

+212666453842
Tangier-Ibn Batouta Airport, 90000, Tangier
$11 - $162
Working hours
+212522979302
Aéroport Tanger-Ibn Batouta, Tanger
$20 - $97
Working hours

AddCar
+212666288523
Tangier-Ibn Batouta Airport
$35 - $54
Working hours
+212660185260 / +212614656565 / +212663010239
Tangier Ibn Battouta Airport, Morocco
$62 - $335
Working hours

+212616820718 / +212619206757
Tangier Ibn Battuta Airport, Aéroport Tanger-Ibn Batouta, Tanger
$18 - $140
Working hours