Car Rental – Search, Compare, and Save up to 70%!

Keddy at Lyon-Saint-Exupéry Airport
AEROPORT LYON SAINT EXUPERY
+330825009900
Drop-off instructions
Please clarify Drop-off instructions with Car Provider upon Pick-up.
Customer Ratings and Latest Reviews
Overall value for money of your rental car
Ease of finding rental desk or representative
Efficiency of the car rental agents
Time spent picking up the car
Time spent dropping off the car
Overall condition of the car
March 5, 2020
Pros: Competitive and efficient
Russian Federation
Citroen C3
February 11, 2020
Pros: Price quality ratio.
Cons: Time we spent picking up the car. 1.5 hours.
United Kingdom
Renault Twingo
September 2, 2019
Pros: Excellent value for money
Cons: Some difficulty in finding the car hire location
United Kingdom
Ford C Max
April 23, 2019
Cons: The car had not been fully checked for damage before we collected it.
United Kingdom
Citroen C3
April 13, 2019
Pros: Europcar standard but cheaper
United Kingdom
Citroen C3
February 2, 2019
Cons: No good customer service, people on the desk arrongant, not smiling and very cold.
Most Popular Car Rental Deals
Lyon St Exupéry Airport Car Rental
Mini
Toyota Aygo or similar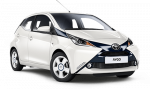 View
Lyon St Exupéry Airport Car Rental
Economy
Opel Corsa or similar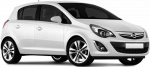 View
Lyon St Exupéry Airport Car Rental
Compact
Renault Captur or similar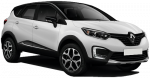 View
Please check the Rental Conditions for each specific vehicle prior to booking as some conditions, particularly the deposit and deductible, may differ based on the class of vehicle.
Rate includes
Free cancellation with a full refund up to 48 hours before your pick-up time, Mileage: 4200 km per rental, Collision Damage Waiver (deductible:
€ 1100.00
), Theft Protection, Airport surcharge, Third Party Liability, Road tax, Vehicle registration fee, VAT (value added tax), Modifications.
Driver requirements
Minimum rental age is 18 years.
A young driver fee applies to drivers under the age of 26.

There is no maximum age.
A Senior driver fee is not applied.

The driver license must have been issued by authorized authorities at least 1 year(s) before the date of the commencement of the rental.
For vehicles in groups Compact, Standard, Luxury, Intermediate, Fullsize, Compact Elite a driver license valid for at least 3 years is required.
For vehicles in groups Premium a driver license valid for at least 5 years is required.

A driver license printed using a non-Roman alphabet (Arabic, Japanese, Cyrillic, etc) must be supplemented by an International Driving Permit.
In addition to the regular driver license, an International Driving Permit is also mandatory if the driver license is written in a language other than that of the renting country and/or in characters that cannot be read in the renting country. Please note that the International Driving Permit is valid only if accompanied by the regular driver license.

In order to pick up the car, the following documents are required: passport, valid driver license, ID card, credit card on a main drivers name, booking voucher.
Optional coverage
The following additional insurance policies are available at the rental desk: Super Collision Damage Waiver (SCDW), Personal Accident Insurance (PAI), Roadside Assistance.
Optional insurance is available for an extra charge.
Additional insurance will reduce the deductible/excess.
Deposit and deductible policy
A deposit will be blocked on the customer's credit card until the end of the rental period.
The exact deposit is determined on pick up since the amount is dependent on the vehicle.
Payment policy
At time of pick up, customers will be required to pay the amount of the rental and a deposit.
The following payment methods are accepted: Diners, Debit cards, MasterCard credit card, VISA credit card, American Express credit card.
It is possible to pay and leave the deposit only with following payment methods: Diners, MasterCard credit card, VISA credit card, American Express credit card.
Cash, Prepaid cards is/are not accepted.
Geographical restrictions
Cross border rentals are allowed only upon previous request.
Additional charges will be applied in case car is crossing state borders.
Details are available from the car rental company's reservation office.

Crossing country borders is allowed to the following countries: Andorra, Austria, Belgium, Denmark, Finland, France - Corsica, Germany, Greece, Ireland, Italy, Luxembourg, Monaco, Netherlands, Norway, Portugal, Spain - Balearic Islands, Spain-Canary Islands, Spain-Mainland, Sweden, Switzerland, United Kingdom.
In the event that Cross Border & Territorial Restrictions are violated, all protections lose their validity.
Optional extras and services
Available special equipment: GPS Navigation system, Baby seat (up to 1 year of age), Child seat (2-4 years of age).
Prices for extras are shown on the booking page.

Adding additional drivers is allowed.
There is an additional charge for each driver.
Underage additional drivers are subject to both Young Driver and Additional Driver fees.
When picking up the vehicle, all drivers must be present and must provide valid documentation.


Fuel policy
The vehicle is provided with a full tank of fuel and must be returned with the same amount in order to avoid additional charges.

Diesel vehicles are available only by request upon arrival.
Diesel vehicles are available for an additional charge.
Additional information
The applicable tax rate in this country is 20%.
Normal business hours
Service outside normal business hours is available by previous request at airport locations.
Period of time, during regular working hours, when the car is still guaranteed for the customer, if the customer is late for pick up (the grace period) is 0 minutes.
Pick-up & Drop-off
| | |
| --- | --- |
| Mon: | 07:00 - 23:59 |
| Tue: | 07:00 - 23:59 |
| Wed: | 07:00 - 23:59 |
| Thu: | 07:00 - 23:59 |
| Fri: | 07:00 - 23:59 |
| Sat: | 07:30 - 23:59 |
| Sun: | 08:00 - 23:59 |
Top 9 Suppliers at Lyon-Saint-Exupéry Airport in 2020

Interrent
+33180202262
Rue du Danemark, 69125 Colombier-Saugnieu
Working hours

+33820007498
Aéroport de Lyon-Saint Exupéry (LYS Rue d'Autriche Saint-Exupéry FR, 69125 Lyon
$123 - $222

+330472227487
Aeroport St Exupery, 69125 Satolas-et-Bonce, Lyon
$41 - $161

Europcar
+330825009900
AEROPORT LYON SAINT EXUPERY
$45 - $130
Working hours

Enterprise
+330472227487
Aeroport St Exupery, 69125 Satolas-et-Bonce, Lyon
$42 - $161

Avis
+33820611660
Aeroport De Lyon Saint Exupery
Working hours

Budget
+330820611660
Lyon St Exupery AirportBp 118
Working hours

Rhodium
+33185654704 / +33180202262
Aéroport de Lyon - Saint Exupery, On-Airport
Working hours

Goldcar
+34965233425 / +33180202262
Aéroport de Lyon - Saint Exupery, On-Airport