Car Rental – Search, Compare, and Save up to 70%!

Economy rent a car at Liberia Airport
Daniel Oduber Intl. Airport
00506 22 992 000
Pick-up instructions
Economy Rent a Car is located at Daniel Oduber International Airport. Please follow the signs to car rental area.
Drop-off instructions
Please clarify Drop-off instructions with Car Provider upon Pick-up.
Customer Ratings and Latest Reviews
Overall value for money of your rental car
Ease of finding rental desk or representative
Efficiency of the car rental agents
Time spent picking up the car
Time spent dropping off the car
Overall condition of the car
Because we want to make sure each review listed here is left by a real customer, we don't have an option to post a review here. Instead, we ask each and every customer to leave a review after they return their rental. This way, you know that all reviews are authentic, verified, and trustworthy.
January 28, 2023
Pros: I have nothing positive to say about this company or any rental agency that allows this fraud to be perpetrated against countless customers. I'm just thankful I was able to go without a car. Most travellers count on it and have no choice but to pay the extortion.
United States of America (USA)
Toyota RAV4
January 19, 2023
Pros: Nice people, fast service!
Cons: The secret $400 extra we had to pay.
January 17, 2023
Pros: Raoul great check in service
Cons: Why did they only check under the hood on our car? Because they already knew the rad support bracket was broken.
December 15, 2022
Pros: They were professional and explained everything clearly. We did have one small issue with the car. We called them and they were very responsive, and sorted the issue out, exchanging the car, and bringing us a new one the same day.
United States of America (USA)
Daihatsu Bego
June 5, 2021
Pros: Absolutely nothing, frustrating part while being hustled I didn't have a phone number to reach you at to settle the fact that I had a down payment on vehicle. The conf # meant nothing to Dennis who ended up downgrading into a clunker for almost $700 us for 8.5 days. Seeing it was in the middle of the jungle and at night and everything was closed the only other option would to hitchhike with my luggage on a pitch black street .
Cons: 1- waited at airport for over an hour,2-was told after giving my conf# that it didn't exist and your company did not put a hold on the suv (which I don't believe ) becouse when I got back to the states my card was charged 82.25. 3- was told he had to upgrade me for another vehicle and higher insurance . Ended up down grading do to the scam at economy with Dennis Perez into a compact tiny car with no A/C in 90 degree weather. I've looked on line and Dennis name pop up several times .
United States of America (USA)
Hyuandai H1
April 2, 2021
Pros: They eventually honored our car rental.
Cons: They didn't have a vehicle and we were told too bad. Go find another
United States of America (USA)
Nissan X-Trail 4x4
February 3, 2021
Pros: Horrible experience of being charged double the reservation price and told by representatives that it was a mislead and mistake and having the economy counter agents refuse to honor the contract price.
Cons: Deception and a rip off
United States of America (USA)
Nissan X-Trail 4x4
December 31, 2020
Cons: Absolutely inadequate staff. Lied to my face about the kind of car they were providing: I needed a 4x4, they provided a 4x2. After multiple inquiries about it, they kept on lying to me. Ultimately, they gave me the wrong car and had to rearrange during the rental period. Also, many hidden fees had to be paid at the rental desk without any way of verifying the costs.
April 1, 2020
Pros: The car itself was nice
Cons: Had a horrible experience, ended up paying 1500$ for a week-long rental when I paid a little over 100$ on this website (including a young driver fee) and the employees there were very rude and pushy. I got charged 200$ on my card 3 weeks after I came back and I didn't even bother to ask them why, because when you look at their reviews this happened to so many people who rented a car from this company. I really regret not looking at the reviews before renting from Economy .
March 23, 2020
Pros: the car was in a good condition and clean
Cons: People were't polite, which is unusual for Costa Rica and we were forced to pay almost the double of what was initially offered by you.
March 4, 2020
Pros: Economy did try to help after the flat tire and met us at an activity to change the tire.
March 3, 2020
Pros: Nothing!
Cons: Charged us more than triple what we originally agreed too. Such an awful experience
March 1, 2020
Pros: Actually — nothing - zero service
Cons: Vehicle had not been cleaned - nor filled with Petro.
February 27, 2020
Cons: The online booking had no price on the car I reserved or the cost
February 19, 2020
Pros: They gave us a faulty tire
Cons: Dennis was extremely rude to me and my bf on 2 occasions.
February 12, 2020
Cons: Expensive insurance, that I was told must have..
February 7, 2020
Pros: Absolutely nothing, worst rental car experience of my life
Cons: Vehicle was dirty upon pick up and not filled with gas. Hidden fee's makes for an overall poor experience, just be up front with what the cost will be. Also upon return they attempted to charge $150 extra to clean the vehicle and have to go back out and find a gas station to wipe down some dust that was inside the vehicle when they have a crew of people cleaning vehicles when they were returned. It's terrible that our first experience in Costa Rica was being ripped off by the rental compan
February 7, 2020
Pros: Economy gave our vehicle away because we were in flight delays even though I called twice between airport connections to let them know of the delay. The only thing they had available was a 4x4 which was 3x the price of our original booking and way out of our budget. The customer service agents were incredibly rude when I was trying to make sense of it all and I actually got hung up on. I will never use this company ever again.
February 7, 2020
Pros: Nothing
Cons: I have been overcharged and maid a total of 400$ at desk plus the advance i paid on your website, so no i would not recommend
January 4, 2020
Pros: My son.
Cons: Pick up was too long.
United States of America (USA)
Hyundai Creta
January 4, 2020
Pros: They were easy to locate at the airport and quick to shuttle us to the rental location. The reservation said at airport location but it's a 10 minute shuttle ride.
Cons: The insurance adds on top of the "full" coverage I paid for. The interior was not clean and had an ant farm living in the dash.
United States of America (USA)
Hyundai Tucson
December 25, 2019
Pros: Someone needs to contact me asap
Cons: Your "coverage" didn't cover anything!
Most Popular Car Rental Deals
Liberia Airport Car Rental
Premium
Hyundai Santa Fe or similar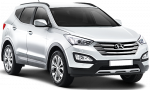 Liberia Airport Car Rental
Premium
Hyundai Santa Fe or similar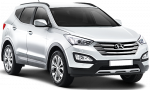 Liberia Airport Car Rental
Premium
Hyundai Santa Fe or similar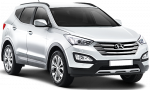 Liberia Airport Car Rental
Premium
Hyundai Santa Fe or similar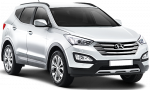 Liberia Airport Car Rental
Minivan
Hyundai H-1 or similar
Liberia Airport Car Rental
Minivan
Hyundai H-1 or similar
Liberia Airport Car Rental
Minivan
Hyuandai H1 or similar
Liberia Airport Car Rental
Minivan
Hyuandai H1 or similar
The above prices are only approximate and were last updated at 13:16 on 2023-02-06. Prices may vary based on the booking dates, length of rental, and car class.
Please check the Rental Conditions for each vehicle prior to booking as some conditions, particularly the deposit and deductible, may vary based on the class of vehicle.
Free cancellation with a full refund up to 48 hours before your pick-up time, Unlimited mileage, Collision Damage Waiver
(deductible:

~€ 885.00

)
, Third Party Liability (TPL), Airport surcharge, Vehicle registration fee, Free modifications.
Minimum rental age is 18 years.
A young driver fee of 12.05 EUR per day applies to drivers under the age of 22, with a maximum of 36.15 EUR per rental.

There is no maximum age.
A Senior driver fee is not applied.

The driver license must have been issued by authorized authorities at least 1 year(s) before the date of the commencement of the rental.

In addition to the regular driver license, an International Driving Permit is also mandatory if the national driver license is not written in English.
Please note that the International Driving Permit is valid only if accompanied by the regular driver license.

A local renter is defined as a renter who has a license issued in Costa Rica and who is flying into the country without a return ticket.

In order to pick up the car, the following documents are required: passport, valid driver license, credit card on a main drivers name, booking voucher.
Deposit and deductible policy
A deposit will be blocked on the customer's credit card until the end of the rental period.
The exact deposit is determined on pick up since the amount is dependent on the type of vehicle.
Young drivers are subject to a higher deductible/excess.
At time of pick up, customers will be required to pay the amount of the rental and a deposit.
It is possible to pay and leave the deposit only with following payment methods: MasterCard credit card, VISA credit card, American Express credit card.
The following are accepted methods of payment:Debit cards.

Cash, Prepaid cards is/are not accepted.

The main driver must provide a physical payment card in their name with enough funds to cover the deposit to pick up the car. The rental company will neither accept virtual credit cards (e.g., GooglePay or ApplePay) nor someone else's card (including family members).
Optional extras and services
Available special equipment: Baby seat (up to 1 year of age), Young driver fee, Roadside Assistance Cover (RAC), Loss Damage Waiver (LDW).
Prices for extras are shown on the booking page.

Adding additional drivers is allowed.
There is an additional charge for each driver.
Underage additional drivers are subject to both Young Driver and Additional Driver fees.
When picking up the vehicle, all drivers must be present and must provide valid documentation.

It is allowed to add up to 3 additional drivers.
Delivery/collection service is not provided.
The vehicle is provided with a certain amount of fuel and must be returned with the same amount in order to avoid additional charges.
The maximum rental period per agreement is 90 days.
If the renter would like to extend the rental period, renter should return to the car hire office at the end of the rental period to sign a new agreement.
Service outside of business hours is not available.
Period of time, during regular working hours, when the car is still guaranteed for the customer, if the customer is late for pick up (the grace period) is 120 minutes.
Pick-up & Drop-off
| | |
| --- | --- |
| Mon: | 08:00 - 18:00 |
| Tue: | 08:00 - 18:00 |
| Wed: | 08:00 - 18:00 |
| Thu: | 08:00 - 18:00 |
| Fri: | 08:00 - 18:00 |
| Sat: | 08:00 - 18:00 |
| Sun: | 08:00 - 18:00 |
Top Suppliers at Liberia Airport
+50626670608 / +50625424848 / +50626670359
Route 21, Guardia, Nacascolo, Guanacaste, El Jardín Liberia, 50104
$124 - $167
Working hours

+5022427885
LIBERIA INTERNATIONAL AIRPORT,
$92 - $162

+50640007496
Sixt Rent a Car - Liberia Airport, Plaza Futura, Guanacaste Province, Liberia, Costa Rica
$127 - $325

Enterprise
22427818
LIBERIA INTERNATIONAL AIRPORT
$101 - $180
Working hours

+50621053480 / +50640367440
Carretera 21, Next to the Daniel Oduber Airport, Provincia de Guanacaste, Liberia, 50101
Working hours

+50624362007
Daniel Oduber Intl Airport
$124 - $228
Working hours

+5022427889
LIBERIA INTERNATIONAL AIRPORT,
$101 - $180

Hertz
50640020712
1.5 Kms East Liberia Airport
Working hours

Keddy
+50650640023857
Plaza Futura 1,Frente Aeropuerto Daniel Oduber. Liberia, Guanacaste
Working hours
+50626670608 / +50625424848 / +50626670359
Route 21, Guardia, Nacascolo, Guanacaste, El Jardín Liberia, 50104
Working hours

Europcar
+50650640023857
Plaza Futura 1,Frente Aeropuerto Daniel Oduber. Liberia, Guanacaste
Working hours
+50640522000
Aeropuerto Liberia, Provincia De Guanacaste, Liberia
$97 - $195
Working hours
+50626670808 / 18004973659
21, Guanacaste Province, Liberia
$181 - $181
Working hours

Flexways
+5491152599877
Aeropuerto Daniel Oduber Quirós, Liberia
+50626650787
From Daniel Oduber International Airport 5 Km E., Liberia
$95 - $155
Working hours
NUCarrentals
50626651159
LIBERIA INTERNATIONAL AIRPORT -Off terminal
$40 - $92
Working hours

Routes Car Rental
50624300629
5Km East Daniel Oduber Airport
Working hours

+50685198889
5 km East from Aeropuerto Daniel Oduber
$91 - $117
Working hours

+50626681138
LIBERIA INTL AP, Provincia de Guanacaste, Liberia, 02453, Costa Rica
$74 - $180
Working hours