Car Rental – Search, Compare, and Save up to 70%!
Customer Ratings and Latest Reviews
Overall value for money of your rental car
Ease of finding rental desk or representative
Efficiency of the car rental agents
Time spent picking up the car
Time spent dropping off the car
Overall condition of the car
Because we want to make sure each review listed here is left by a real customer, we don't have an option to post a review here. Instead, we ask each and every customer to leave a review after they return their rental. This way, you know that all reviews are authentic, verified, and trustworthy.
August 4, 2022
Pros: Friendly and helpful staff member.
August 2, 2022
Pros: Very professional.
Cons: Zero. Was faultless.
July 30, 2022
Pros: Excellent
Cons: Excellent
July 27, 2022
Pros: Quick and easy turnarounds
Cons: Wasn't to sure about the car, but all worked well.
July 3, 2022
Cons: Long delay to get answer from call centre and Incorrect information given about our query but manager at airport service desk accepted our explanation and allowed additional driver on presentation of their license without them being physically present
May 20, 2022
Pros: Professional and helpful
May 13, 2022
Pros: Friendly staff
Cons: Just hard understanding there English
May 12, 2022
Pros: Unlimited kms
Cons: Only open at 8am
November 12, 2021
Pros: reasonably priced, efficient and friendly staff, simple procedures.
Cons: Nothing was negative
June 10, 2021
Pros: They were friendly, and efficient and good value for money
Cons: Was efficient ,friendly staff reasonable price with unlimited kms
Australia
Mitsubishi Outlander
September 2, 2020
Pros: Easy to deal with
Cons: Na
March 29, 2020
Pros: Great price
Cons: Good customer service
July 11, 2018
Pros: Great service and the car was detailed to a very high standard.
Cons: Nothing
Most Popular Car Rental Deals
Darwin Airport Car Rental
Economy
Kia Picanto or similar

Darwin Airport Car Rental
Compact
Mitsubishi ASX or similar

Darwin Airport Car Rental
Standard
Mitsubishi Outlander or similar

Darwin Airport Car Rental
Standard
Toyota Corolla or similar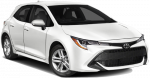 Please check the Rental Conditions for each specific vehicle prior to booking as some conditions, particularly the deposit and deductible, may differ based on the class of vehicle.
Free cancellation with a full refund up to 48 hours before your pick-up time, Unlimited mileage, Collision Damage Waiver
(deductible:

~€ 3510.00

)
, Roadside Assistance (in the country of pick up), Third Party Liability, VAT (value added tax), Free modifications.
Minimum rental age is 21 years.
For certain car groups, minimal rental age is 25 years.
Minimum rental age is 30 years for car group Luxury, Premium, Fullsize, SUVs. A young driver fee applies to drivers under the age of 25.

There is no maximum age.
A Senior driver fee is not applied.

The driver license must have been issued by authorized authorities at least 1 year(s) before the date of the commencement of the rental.

In addition to the regular driver license, an International Driving Permit is also mandatory if the driver license is written in a language other than that of the renting country and/or in characters that cannot be read in the renting country.
Please note that the International Driving Permit is valid only if accompanied by the regular driver license.
In order to pick up the car, the renter and each additional driver must present the following documents: passport, credit card, valid driver license, booking voucher. Renters from the following country(ies): Australia must provide the following documents: passport, credit card, valid driver license, booking voucher, proof of home address (e.g. Utility bill) in order to collect the car.
Deposit and deductible policy
The exact deposit is determined on pick up since the amount is dependent on the vehicle.
A deposit will be blocked on the customer's credit card until the end of the rental period.

At time of pick up, customers will be required to pay the amount of the rental and a deposit.
It is possible to pay and leave the deposit only with following payment methods: Visa Debit Card, MasterCard credit card, VISA credit card, MasterCard debit card.
Only cards issued in the main driver's name are accepted.

Cash, Cheques, Prepaid cards is/are not accepted.

The main driver must provide a physical payment card in their name with enough funds to cover the deposit to pick up the car. The rental company will neither accept virtual credit cards (e.g., GooglePay or ApplePay) nor someone else's card (including family members).
Geographical restrictions
It is forbidden to cross country borders.
Optional extras and services
Available special equipment: Baby seat (up to 1 year of age), Child seat (2-4 years of age), Booster seat (4-10 years of age).
Prices for extras are shown on the booking page.


All extras are available at the rental counter. Prices vary, depending on the rental period.

Delivery/collection service is not provided.
The vehicle is provided with a full tank of fuel and must be returned with the same amount in order to avoid additional charges.

In case of renting at the airport location, the customer must provide a valid flight number in order to make a reservation.
The maximum rental period per agreement is 30 days.
If the renter would like to extend the rental period, renter should return to the car hire office at the end of the rental period to sign a new agreement.
Service outside of business hours is available by request and for an additional charge.

Period of time, during regular working hours, when the car is still guaranteed for the customer, if the customer is late for pick up (the grace period) is 29 minutes.
Top Suppliers at Darwin Airport

610889242480
Darwin Ap
Working hours
Mon:
00:00-01:00; 09:00-23:59
Tue:
00:00-01:00; 09:00-23:59
Wed:
00:00-01:00; 09:00-23:59
Thu:
00:00-01:00; 09:00-23:59
Fri:
00:00-01:00; 09:00-23:59
Sat:
00:00-01:00; 09:00-23:59
Sun:
00:00-01:00; 09:00-23:59

+611300729230
1/8 Osgood Drive, Eaton, NT 0820
$106 - $171
Working hours

+610889453261
Airport Terminal, Henry Wrigley Dr, Darwin City NT 0800
$150 - $186
Working hours

+610889826690
Darwin International Airport, Henry Wrigley Dr, Eaton NT 0820
$207 - $261
Working hours
Mon:
00:00-01:00; 08:00-23:59
Tue:
00:00-01:00; 08:00-23:59
Wed:
00:00-01:00; 08:00-23:59
Thu:
00:00-01:00; 08:00-23:59
Fri:
00:00-01:00; 08:00-23:59
Sat:
00:00-01:00; 08:00-23:59
Sun:
00:00-01:00; 08:00-23:59

0889452011
Terminal Building
$210 - $221
Working hours
Mon:
00:00-01:00; 08:00-21:00; 23:00-23:59
Tue:
00:00-01:00; 08:00-21:00; 23:00-23:59
Wed:
00:00-01:00; 08:00-21:00; 23:00-23:59
Sun:
00:00-01:00; 09:00-19:00; 23:00-23:59

+61889242419
Terminal Building, Eaton NT 0820
$114 - $135

+61889453909 / +61300106666
1 Henry Wrigley Dr, Darwin International Airport NT 0820
$122 - $184

+61889453909
1 Henry Wrigley Dr, Darwin International Airport NT 0820
$67 - $108

0889366166
Terminal Building
$182 - $348
Working hours

+610889453261
Airport Terminal, Henry Wrigley Dr, Darwin City NT 0800
$155 - $157
Working hours

Firefly
0889826690
Mcmillans Rd
Working hours
Mon:
00:00-01:00; 08:00-23:59
Tue:
00:00-01:00; 08:00-23:59
Wed:
00:00-01:00; 08:00-23:59
Thu:
00:00-01:00; 08:00-23:59
Fri:
00:00-01:00; 08:00-23:59
Sat:
00:00-01:00; 08:00-23:59
Sun:
00:00-01:00; 08:00-23:59