Car Hire – Search, Compare, and Save up to 70%!
Global Rent a Car at Crete Airport Heraklion
Anapafseos 18,Nea Alikarnassos 716 01
0030 2 111 875 552 / 0030 2 810 334 920
Pick-up instructions
ANAPAPHSEOS 18 -ZC 71601 NEA ALIKARNASSOS -Outside Arrivals hall & across in front of Desk 29 you will find our SHUTTLE BUS which transfers to the office.
Drop-off instructions
Please clarify Drop-off instructions with Car Provider upon Pick-up.
Customer Ratings and Latest Reviews
Overall value for money of your rental car
Ease of finding rental desk or representative
Efficiency of the car rental agents
Time spent picking up the car
Time spent dropping off the car
Overall condition of the car
Because we want to make sure each review listed here is left by a real customer, we don't have an option to post a review here. Instead, we ask each and every customer to leave a review after they return their rental. This way, you know that all reviews are authentic, verified, and trustworthy.
United Kingdom
Hyundai i10
7 February 2022
Pros: Friendly, relaxed and efficient
Cons: A local roadmap would have really helped
United Kingdom
Hyundai i10
16 September 2020
Pros: good value
Cons: Meeting point directions
Most Popular Car Hire Deals
Crete Airport Heraklion
Mini
Fiat 500 or comparable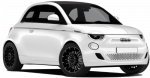 Crete Airport Heraklion
Mini
Peugeot 108 or comparable
Crete Airport Heraklion
Compact
Citroen C3 or comparable
Crete Airport Heraklion
Economy
Fiat Panda or comparable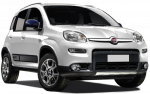 Crete Airport Heraklion
Economy
Mitsubishi Space Star or comparable
Crete Airport Heraklion
Compact
Suzuki Baleno or comparable
Crete Airport Heraklion
Intermediate
Fiat Tipo Sedan or comparable
Crete Airport Heraklion
Intermediate Elite
Peugeot 2008 or comparable
Crete Airport Heraklion
Compact
Citroen C3 or comparable
Crete Airport Heraklion
Intermediate
Peugeot 3008 or comparable
Crete Airport Heraklion
Intermediate Elite
Peugeot 2008 or comparable
Crete Airport Heraklion
Intermediate
Nissan Qashqai or comparable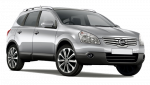 Top Suppliers at Crete Airport Heraklion
+306944024738
71601, Airport, Heraklion
£ 66 - £ 95
Working hours

SIXT
+302810280915
Kazantzakis Airport
£ 50 - £ 214
+302810331433
71500, Kazantzakis Airport, Heraklion
£ 51 - £ 182
Working hours
CarQ
+302811216150
Car Rental Center Heraklion Airport,716 01
£ 66 - £ 102
Working hours

EXER
+306943123333
Heraklion Airport, Heraklion 716 01, Greece
£ 69 - £ 138
Working hours

ACARENT
+306995362099 / +302813015014
94 Ikarou Avenue, Heraklion, 71601, Crete
£ 53 - £ 74
Working hours

Enterprise
+302810226002
HERAKLION NIKOS KAZANTZAKIS, AIRPORT
£ 52 - £ 120
King's Car Rental
+306998238000
Karaiskaki 21, Nea Alikarnassos 716 01
£ 30 - £ 318
Working hours
+306972700715 / +302897023988
Nikos Kazantzakis, 716 01, Heraklion
£ 37 - £ 319

WheeGo
+302810344631
Heraklion Airport N. Kazantzakis
£ 77 - £ 456
Working hours

National
+302810226002
Heraklion International Airport, Nea Alikarnassos 716 01
£ 60 - £ 136

Thrifty
+302810330452 / +302811100013
Heraklion Airport, Heraklion 716 01

Autounion
+306932362176
Heraklion Airport N. Kazantzakis, Iraklio 716 01
£ 49 - £ 280
Working hours

Budget
+302810390373
International Airport
£ 52 - £ 128
Working hours

Hertz
+302810330452
Heraklion Airport, Heraklion 716 01

Cargini
+302811216150
Heraklion Airport Station, Iraklio 716 01
£ 72 - £ 110
Working hours

Alamo
+302810226002
Heraklion Airport, Nea Alikarnassos 71601, Heraklion
£ 47 - £ 112
Viaggiare
+30281426027000302810331433
Crete-Heraklion Airport
Working hours

Avis
+302810390373
Heraklion 716 01
£ 58 - £ 145
Working hours

+306984631835
Heraklion International Airport N. Kazantzakis 71601 Heraklion Crete
£ 51 - £ 92
Working hours
Avance
+302810339009
Heraklion Airport N. Kazantzakis
Working hours

Europcar
+302103497861 / +302111903006
Heraklion Airport, Ikarou Avenue, Nea Allikarnassos
£ 69 - £ 203
Working hours
Firefly
+302811100019
Heraklion International Airport
Working hours
Mon:
07:00-07:59; 21:01-23:59; 08:00-20:59
Tue:
07:00-07:59; 21:01-23:59; 08:00-20:59
Wed:
07:00-07:59; 21:01-23:59; 08:00-20:59
Thu:
07:00-07:59; 21:01-23:59; 08:00-20:59
Fri:
07:00-07:59; 21:01-23:59; 08:00-20:59
Sat:
07:00-07:59; 21:01-23:59; 08:00-20:59
Sun:
07:00-07:59; 21:01-23:59; 08:00-20:59
+306980421074 / +306983365960
Airport Kazantzakis, Alikarnassos 716 01, Heraklion
Working hours
Dirent a car Greece
+302810336983
Airport Kazatzakis, Nea Alikarnasos 716 01, Heraklion
£ 92 - £ 92
Working hours

GreenMotion
+302810344279
Kazantzakis Airport, Iraklio 715 00
£ 38 - £ 166
Working hours

Optimo Rent
+306944024738
Nea Alikarnassos - Airport Nikos Kazantzakis
Working hours

+302813015014
Heraklion Airport"Kazantzakis" Nea Alikarnassos, Iraklio 716 01
£ 35 - £ 167
Working hours

Interrent
+38630611177
Heraklion Airport
Working hours

+306936112203 / +34966360360 / +302811180090
Leof. Ikarou 87 N, Nea Alikarnassos 716 01
£ 29 - £ 63
Zezgo
+302813015014
Heraklion Airport N. Kazantzakis
Working hours

Ace Rent a car
+306947998070
Heraklion Airport N. Kazantzakis, Main Terminal, 716 01
Working hours
Carwiz
+306972263348 / +302810344631
Karaiskaki 28-30, Nea Alikarnassos 716 01
£ 36 - £ 120
Working hours

AddCar
+302810281688 / +306989866413
Anapafseos 4, Nea Alikarnassos Heraklio
£ 41 - £ 119
Working hours
+302122135282130
AbbyCar Rental, Heraklion Airport, Iraklio 716 01
£ 27 - £ 190
Working hours

Ok Mobility
+34902360636
Heraklion Airport N. Kazantzakis, Heraklion, 716 01
£ 47 - £ 81
Working hours

Goldcar
+302811810265 / +34965233425
89 Ikarou Avenue 71601 Nea Allikarnassos, Heraclión, Nea Allikarnassos 716 01
Working hours