Car Rental – Search, Compare, and Save up to 70%!
Jumbo Car at Saint Denis (Roland Garros) Airport
74 Avenue Roland Garros, Sainte-Marie 97438, Réunion
00262 0262 297 979 /05 96 42 22 22
Pick-up instructions
Pick up your car rental as soon as you land in Reunion island. Jumbo Car is located directly at the airport. To find us, head for the Jumbocar desk located on the left side of the main airport building.
Drop-off instructions
Please clarify Drop-off instructions with Car Provider upon Pick-up.
Customer Ratings and Latest Reviews
Overall value for money of your rental car
Ease of finding rental desk or representative
Efficiency of the car rental agents
Time spent picking up the car
Time spent dropping off the car
Overall condition of the car
Because we want to make sure each review listed here is left by a real customer, we don't have an option to post a review here. Instead, we ask each and every customer to leave a review after they return their rental car. This way, you know that all reviews are authentic, verified, and trustworthy.
United States of America (USA)
Toyota Yaris
September 7, 2023
Pros: Counter staff at pick up and drop off were both very professional and efficient. Exiting airport was easy.
Cons: I knew I needed a code to get in the gate to return the car so that part was communicated well, but where to find the gate to return the car I must have missed. We took 3 drives around the airport before we found it. Maybe better signage or let customers know where to look for it? Luckily we were early so just made us laugh at ourselves. If we were in a hurry it might not have been as funny.
September 3, 2023
Cons: The car has to be returned clean. This was strange and made us little uncomfortable
Czech Republic
Renault Twingo
April 24, 2023
Pros: The car was scratched and with many machanical damages. Optimální and mechanically worse car with I loan
December 13, 2022
Pros: The person was not very nice
Cons: The car was in bad condition! A lot of damages!
November 1, 2022
Pros: friendly and fast
Cons: had to return the car cleaned otherwise faced a fee
United States of America (USA)
Renault Twingo
October 28, 2022
Pros: Nothing
Cons: Crooks
July 5, 2022
Pros: Easy to reach on arrive and departure, kind staff, can even speak English.
Cons: The car was clean outside, but inside it was terrible experience - the smell of vomit!!! Such car should not be rented. Key battery to be changed - we were supposed to do so and bring invoice. NO! It should be done by the provider. And we were supposed to return the car clean on the inside (?!). NO! I am on holiday and I return car after normal wear (footprints, shoeprints, dust, I don't mean heavy soiling).
Most Popular Car Rental Deals
Saint Denis (Roland Garros) Airport Car Rental
Economy
Toyota Yaris or similar
Saint Denis (Roland Garros) Airport Car Rental
Full-size Van
Mercedes Benz A Class or similar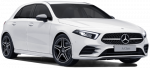 The above prices are only approximate and were last updated at 07:58 on 2023-09-22. Prices may vary based on the booking dates, length of rental, and car class.
Please check the Rental Conditions for each vehicle prior to booking as some conditions, particularly the deposit and deductible, may vary based on the class of vehicle.
Free cancellation with a full refund up to 48 hours before your pick-up time, Unlimited mileage, Collision Damage Waiver
(deductible:

€ 840.00

)
, Theft Protection, Third Party Liability (TPL), Personal Accident Insurance, Airport surcharge, Free modifications, State Tax.
Minimum rental age is 24 years.
A Young driver fee is not applied.

Maximum rental age is 80 years.
A Senior driver fee is not applied.

The driver license must have been issued by authorized authorities at least 1 year(s) before the date of the commencement of the rental.

A driver license printed using a non-Roman alphabet (Arabic, Japanese, Cyrillic, etc) must be supplemented by an International Driving Permit.
Please note that the International Driving Permit is valid only if accompanied by the regular driver license.

In order to pick up the car, the following documents are required: passport, valid driver license, credit card on a main drivers name, booking voucher.
Deposit and deductible policy
A deposit will be blocked on the customer's credit card until the end of the rental period.
The exact deposit is determined on pick up since the amount is dependent on the type of vehicle.
At time of pick up, customers will be required to pay the amount of the rental and a deposit.
The following credit cards issued on the main driver's name are accepted: MasterCard, Visa, American Express.
Cash, Debit cards, Prepaid cards is/are not accepted.

The main driver must provide a physical payment card in their name with enough funds to cover the deposit to pick up the car. The rental company will neither accept virtual credit cards (e.g., GooglePay or ApplePay) nor someone else's card (including family members).
Optional extras and services
Available special equipment: GPS Navigation system, Booster seat (4-10 years of age).
Prices for extras are shown on the booking page.

Adding additional drivers is allowed.
There is an additional charge for each driver.
When picking up the vehicle, all drivers must be present and must provide valid documentation.


The vehicle is provided with a full tank of fuel and must be returned with the same amount in order to avoid additional charges.
Service outside of business hours is available by request and for an additional charge.
Period of time, during regular working hours, when the car is still guaranteed for the customer, if the customer is late for pick up (the grace period) is 59 minutes.
Pick-up & Drop-off
| | |
| --- | --- |
| Mon: | 06:00 - 20:00 |
| Tue: | 06:00 - 20:00 |
| Wed: | 06:00 - 20:00 |
| Thu: | 06:00 - 20:00 |
| Fri: | 06:00 - 20:00 |
| Sat: | 06:00 - 20:00 |
| Sun: | 06:00 - 20:00 |
Top Suppliers at Saint Denis (Roland Garros) Airport
Hertz
+262262280593 / +262692888878
Airport Roland Garros, 97348, Sainte-Marie
$47 - $111
Working hours
Mon:
06:30-12:00; 12:01-21:00
Tue:
06:30-12:00; 12:01-21:00
Wed:
06:30-12:00; 12:01-21:00
Thu:
06:30-12:00; 12:01-21:00
Fri:
06:30-12:00; 12:01-21:00
Sat:
06:30-12:00; 12:01-21:00
Sun:
06:30-12:00; 12:01-21:00

+262262474474
Aéroport Roland Garros, Sainte-Marie 97438
$69 - $152
Working hours

Keddy
+262262488187
ROLAND GARROS AIRPORT
$50 - $57
Working hours
CITY LOCATION
+262692282423 / +262692346868
74 Av. Roland Garros, Sainte-Marie 97438
$39 - $62
Working hours

GreenMotion
+262262285252
2 Rue Pierre Auber Zi Du Chaudron Sainte Clotilde, Sainte-Marie 97490, Réunion
Working hours
Tropicar
+262310707
Aéroport Roland Garros, Sainte-Marie 97438, Réunion
$59 - $106
Working hours
Alamo
0262200088
8 Bis Rue Lislet Geoffroy
Working hours

National
0262200088
8 Bis Rue Lislet Geoffroy
Working hours

Europcar
+262692396961
ROLAND GARROS AIRPORT
$58 - $545
Working hours

Avis
0262312000
Aeroport Roland Garros
$36 - $51
Working hours
Cool Location
+262262285555 / +262693225555
2 Bis Chemin De Grand Canal 97490 Sainte-Clotilde
$37 - $102
Working hours